In the United States, most people who care about psychological strategies for managing life, are fans of the nationally syndicated TV show, Dr. Phil which was created by Oprah Winfrey and is hosted by the clinical and forensic psychologist Dr. Phil McGraw. Dr. Phil has a son named Jay McGraw, who like him is a psychologist and has also appeared on the show.
A bestselling author, Jay works mainly as a TV producer. Indeed, he has once served as the executive producer of Dr. Phil. Read on to find out more about the life of the celebrity son.
Who is Jay McGraw?
Jay McGraw was born Jay Philip McGraw on September 12, 1979. With Virgo as his birth sign, his birth place is Wichita County in Wichita Falls, Texas, USA. As already mentioned, his dad is Phil McGraw while his mom is Robin McGraw. He has a younger brother named Jordan who was born in 1986.
As children, Jay and Jordan McGraw's parents encouraged them to read a lot. They also provided lots and lots of kiddies books in a kiddies library they built at home. Their parents also allowed them TV time, but it was only for educative programs. No wonder, Jay went on to become a great author and TV producer.
Jay Mcgraw received his early education at Greenhill School Addison, Texas from pre-Kindergarten through grade 12. He got a Bachelor of Science degree in psychology from the University of Texas. He also holds a doctorate degree in law – Juris Doctor (JD) – from Southern Methodist University.
Although not many people know him as a psychologist or lawyer, Jay's bestseller books all focus on the psychology of young people. The books include Life Strategies For Teens Workbook (2000), Daily Life Strategies For Teens (2001), and Closing The Gap: A Strategy For Bringing Parents And Teens Together (2001). He also co-authored with his dad, a book entitled The Ultimate Weight Solutions For Teens (2003).
In any case, Jay McGraw is known more as a TV producer. He is the President and CEO of the TV production company, Stage 29 Productions based in Los Angeles, California. He co-founded the company with his dad. Stage 29 Productions has worked with such prestigious firms as CBS Television Studios in Los Angeles as well as Daily Mail TV, the TV arm of Daily Mail Magazine based in London.
Besides that, Jay McGraw has been the host of the TV series, Renovate My Family on the Fox Channel, which is aimed at improving the living condition of troubled families. He is also the creator of RumorFix, a web service aimed at fighting against false celebrity rumors.
Family Details (Wife and Kids)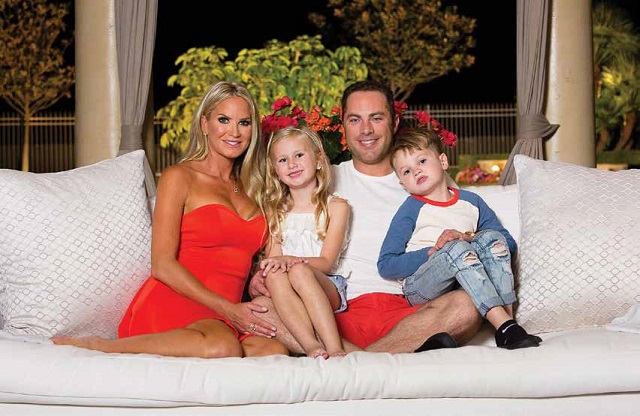 Jay McGraw is married to Erica Dahm, a popular model who started making news and covering magazines from the day she was born. Dahm received fame at birth for being the second of the identical triplets born in Minnesota on December 12, 1977. Popularly known as the Dahm triplets, Erica and her identical sisters; Nicole and Jacelyn, have appeared on many TV shows and movies. They have also severally covered prestigious magazines such as Teen and Playboy. Before embarking on an entertainment career, the sisters had hoped to become nurses as they enrolled at the University of Minnesota. It is not clear if they finished their program or abandoned it to head to Hollywood.
The wedding between Jay and Erica took place on August 12, 2006, at the Beverly Hills home of the groom's famous parents. The reception held at the super-high-brow Beverly Hills Hotel. About four years after exchanging vows, the couple welcomed their first baby, a daughter named Avery Elizabeth in March 2010. Their second baby, a son named London Philip, was welcomed to the world a year later in August 2011.
Also read: Sorcha Cusack – Bio, Movies and TV Shows, Is She Related To John Cusack?
Details of His Net Worth
Clearly, Jay McGraw is a very active and industrious fellow. An August 2018 source reported that he was worth $12.5 million while an October 2018 source reported that he was worth $12.9 million. Despite what the exact figure might be, Jay is doing very well for himself and his net worth will surely be on its way up in the coming years.

Fact Check: We strive for accuracy and fairness. If you see something that needs updating,