In the United States, people who care to learn about the psychological strategies of managing life are fans of the nationally syndicated TV show Dr. Phil, which was created by Oprah Winfrey and is hosted by former psychologist and TV personality Dr. Phil McGraw. Dr. Phil has a son named Jay McGraw, who like him studied psychologist and has also appeared on the show.
A bestselling author, Jay works mainly as a TV producer. Indeed, he has once served as the executive producer of his father's talk show. He has also worked as the host of Renovate My Family, a reality series where he met his famous model wife, Erica Dahm. Although most celebrity marriages don't last long, Jay McGraw and his significant other have gone on to establish a long-spanning marriage that many others in Hollywood wish they could have.
Juicy Facts About Jay McGraw's Marriage To Erica Dahm
Jay McGraw is married to Erica Dahm, a popular model who started making news and covering magazines from the day she was born. Dahm received fame at birth for being the second of identical triplets born in Minnesota on December 12, 1977.
Popularly known as the Dahm triplets, Erica and her identical sisters; Nicole and Jacelyn, have appeared on many TV shows and movies such as Pauly Shore is Dead, Relic Hunter, Battle Some, Renovate My Family, and The Doctors. The trio have also covered several prestigious magazines such as Teen and Playboy. Before embarking on an entertainment career, the sisters had hoped to become nurses as they enrolled at the University of Minnesota. It is not clear if they finished their program or abandoned it to head to Hollywood.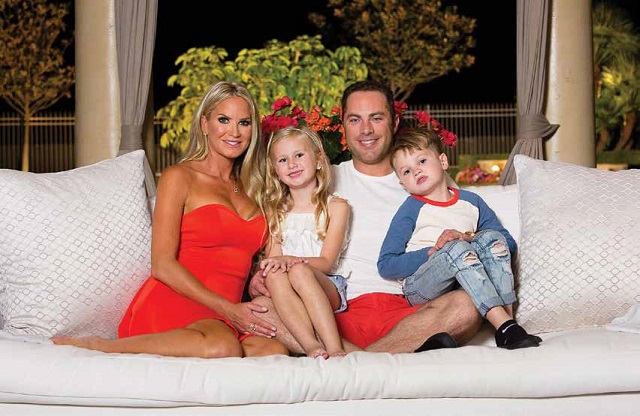 Jay and Erica's love story is purely love at first sight as the two got strongly connected when the Dahm triplets made an appearance on Renovate My Family. Erica Dahm served as one of the construction experts on the Fox reality TV series that was hosted by her future husband. The show ended up lasting for just one season before it was canceled in 2005.
After dating for a while, Jay and Erica realized that they were perfect for each other, and hence, decided to get married. The eminent TV producer went on to propose to the model in Dallas in mid-2006. Without waiting for long, the pair wedded on August 12, 2006, at the Beverly Hills home of the groom's famous parents. The reception was held at the super-high-brow Beverly Hills Hotel.
About four years after exchanging vows, the couple welcomed their first child, a daughter named Avery Elizabeth in March 2010. Their second child, a son named London Philip, was welcomed to the world a year later in August 2011. The two lovebirds have been married for over a decade now, and their love still waxes stronger with each passing year.
Meet the Famous McGraw Family
As earlier stated, Jay McGraw is the son of Phil and Robin McGraw. In addition to being a widely-known TV personality, Jay's father is also an author who has written several best selling books, including one titled Life Strategies. Jay's mom Robin is also a New York Times best-selling author, TV personality, and entrepreneur.
Robin has featured on her husband's eponymous TV show with her own segments titled Aging Gracefully, Ask Dr. Phil and Robin, and Valentine's Day Give-Away. Aside from appearing on Dr. Phil, she has also guest appeared on CBS' The Talk as a co-host. She equally served as the host of HCTV's White House Christmas. Some of her widely read books include What's Age Got to Do With It? and Inside My Heart: Choosing to Live with Passion and Purpose. The matriarch of the McGraw family launched her own company called Robin McGraw Revelation Brand in 2014 and two years later, she established the company's Luxury Skincare Collection.
Jay McGraw has a younger brother named Jordan who was born in Los Angeles, California on October 21, 1986. He is a musician and guitarist who has followed in the footsteps of his father and elder brother by establishing a budding career for himself in the entertainment industry. Though he is now a solo artist, Jordan has previously been associated with many music bands, including The Upside, Stereo, and Hundred Handed.
In April 2019, Jordan McGraw dropped his debut single titled 'Flexible'. He later served as one of the opening acts for the 2019 promotion tour of the Jonas Brothers. He further showcased his singing prowess at the 2019 Teen Choice Awards where he performed the song 'Met at a Party' with Modern Family actress, Sarah Hyland.
Also read: Sorcha Cusack – Bio, Movies and TV Shows, Is She Related To John Cusack?
Things To Know About Jay McGraw's Relationship With His Father
Jay McGraw shares a special bond with his dad. He has often cited how years of learning and living his dad's strategies on how to take charge of his life has shaped him into the man he has become. He has also attributed his career success to his parents for raising him in a certain way, as they made him understand that life is about sacrifice and hard work.
Since he kick-started his thriving career in the entertainment industry, Jay has collaborated with his loving and supportive father on numerous projects. In the year 2003, the Emmy Award-winning TV producer co-authored a book titled The Ultimate Weight Solutions For Teens with his son. Similarly, in November 2005, they co-founded a TV production company called Stage 29 Productions which produces shows like Dr. Phil, The Doctors, Bull, and The Amber Rose Show.