Jason Statham and his long-term partner Rosie Huntington-Whiteley first made headlines when they began their relationship due to the huge age gap between the two. However, in recent times, the couple have gained recognition as a result of their career achievements. Jason, who has established himself as an action film star, first started out in sports before turning to a model and then an actor. Hence, his career of over two decades in the entertainment industry has enabled him to amass impressive fortunes.
In like manner, Rosie's resounding success in modeling has made her no stranger to the Forbes list of the highest-paid models in the world. She appeared on the list in 2016, 2017, and 2018. She has also earned massively from her other endeavors in the entertainment industry. Although Jason and Rosie are ranked among the richest people in their respective career fields, one is financially better off than the other. Here are the details of their estimated fortunes and age gap.
Jason Statham is Richer Than Rosie Huntington-Whiteley
Although Jason Statham is widely known as a typecast actor who often portrays tough characters in action-thriller movies, his career success knows no bounds. As a result, the Hollywood star has an estimated net worth of $90 million which is three-time bigger than that of Rosie, estimated at $30 million. Thus, Jason Statham and Rosie Huntington-Whiteley's combined net worth is pegged at $120 million.
With such wealth in their hands, the celebrity couple have been able to rack up their real estate portfolio, owning many assets. In 2016, they purchased a $2.7 million home around the Sunset Strip in West Hollywood, California, and a mansion in Beverly Hills for almost $13 million.
Jason is One of The Most Bankable Stars in Hollywood
It is noteworthy that before Jason Statham garnered international recognition for bringing about action film resurgence in the 2000s and 2010s, he had plied his trade in different career fields. He initially worked as a street trader and was making ends meet from the sales of fake perfume and jewelry on street corners. He also was a member of Britain's National Swimming team for 12 years and represented his country at the commonwealth games in 1990. He subsequently modeled for fashion brands such as Levis, Tommy Hilfiger, Griffin, and French Connection between 1996 and 1997.
Later in 1998, Statham's acting career took off after he got introduced to English director Guy Ritchie who included him among the cast members for his movie, Lock, Stock, and Two Smoking Barrels (1998). The film was commercially successful, grossing $28.1 million on a production budget of $1.4 million. He later starred in another box office hit titled Snatch (2000) also directed by Guy Ritchie. The actor then went on to establish himself as a box office star in the 2000s by featuring in several action thriller films that were box office success.
They include Ghosts of Mars (2001), The Transporter (2002), The Italian Job (2003), Collateral (2004), Transporter 2 (2005), Crank (2006), War (2007), The Bank Job (2008), Crank: High Voltage (2009), and The Expendables (2010). Statham also continued to encounter more success in his career in the 2010s. After featuring in The Mechanic and Gnomeo and Juliet in 2011, the famed actor starred in the blockbuster The Expendables 2 alongside Sylvester Stallone, Arnold Schwarzenegger, and Bruce Willis. The movie earned over $300 million in theatres worldwide on a production budget of $100 million.
Jason Statham was also part of the cast for the 7th installment of the Fast & Furious franchise titled, Furious 7 (2015). The movie was a mega-hit as it grossed $1.516 billion on a production budget of $190 million – $250 million. Jason further reprised his role of Deckard Shaw in a spin-off of the Fast & Furious film series, Fast & Furious Presents: Hobbs & Shaw in the year 2019. It earned $759.9 million at the box office worldwide on a production budget of $200 million. As a bankable star, Jason Statham's movies have generated over $1 billion in ticket sales.
Besides Modeling, Rosie Has Stepped-up Her Net Worth With Other Side Ventures
With earnings of $9 million in 2016, Rosie Huntington-Whiteley made the Forbes list of the highest-paid models in the world that year. She also appeared on the list in 2017 and 2018 with annual earnings of $9.5 million and $11 million, respectively. Throughout her career, she has appeared on the cover of popular magazines such as British Vogue, Elle UK, Harper's Bazaar Russia, GQ UK, and LOVE Magazine. More so, she has briefly worked as a Victoria's Secret Angel and equally walked the runway for Prada, Burberry, Givenchy, Michael Kors, Versace, Moschino, Louis Vuitton, and Balmain.
In 2011, Rosie became the face of Burberry's fragrance, Burberry Body, before she was unveiled as the face of the Australian cosmetics brand ModelCo two years later. She has additionally featured in ad campaigns for many fashion brands, including French Connection, Escada, Dolce & Gabbana, Topshop, Levi's, Marks & Spencer, Macy's, and DKNY.
Rosie took to acting in the year 2011, replacing Megan Fox in the third installment of the Transformer film series, Transformers: Dark of the Moon. It grossed $1.124 billion at the box office on a production budget of $195 million.
She had another movie role in 2015, portraying The Splendid Angharad in Mad Max: Fury Road that also stars Charlize Theron and Tom Hardy. The movie earned $375.4 million at the worldwide box office against a production budget of $154.6 million – $185.1 million. Additionally, Rosie Huntington-Whiteley has carried out successful efforts as a fashion designer. She collaborated with fashion brand PAIGE to release a capsule collection called Rosie HW x PAIGE in 2017.
She has received many awards over the course of her career. They include the Model of the Year Award (2009) by the Elle Style Awards and the Businesswoman of the Year Award (2016) by the Harper's Bazaar Women of the Year.
Jason Statham is 20 Years Older Than His Fiancée Rosie Huntington-Whiteley
English model Rosie Huntington-Whiteley was born in Plymouth, Devon on April 18th, 1987. Her father, Charles Huntington-Whiteley, is a chartered surveyor while her mother Fiona is a fitness instructor. Rosie attended Tavistock College. Like his model partner, Jason Statham was also born in England, precisely in Shirebrook, Derbyshire. His birthdate is June 26th, 1967. Jason's parents are Barry and Eileen Statham. His father worked as a street seller, painter, and singer while his mother worked as a dancer. He attended a local grammar school.
The Two Have Been Together Since 2010
While still working as a Victoria's Secret Angel, Rosie Huntington-Whiteley met Jason Statham. They were first sighted together as a couple at the Coachella Music Festival in the year 2010. While it was love at first sight for the Crank star, that wasn't the case for Rosie who actually fell for his incredible sense of humor. Six months after the two started dating, they became a live-in couple, making the relationship public. Although the relationship caused a buzz in the media due to the considerable age difference of 20 years between the couple that made many believe they weren't a perfect match, the lovebirds have proved them wrong by achieving one of the long-standing relationships in Hollywood.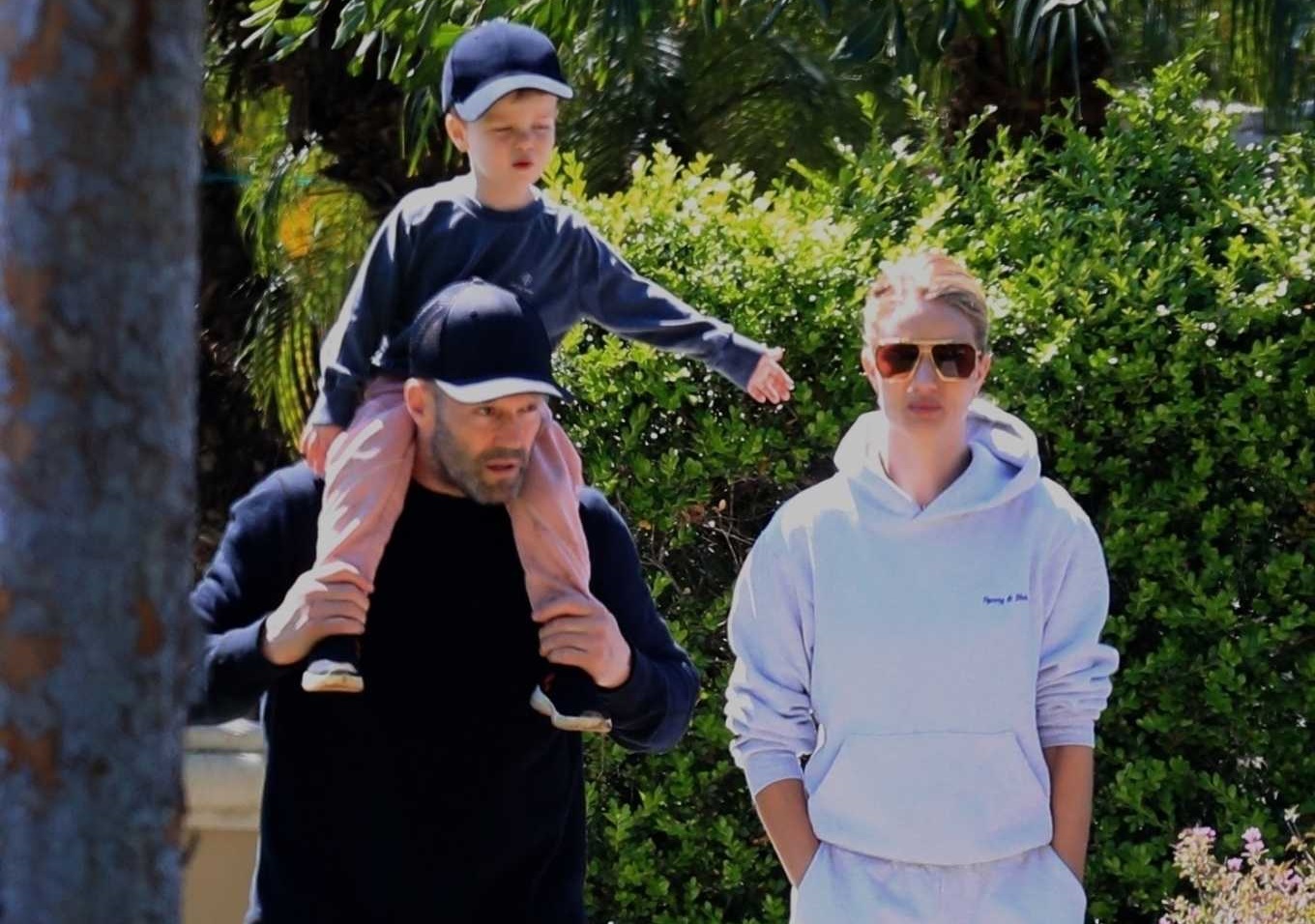 They have been in a blissful relationship for more than ten years now. Even though they are yet to seal their love with a nuptial bond, they took their romantic affair to the next level in the year 2016 when they got engaged. The cute couple began building a family in the next year following the arrival of their first child, a son named Jack Oscar Statham. Despite their celebrity status, the pair have managed to keep their love life away from the media, giving no grounds for gossiping and their love has been waxing stronger with each passing year.
Quick Comparison Between Jason Statham and Rosie Huntington-Whiteley
Jason Statham
Rosie Huntington-Whiteley
Age 
56
36
Height
5 feet 10 inches (1.78 m)
5 feet 8 inches (1.75 m)
Nationality
British
British
Net Worth
$90 million
$30 million
Notable Appearances

The Transporter (2002) – Frank Martin
The Expendables (2010) – Lee Christmas
Furious 7 (2015) – Deckard Shaw

Love Me Tender… Or Else (2009) – The Girl
Transformers: Dark of the Moon (2011) – Carly Spencer
Mad Max: Fury Road (2015) – The Splendid Angharad

Nick Names
Jason Statham
Rosie HW
No. of Acting Credits
45+
3
Highest-grossing Film
Furious 7 (2015) – Grossed $1.51 billion
Transformers: Dark of the Moon (2011) – Grossed $1.12 billion