An absolutely gorgeous and very intelligent woman, Jane Skinner is a former American daytime news anchor and journalist who rose to fame while working as a co-anchor of Happening Now. The popular television program airs on Fox News, one of America's most renowned pay television news channels. Her stunning beauty and charming personality endeared her to many viewers of the media outlet. Before working for Fox News, she had worked for different media houses, winning the admiration of many people with her professionalism and soothing voice.
However, Jane Skinner broke the hearts of her many fans in 2010 after she revealed that she was taking some time off the Happening Now program to focus on spending some more time with her family. We have dug up some facts about this charming ex-anchor for your reading pleasure.
Jane Skinner's Bio
Jane Skinner was born on the 12th day of February 1967. She was born in Chicago, a city in Illinois, USA. However, she was raised along with her siblings in Lake Forest, another city in the state of Illinois.
Jane had a great time growing up and has once talked about how much her parents cared for her and her siblings during their childhood to make sure they grew up to be productive. Jane and her siblings still share a great bond today.
Details about where she had her elementary education are quite vague. However, we know that she attended Lake Forest High School and graduated in 1985. She then proceeded to attend Northwestern University, a private research university in Evanston, Illinois, where she acquired both her Bachelor's and Master's degree in Journalism.
Jane Skinner's Family
Jane Skinner was born into an interesting family. Her father is Samuel K. Skinner who happened to be an influential man in America. He was the Secretary of Transportation and also served as the White House Chief of Staff under President George H.W. Bush. Her mother, Susan Ann Thomas, is also a very likable person who worked as a community and charitable worker in Lake County, Illinois.
Jane Skinner grew up with two brothers identified as Thomas Vernon Skinner and Steven Knox Skinner. They are both doing very well for themselves at the moment; Thomas is the general counsel of Louisiana State University. He is also a former head of the U.S. Environmental Protection Agency's national compliance program, director of the EPA's region 5. Steven, on the other hand, is the CEO of a privately owned company called KemperSports which manages over 100 golf courses across the USA.
Her journalism career
Following her graduation from university, Jane Skinner kick-started her career as a journalist at KBJR-TV, a dual NBC/CBS-affiliated television station where she was hired to work as a political correspondent. She covered political beats and gained a lot of experience during her time at the station.
After some time, Jane left KBJR-TV and became an anchor at WITI, a Fox-affiliated television station in Milwaukee, Wisconsin. She was so effective at WITI that she established the station's primetime newscast. She went on to work as a general assignment reporter for KMOV in St. Louis, a CBS-affiliated television station in Missouri, establishing herself as an American journalist of note and winning the admiration of Missouri locals.
Jane Skinner has also worked as a general assignment reporter for WCSH, an NBC-affiliated television station in Portland, Maine, before moving to WNBC-TV, a flagship station of the NBC television network, in New York City where she also worked as a general assignment reporter.
In 1998, Jane joined Fox News Network from WNBC-TV as a general assignment reporter. It was while at Fox News that she became more known, as a journalist especially when she started co-anchoring Happening Now, the network's two-hour signature daytime news program. Before co-anchoring Happening Now, she had previously served as the anchor of the afternoon edition of FOX News Live.
Finally, in 2010, after about 12 years with Fox News, she announced that she was stepping down from her position and taking time off to focus on her family.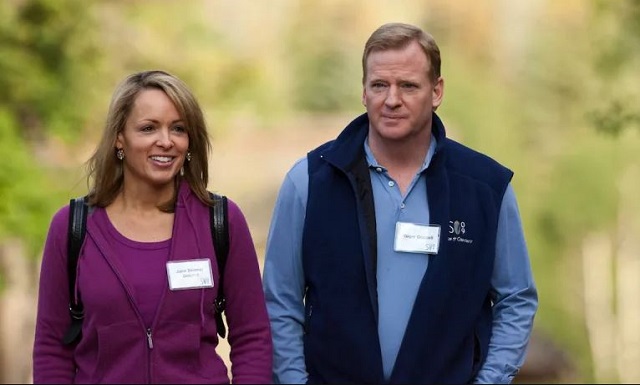 Her marriage to Roger Goodell
Jane Skinner is a happily married woman. She is married to Roger Goodell, a popular American businessman who is now the Commissioner of the National Football League. Her husband is so influential that he has often been described as 'the most powerful man in sports' by some commentators.
According to reports, Jane and Roger met and dated for about 4 years before they finally tied the knot as husband and wife on October 25, 1997. They have remained together ever since.
She is a mother of twins
The marriage between Jane Skinner and Roger Goodell has produced a set of twins. About 4 years after she married Roger, Jane delivered a set of twin daughters in 2001. However, the names of the girls have not been revealed just yet.
READ ALSO: Kristin Fisher of Fox News – Bio, Career Achievements, Age, Height
Her body measurements
Jane Skinner stands at about 5 feet 7 inches or 1.7m in height. In addition to this, she is reported to weigh about 54kg or 119lb. Her other body measurements have been revealed to be 35 inches (bust), 25 inches (waist) and 36 inches (hips).