Over the years, having appeared in significant roles like playing Charles Xavier in the superhero franchise, X-Men, as well as critically acclaimed roles in films like The Last King of Scotland and Children of Dune, James McAvoy has become of the celebrated actors in Hollywood. As a result, details about James McAvoy's life, including his dating life in regards to girlfriends, past, and present have become newsworthy.
One of those is his relationship with fellow actor, Anne-Marie Duff, whom he dated and was married to for a decade between 2006 and 2016. Since they got divorced, fans have wondered if the Glasgow-born actor has returned to the dating scene.
James McAvoy Love Story With Lisa Liberati
Since overcoming the pain of ending a decade long marriage, James McAvoy returned to the dating life and the altar too. A couple of months after his separation from Anne-Marie Duff, James McAvoy was linked with Lisa Liberati, a personal assistant to M. Night Shyamalan, the director of Split, a film James was starring in at the time.
About a year after the rumor began, it was confirmed by the two during Halloween in 2017, in the most modern way to establish a high-profile relationship – an Instagram photo.
Two years after they became Instagram official, James McAvoy and his girlfriend, Lisa Liberati, secretly got married in 2019. They are believed to have gotten married in October 2019, when the Split actor was spotted wearing a wedding ring during an outing. A wedding ring has also been seen on Lisa's finger, confirming that the two are a married couple.
It won't be the first time James McAvoy will get married in secret. He married his first wife, Anne-Marie Duff, in a secret ceremony in 2006 too.
Before dating Anne-Marie Duff and Lisa Liberati, James McAvoy was in a relationship with the Scottish actress, Emma Neilson for six years between 1998 and 2004. Emma Neilson is known for her roles in The Vanishing, The Isle, and Two Down.
Who is His Girlfriend Turned Wife – Lisa Liberati?
To Hollywood outsiders, Lisa Liberati is an unknown who is only known as the girlfriend of James McAvoy. However, she has been in the industry for more than two decades, in different roles, including working as a personal assistant to the famous film director, M. Night Shyamalan.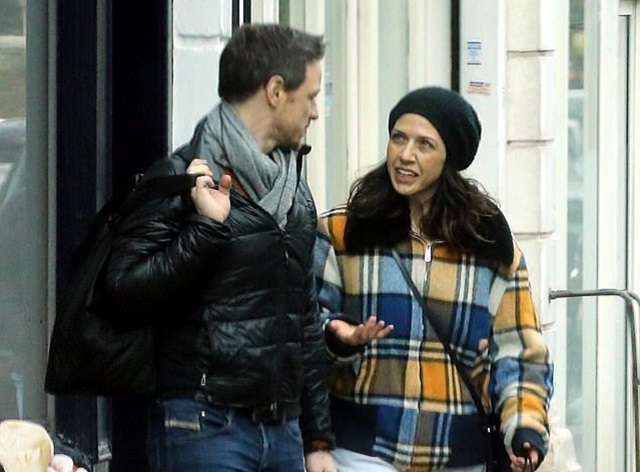 She started her career in the industry in 1995, when she worked as an assistant to David Streit. She also appeared as an extra in the film, Species, as a 'bathroom bimbo.' Since then, she worked on other projects like Devil and Space Ghost Coast to Coast.
Lisa Liberati currently holds a position as the vice president of operations for the production company, Blinding Edge Pictures. In the role, she worked on the film, The Visit.
What Happened To His First Marriage With Anne-Marie Duff
No one likes to read about the end of a love story, certainly not one that showed a lot of promise like James McAvoy and his ex-wife, Anne-Marie Duff.

Both of them had met for the first time on the set of Shameless, where they played each other's love interests. James McAvoy and Anne-Marie began dating on the show and were together until November 2006 when they got married in a secret ceremony.

Four years after they got married, James and Anne-Marie welcomed a son, Brendan. Unfortunately, raising a child together and the joy of the love they once shared wasn't enough to keep them from getting divorced in May 2016, 11 years after their marriage.

See Also: Katina Taylor: Everything We Know About Jason Taylor's Ex-Wife?

As for the exact reasons they decided to part ways, specifics are unknown. Both of them were notorious for sharing little about their love life when they were together, and it has continued like that after they parted ways in what was considered to be an amicable separation. Although they have both moved on to dating other people, James McAvoy and Anne-Marie still share a home in London where they raise their son together. According to the former couple, they share a house to minimize the disruption to their son's life after their divorce.

They also continue to work together and are joint stars of the BBC/HBO show, His Dark Materials, which began to air in 2019. On the show, James McAvoy plays Lord Asriel while his ex-wife, Anne-Marie, plays Ma Costa.

Fact Check: We strive for accuracy and fairness. If you see something that needs updating,