Since television became more than just a medium for studios to make advertising money through cheaply produced shows, there has been an explosion in the number of shows produced by studios and networks, competing for the attention of a growing audience. As a result, several actors and actresses have gotten a chance to make a name for themselves in the mainstream on the small screen. One of many is Jaina Lee Ortiz, who is known for her work on the Fox drama, Rosewood.
Although she had been in the world of performance art since she was nine years of age, Jaina did not begin her career as a professional actress until she was in her 20s, debuting in the reality show, Scream Queens.
Since then, she has appeared in major productions like Rosewood and Station 19. Here is a look at who she is and other facts about her.
Who is Jaina Lee Ortiz? How Old is She?
The American East Coast and West Coast share a rivalry that goes beyond the ones made popular by the American Hip Hop industry and Jaina has strong connections to both. She was born in the West Coast at the Fort Ord Army Base in California on the 20th of November, 1986 but was raised in the East Coast in The Bronx in New York.
An actress who would later go on to gain fame playing a detective, she was born to one, her father Joe Ortiz was an NYPD first grade detective. Not much is known about her mother other than the fact she is named Daisey Acevdeo and just like her father, she is also a first-generation Puerto Rican American.
Her parents got divorced when she was seven years old and she was raised by her mother in The Bronx. At the age of nine, she began her life in the world of performance art by taking salsa and mambo dance classes.
After six years of training, at the age of 15, she began to teach the dance to learners and within a year, she was going on international trips as a dancer and a professional instructor.
After years of being a dancer and an instructor for 13 years, Jaina Lee Ortiz, who had momentarily explored the world of acting and filmmaking by appearing in student films, decided to pursue a career as an actress.
She subsequently enrolled to Maggie Flanigan Studios where she studied acting for two years, specializing in the Meisner technique – a popular acting technique that focused at getting actors out of their head and act instinctively; it was popularized by Sanford Meisner. After two years of studying, she got her first successful audition for the reality show, Scream Queens. The reality show, whose winning prize was a chance to feature in a movie, saw Jaina finish runner up in 2010.
Jaina Lee Ortiz did not, however, give up, and she got her first acting role in a drama two years after in the show, The Shop, where she played the role of Petrona. In the same year, she also appeared in her first feature-length film, Misfire, playing the role of I.C.
Before she got her breakthrough role as Detective Annalise Villa in Rosewood in 2015, she appeared in other projects like the pilot episode of The After and the short film, Laid Out.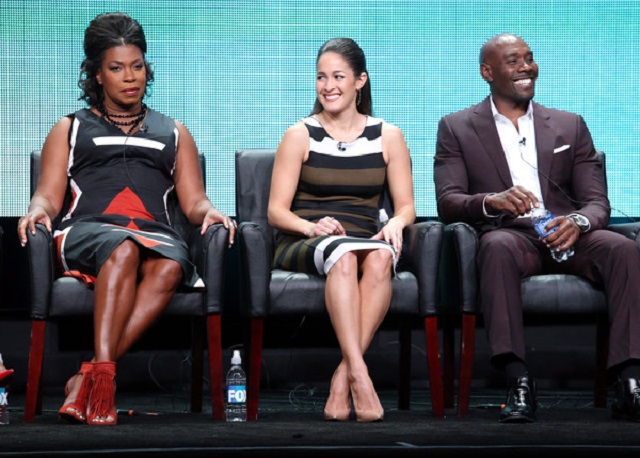 Her role in Rosewood spanned from 2015 to 2017, for which she was nominated for her first award, the Imagen Award for Best Actress. Since the show ended, she has appeared in other works such as a recurring role on the shows, Shooter and Grey's Anatomy.
She began to play her recurring role as Let. Andrea Herrera in Grey's Anatomy in the show's spin-off, Station 19 in 2018. Other notable projects Jaina Lee Ortiz has appeared in include Girls Trip in 2017 where she played herself.
See Also: Who Is Stella Maeve, The Magicians Actress, Does She Have A Boyfriend?
How Much is Jaina Lee Ortiz Worth?
When it comes to Jaina Lee Ortiz's net worth, opinions and available facts are currently split on the exact net worth of the actress. Having worked as an international dance instructor and performer as a teenager and an acting career that has seen her star in major roles in two major shows, Rosewood and Station 19, combined with other appearances in minor roles across other projects, she is believed to be worth a lot more than the $300 thousand that is currently being touted as her net worth.
Unfortunately, public information about the actress' salary is unavailable to accurately determine her career earnings and net worth.