When talking about a combination of beauty and immense talent, the name that often comes to mind is Jaime Murray. An English actress, Jaime Murray is admired for her incredible natural flair for acting and for her adaptability on screen. She has been described as a 'genius' who is able to interpret different roles with almost the same fervor and believability. Jaime is also a model who has appeared on the pages of top magazines including Mayfair, GQ, Hello!, FHM, as well as Cosmopolitan and OK!
As an actress, Jaime Murray is now best known for her portrayal of Stacie Monroe in Hustle, a British television crime drama series. She is also recognized for her work on Dexter, an American TV series in which she played the role of Lila West.
Jaime Murray's Age and Bio
Jaime Murray was born on the 21st of July, 1976 in Hammersmith, London, England where she was also raised by her parents alongside her siblings. The actress had a beautiful upbringing and has often talked about how her parents ensured she had everything as a child.
Growing up, Jaime battled with dyslexia, a learning disorder that involves difficulty reading. She was diagnosed with the disorder just before she wrote her A-Levels examinations. This threatened to affect her education but she progressed through it.
After high school, Jaime proceeded to study Philosophy and Psychology at the London School of Economics. However, she did not complete her studies. This was because she had already taken interest in acting so she dropped out of the London School of Economics to train at the Drama Centre London. She eventually graduated from the Drama Centre in 2000.
Family
Jaime Murray was born into an interesting family; her father is Bill Murray, a popular English actor who is renowned for playing Don Beech in The Bill, a British police procedural TV series. Apparently, her father's work in the movies must have influenced her desire to go into acting herself. Jaime's mother has been identified as Elaine Murray however, what she did for a living is not quite clear.
The actress has a sister called Lizzie Murray with whom she grew up in London. According to sources, she also has a half-brother and a half-sister from her father's previous marriage.
Jaime Murray's Husband
Jaime Murray is now a married woman. She is married to a man called Bernie Cahill who happens to be an American talent manager and entertainment lawyer. The couple reportedly met and began dating around 2010 and eventually got engaged in 2014. They finally tied the knot as husband and wife the same year on May 26, 2014.
There are no reports stating that Jaime Murray and Bernie Cahill have had any children yet.
Read Also: Who Is The Game Of Thrones Actress – Faye Marsay? All You Need To Know
Movies and TV Shows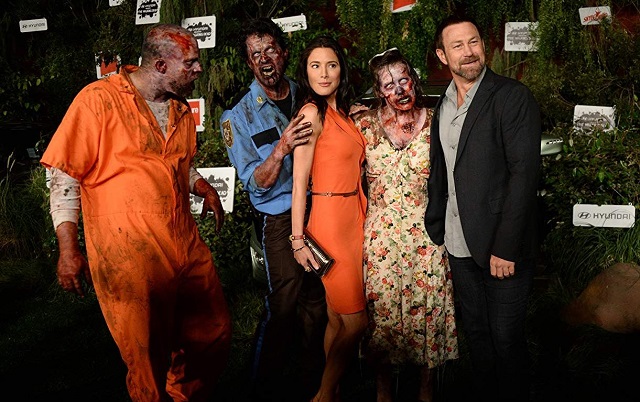 Jaime Murray kick-started her acting career in 2001 when she was cast in The Bill to play Tania Matthews alongside her actor father, Bill Murray. The next year in 2002, she starred as Sonia Guzman in Casualty, a British medical drama TV Series.
In 2003, she was cast to play Kiki in Keen Eddie, a TV Series, before going on to star as Bella Olazabal in Doctors and Nurses in 2004. At this time, Jaime was already building a lot of confidence in her acting abilities, leading to more roles.
In 2005 that the actress got her big break when she was cast in Hustle, a British television crime drama series in which she portrayed Stacie Monroe. She played the role across 25 episodes from 2004 to 2012.
The actress got many roles in different TV series in 2005 including Love Soup in which she played Natalie Brown and Agatha Christie's Poirot in which she played Ruth Kettering. She also portrayed Bianca Minola in ShakespeaRe-Told, a TV Mini-Series.
In 2007, Jaime scored another big role in Dexter, portraying the character of Lila Tournay. Her other big TV series roles include Valentine in 2008, The Beautiful Life: TBL in 2009, Warehouse 13 in 2010, Spartacus: Gods of the Arena in 2011, Defiance in 2013, Once Upon a Time in 2016, Castlevania in 2018, and Gotham in 2019 among many others.
Apparently, Jaime's work as an actress has fetched quite a lot of money over the years. At the moment, she is reported to be worth $3 million by different sources.