Thanks to his domineering body size and the unnatural speed he has for a big man, Jadeveon Clowney has become one player that opposing team quarterbacks do not like to see coming at them. The defensive end, who was drafted first overall by the Houston Texans in the 2014 NFL Draft after his outstanding performances for the University of South Carolina where he earned unanimous College All-American honors among many other awards, has built a reputation for doing anything possible to get the business done, one reason why teams would love to have him on their roster but another reason why he has been heavily fined over the years.
How Much Has Jadeveon Clowney Made From His Football Career?
While he is as of 2020 a free agent, Jadeveon Clowney's net worth is reported to be around $13 million. The four-year contract he signed with the Houston Texans when he entered the league remains his biggest deal so far.
Joining the NFL in 2014, Clowney was selected first overall by the Houston team and he went on to sign a four-year contract worth $22.272 million. The deal further came with a signing bonus of $14.518 million. Clowney made his debut on August 9, 2014, in his team's first preseason game against the Arizona Cardinals. There, he recorded a tackle for a loss of 5 yards before making his first professional sack in the second preseason game against the Atlanta Falcons.
Despite what appeared to be a bright start to life in the big leagues, the player found himself suffering a knee injury in the season opener against the Washington Redskins. He was forced to leave the game in the second quarter and he ended up missing a majority of the season, playing in only four games and recording 7 tackles.
In the following year, after being carefully nursed back to action, Jadeveon Clowney recorded 40 tackles, 4.5 sacks, with 6 passes defended in a total of 13 games. The 2016 season saw the defensive end earn his first Pro Bowl selection as he also garnered First-Team All-Pro honors after recording 16 tackles for a loss, 6 sacks, 1 forced fumble, 2 passes defended, and 52 total tackles in 14 starts.
Before the beginning of the 2017 season, the Texans picked up the fifth-year option on Clowney's contract. The player did not disappoint that year as he scored his first NFL touchdown off of a fumble by Tom Brady in a game that his team eventually lost. Clowney was further named to his second Pro Bowl as he was ranked 32 by his fellow players on the NFL Top 100 Players of 2018.
The 2018 season started quite well for the young African-American as he was named AFC Defensive Player of the Week after recording 4 tackles, 2 two sacks, recovered a fumble and returned it for a touchdown in a 37-34 win over the Indianapolis Colts. He ended up finishing the season with nine sacks, 47 total tackles, one pass defended, one forced fumble, and one fumble recovery for a touchdown.
View this post on Instagram
His Stint with the Seattle Seahawks
After about five years of his professional playing career with the Texans, Jadeveon Clowney was traded to the Seattle Seahawks in exchange for Jacob Martin, Barkevious Mingo, and a third-round pick in the 2020 NFL Draft.
With the Seahawks, the player performed as much as was expected of him as he recorded his first-ever regular-season interception in a game aginst the Arizona Cardinals on September 29, 2019. In week 10, after recording a strip-sack on San Francisco 49ers' Jimmy Garoppolo, Clowney was named the NFC Defensive Player of the Week. He was later named one of the 2020 Pro Bowl alternates.
How Clowney Spends His Wealth
Jadeveon Clowney is not so open about his finances, hence it is not clear if he has made investments or lives a very lavish life in a mansion with fleets of cars.
However, the linebacker has lost much of his wealth to a series of fines that have hit him during the course of his professional career. On two occasions (October 14, 2016, and December 29, 2017) he was fined $9,115 twice for a facemask penalty. He received an additional fine of $18,231 in January 2017 for roughing up quarterback Tom Brady.
The following years were no different for the talented defensive end. He was fined $10,026 in September 2018 for taunting Titans tight end Luke Stocker from the sidelines. Two other fines he received the same year were on December 21 and 28 where he was fined for roughing up New York Jets quarterback Sam Darnold and for illegally sacking Philadelphia Eagles quarterback Nick Foles. The most-recent fine against him was on January 11, 2019, when he was fined $10,026 for unsportsmanlike conduct against Indianapolis.
 See Also: Melvin Gordon Biography and Injury Update, Career Stats, Salary and More
Details of Jadeveon Clowney's Family Members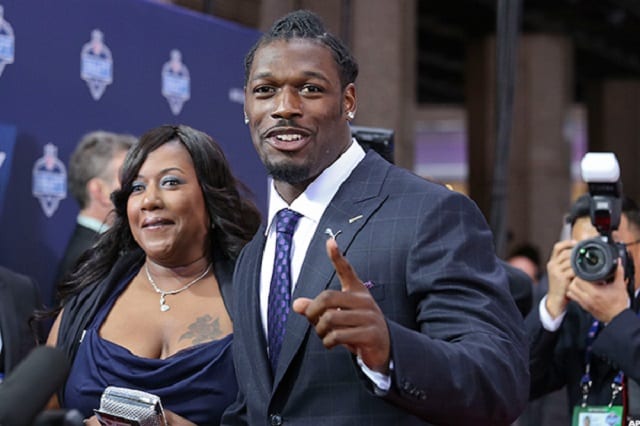 Jadeveon Clowney was born to David Morgan and Josenna Clowney on February 14, 1993, in Rock Hill, South Carolina. He, however, grew up in Charlotte, North Carolina with his maternal grandparents; John and Josephine Clowney, who were supportive of his football career as his father was serving a twelve-year jail term for robbing a Rock Hill check-cashing business.
Although it is alleged that Clowney reconciled with his father during his teenage years, we know this will certainly put a strain on their relationship. To provide for her son, Josenna Clowney worked as a processing technician at the Frito-Lay plant in Charlotte, North Carolina. While there is no report about him having any siblings, the athlete is known to be close to his mother's longtime boyfriend, Christopher Jones.
Meet Clowney's Girlfriend and Son
Looking at his love life, Jadeveon Clowney is said to be in a relationship with a woman identified as Najah Ré, whom he met at the University of Houston in 2012. Najah is a professional makeup artist. According to her Insta bio, she is a Certified Production Makeup Artist, meaning she's not just working the Macy's counter.
It is not clear if the two are married but they, however, live together with their son, Jahlil Clowney, who was born in mid-October 2015.