Age/Date of Birth:

January 28, 1985
Height:

6 ft 2 in or 188 cm
Ethnicity/Race:

Multiracial (American African/ White German)
Nationality:
American
Wife or Girlfriend:
Melissa Heholt (2006-Present)
Parents:
Father: Unknown
Mother: Kay
Net Worth:
More than $35.5 million
Jermaine Lamarr Cole, best known as J. Cole, is an American rapper, hip hop recording artist, and record producer, who rocketed to stardom in 2007 after his debut mixtapes, "The Come Up", hit commercial markets. As of 2020, J Cole's net worth is $35.5 million
He has been active in the industry since 2007 to date and has released four studio albums, one live album, and numerous mixtapes.
Fondly called "Therapist" and "Blaza", J. Cole's "Forest Hills Drive" (released in 2014) became his first biggest project after it was nominated for Best Rap Album for Grammy Award.
Before finding fame and fortune, he did various stints in Fayetteville, where he was once a file clerk, a bill collector, a mascot at a skating rink, and a working ad salesman for a print.
J. Cole Hit The Spotlight With His Debut Album
Cole once stood outside of Jay-Z's Roc the Mic Studio for three hours to hand him a CD copy of his beats but was snubbed. In 2007 after college graduation, Cole released his first mixtape "The Come Up" but it wasn't a hit, however, it attracted the attention of Jay Z who had previously rejected him.
In 2009, Jay Z signed J. Cole as the first artist to his newly formed label Roc Nation. The same year, Cole released his second mixtape "The Warm Up" which was highly acclaimed. His first single "Who Dat" was released in April 2010 and was followed by a video. His third mixtape Friday Night Lights (2010) featured artists like Drake and Wale.
J. Cole's debut album "Cole World: The Sideline Story" (2011) debuted at no. 1 on the Billboard charts and earned him a Grammy nomination for the best new artist. It produced the hit single "Work Out" and featured artists like Rihanna, and Trey Songz.
"Born Sinner" was released as the follow-up album; it debuted at number two and later snapped the top spot. Cole had his third consecutive Billboard-topping album with the release of "2014 Forest Hills Drive". The album has sold over a million copies in the US alone and has been certified platinum. It won a BET Award for Album of the year and a Billboard award for Top Rap album. His first live album "Forest Hills Drive: Live" was released on his birthday in 2016.
Billboard revealed in a list published in May 2016 that J. Cole was the highest-paid rapper of 2015. He made a total of $8.8 million. $5.5 million came from touring, $1.5 million from album sales, $1.1 million from publishing, and almost $800k from streaming. Cole has named rappers like Nas, Kanye, Tupac, and Eminem as his influencers.
A Look At His Background Information
The son of an African American US Soldier, J Cole was born on January 28, 1985, in the 97th General hospital at US Army base in Frankfurt, West Germany. After his dad left the family, Cole grew up with his mom (a white German) in Fayetteville, North Carolina.
As a child, he played the violin and started rapping his own lyrics at the age of 12. When he turned 15, his mom bought him a $1,300 ASR-X beatbox as a Christmas gift to help him develop his music. Cole began producing his own music and posted them on various internet forums.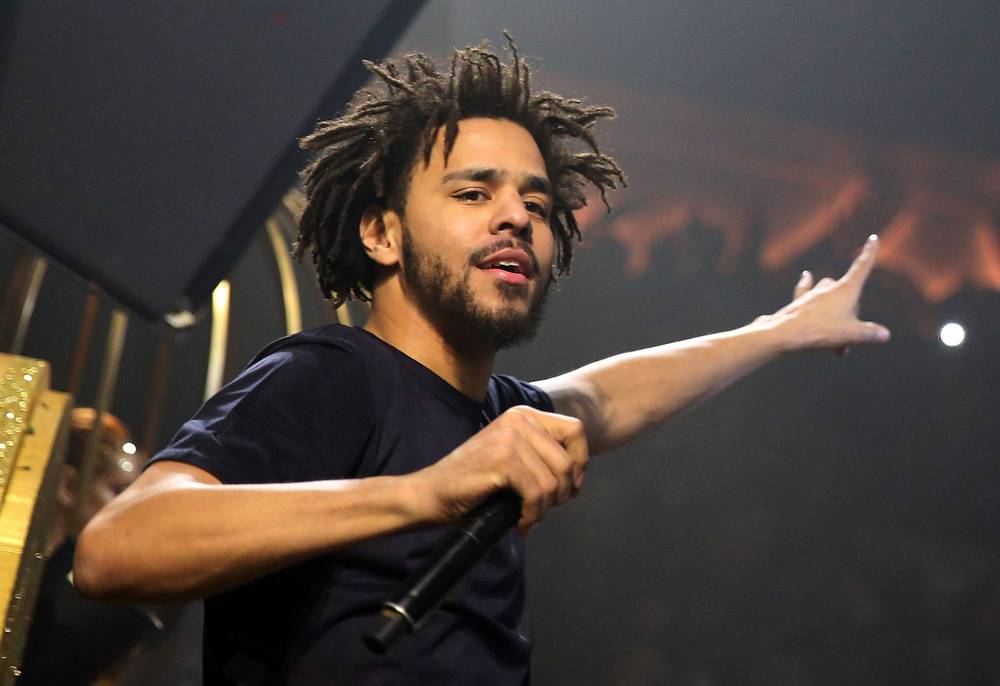 In search of a befitting record deal, Cole moved to New York where he attended St. John's University on scholarship. The rapper initially majored in Computer Science but later took up Communication and Business, graduating in 2007. He officially received his degree from the college in 2015 because he was owing St. John's University money.
While at the college, he was elected Haraya (a federation of the pan-African student) leader.
How Much Is He Worth Today?
It's safe to call J. Cole a hardworking and successful rapper, who has never settled for less since rising to stardom. The superstar's net worth increases by leaps and bound with each passing year.  As of 2020, J. Cole's is estimated to be worth $35.5 million.
J. Cole is a Family Man and Married to Melissa Heholt
Frankfurt-born Jermaine Lamarr Cole has on several occasions shown that he's not a 'media guy'. He's known for that, having shunned so many interviews and interrogations from journalists.
J. Cole isn't only a hardworking and lovely music personality, but also an amazing husband to Melissa Heholt and a caring father to two amazing boys. Information about his marriage to Mellissa was a Class 'A' secret, kept safely away from the media and general public until it was unintentionally spilled by American film director, Ryan Coogler in January 2016 during an interview where he asked J. Cole how his marriage is going.
This revelation sent his (J. Cole) fandom on a frenzy. The internet was agog with searches of who the mystery wife of J. Cole might be and how it all went down. However, it has been revealed that the lovebirds were secretly wedded in 2015 in a private vow-recital ceremony even though J. Cole later admitted to living with his better half, for the first time, in January 2016.
What We Know About Melissa Heholt and the Origins of Her Relationship With J. Cole
Even though the couple hid the fact that they were officially married, it was known sometime in 2014 the the duo was engaged. And as the media followed up on the engagement story, it showed that J. Cole and Melissa Heholt were college sweethearts, having met at St. John's University in Queens, New York. This shows that the couple had been together for almost a decade. However, the source of the rumor was unnamed at the time and so the news of the engagement subsequently died down – especially because neither J. Cole nor Melissa (who was relatively unknown at the time) came out to confirm the supposed rumor.
Melissa Heholt is known today as an event planner but is only her second passion. Born on the 10th of October, 1987, into a family of six, the 5 ft 4 businesswoman swapped a teaching career for one in the creative industry. Details about her early life (including her parents and siblings) remain largely evasive, however, she attended New Yorks' St. John's University after her high school and graduated with a B.Sc. in Health Administration (even though she is said to have changed departments a number of times before settling for health administration).
A passion for kids would see her obtain a masters in education (M.Sc. Elementary Education) and delve into teaching but she was easily discouraged by the way the teaching profession was structured in the US and so she gave it up and settled for event planning. To develop her skills in the craft, Melissa enrolled at the Makini Regal Design where she was trained in floral designs.
A very hardworking and special woman in her own right, the mother of two is today, a first-rate event planner and founder of Statice Events. She is also the Executive Director of J. Cole's Dreamville Foundation.
Here's The True Story Behind J. Cole and Melissa Heholt's Kids
For a long time, it was carried on several online media sites that J. Cole has a daughter who was born sometime in 2018. This was bound to happen owing to the secretive nature of the couple especially with issues relating to their family life – plus the fact that J. Cole is not one to confirm or deny rumours about him. This held sway until his 2018 interview with Angie Martinez where he revealed that his first child was a son born on December 8, 2016.
J. Cole's wife just had a baby and no one knew she was pregnant, and just found out they were married… It's levels to this lowkey shit.

— paris morgan (@neetorious) December 8, 2016
The birth of a second child was revealed through the lyrics of a song (Sacrifices) from his 2020 album with Dreamville "Revenge Of The Dreamers III". In the song, one of the bars echoed, "She gave me the gift of my son, and plus we got one on the way;
She gave me a family to love, for that, I can never repay." This revealed that Melissa was pregnant and the time and by simple calculations, the rapper, who has millions of followers on his social media platforms (over 5 million on Instagram and over 13 million on Twitter)  is a father of two – all boys.
He has come out unconventionally to confirm this through an essay he penned down for The Players Tribune where he described his love for basketball and how he feels blessed for what he has achieved – including being the father of two sons.
Profile Summary
First Name:
Jermaine
Last Name:
Cole
Also Known As:

J. Cole, Blaza, Therapist
Sex/Gender:

Male
Profession:

Rapper, singer, songwriter, and record producer
Famous For:
The huge critical acclaim and commercial success of Born Sinner and 2014 Forest Hills Drive.

Colleges/Universities Attended:

St. John's University in New York City
Educational Qualifications:

Degree in communication and business
Religion:

Not available
Birthday & Zodiac

Age/Date of Birth:

January 28, 1985
Zodiac Sign:
Aquarius
Birth Place:

Frankfurt, West Germany
Nationality:
American
Ethnicity/Race:

Multiracial (American African/ White German)
Country of Residence:

USA
Physical Attributes

Height:

6 ft 2 in or 188 cm
Weight:

84 kg or 185 lbs
Eye Colour:

Dark Brown
Hair Color:

Black
Other Body Measurements:

Not available
Relationships

Marital Status:

Married
Spouse/Partner:

Melissa Heholt (2006-Present)
Family and Relatives

Father:

Unknown
Mother:
Kay
Children:

A son whose name is unknown
Siblings:
Zach Cole (Brother)
Other Relatives:

Not available
Net Worth
Estimated Net Worth:

More than $35.5 million
Salary:
Unknown
Source of Wealth:

His music career, endorsement deals, record label, stake in Tidal, Dreamville Festival, footwear and apparel partnership with Puma