Its Just Luke is an American YouTuber who got himself established in the vlogging business through his six-second-long, looping video clips on the short-form-video-hosting service known as Vine. The social media influencer later became very popular on YouTube with the creation of his It's Just Luke channel which he subsequently re-launched using the name, Luke Abercrombie.
His second channel has recorded even more success on the platform than the previous one but both are still active. Discover more facts about the young YouTuber, especially his struggle with his sexuality and how he overcame.
Early Life
Born on February 26, 2000, Luke Abercrombie, popularly known as It's Just Luke, is from a very small town in Georgia, United States of America. He began making Vines at the end of 2014 and posted his first video in September of the said year, reaching his first 1,000 followers in October and his first 10,000 by April of the following year. By the time Vine was bought over by Twitter and videos were no longer posted on the platform, Is just Luke had more than 410,000 followers.
He later moved over to YouTube and started a channel named Its Just Luke on Mar 9, 2018. Among the videos he posted on the channel are Getting Arrested In Walmart, My Americas Got Talent Audition, The Real Housewives Of Alabama, 100 Layers of Peanut Butter and much more. As of June 2019, the channel has over 220,751 views and more than 11,000 subscribers.
On June 14, 2018, Luke stared another YouTube Channel named Luke Abercrombie. It currently has more than 10 million views and over 279 thousand subscribers.
Family Life
Luke has four siblings – two sisters named Sarah and Megan and two brothers named Kyle and Trey. His parents are not living together and this is proven by his "I Dropped Out In 10th Grade" video, where he talks about moving in with his dad and later moving back in with his mom. His family has been through some hard times as they once lived in a basement and had to eat leftover brought home by his mother, who worked as a waitress.
In addition to his human family, Its Just Luke also has two cats.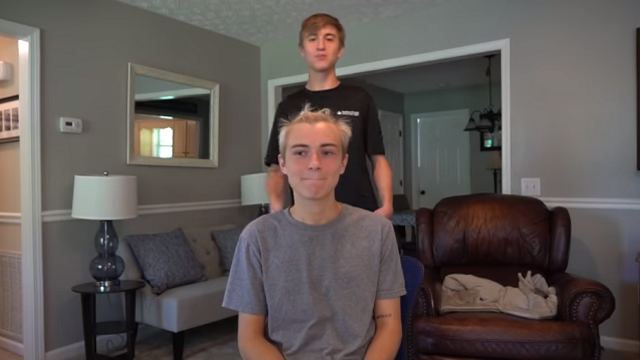 What Happened To Him?
After one year hiatus, the social media personality posted a video, explaining why he took a break from YouTube. According to him, even though he had made Vine videos that made people happy, he was never happy himself. He was isolated, hated himself, hated the way he looked and even considered death. By the time he noticed that Vine was dying, Its Just Luke moved over to YouTube without saying goodbye to his Vine followers. One year after, he hit 100,000 subscribers on YouTube and in the months that followed, his channel kept gaining traction but his feeling of sadness and depression never went away.
On hitting 200k subscribers, he realized that they had been making money all the while but he didn't have it and had no idea what his mom, who was in charge of the business aspect, was doing with it. When he questioned her about it, it led to a conflict between them and as a result, he moved in with his dad but was kicked out shortly after. He had no money, no home, and wasn't going to school and it was at this time that he quit YouTube.
Being Gay And Coming Out
Its Just Luke came out as gay in a video posted on his Luke Abercrombie YouTube Channel on October 2, 2018. He began by speaking in support of gay people, encouraging those of them whose parents and loved ones do not support and assuring them that he loves them just the way they are.
Growing up in a small town in the south, Its Just Luke said he felt out of place because there were no gay people there and therefore had no representation of who he was. His family went to church a lot and his parents were not supportive of gay people. Realizing that he might be gay in his 3rd grade, Luke, considering his parent's position on it, decided to repress the idea in his mind and never told anyone.
As time went by, he got into middle school and by the time he was in 6th grade, he knew for sure that he was different from everybody else and was also bullied for that. In an attempt to appear normal as he was not yet sure if he was really gay, he dated a number of girls but it never worked. The teasing and bullying continued and finally resulted to an all-time embarrassment when, after a soccer game in his 8th grade, the entire team went out to eat and someone stole his phone, went through his internet history and saw gay porn. With that, everyone at school got to know that he was gay and the teasing increased, ultimately making him leave the team and depressed.
He eventually came out to his mom and siblings but while his mom found it hard to accept, his siblings were very supportive.
Its Just Luke Played Football To Make His Dad Happy But…
Its Just Luke played football around the time he was in 3rd grade. He played under his dad who was the coach, not because he loved the sport but because his dad wanted him to. Growing up, his dad played football in high school through college and because he loved the sport so much, it was his dream to coach his son, especially his firstborn son. Although Luke didn't want to play football, he never let anybody know about it.
In addition to not loving the sport, he was being bullied and always picked on for being small and girly. This made him want to quit playing all the more but not knowing how to tell his father, for fear of disappointing him, he decided to do the unthinkable. One day, just before practice, he put his hand in the car door and slammed the door against it, breaking his finger and that was it.
Dropped Out Of High School
In his video titled "I Dropped Out In 10th Grade", Its Just Luke revealed that he dropped out of high school to pursue an internet career. He started making Vines in 9th grade, towards the end of 2014 and it became an escape route from the depression and anxiety which he was going through at the time. In 10th grade, his Vine account grew bigger and started yielding money and as a result, he began to pay less attention to his academics. At the end of 10th grade, he convinced his mother to allow him to start online school in order to have time to make videos.
However, he could not keep up with the online school activities so he had to drop out again and stuck to making videos. Its Just Luke eventually enrolled in night school and graduated with a high school diploma in 2017.
See Also: Cari Champion – Bio, Husband or Boyfriend, ESPN, Salary and Net Worth
Other Ventures
Its Just Luke has an online shop where men and women's T-shirts, sportswear, workwear and women's polo shirts are sold. The T-shirts which come in different colors, sizes, and designs have the inscription "its just luke Re-uploads" boldly written on it.