The acclaimed City of Love, Paris have unveiled a new attraction site. Called "Off Paris Seine", it is the first ever floating hotel in Paris. The hotel features 58 rooms, (including 4 suites), a bar, plunge pool and other elevating features.
The idea of Off Paris Seine was conceived by Gérard Ronzatti of floating architecture firm, Seine Design. Docked on the River Seine near the Gare d'Austerlitz, the floating hotel is part of Paris' grand project to revitalize the riverfront. And at 80 meters long, 20 meters wide, it is the largest boat moored in the French capital.
The Seine area has already seen a number of uber revolution, such as the redeveloped Berges de Seine- a riverside promenade which covers the Left Bank and includes cafés, and children's games. According to the city's mayor Anne Hidalgo, swimming on the River Seine will again be made possible by 2024.
The design credit of the Off Paris Seine goes to award winning pair Maurizio Galante and Tal Lancman. Elegancia hotel group also made contributions to making sure the floating hotel was nothing short of luxury. Breathtaking contemporary decorations light up the extensive vessel.
The lounge bar has its roof covered with 8,800 suspended squares of metal which gently and beautifully reflects the River Seine.
See Also: The Mark Hotel: World's Most Expensive Hotel Suite 
The reception features a bold and intriguing decor statement- a 250 year-old piece of wood embedded atop the copper-made reception desk.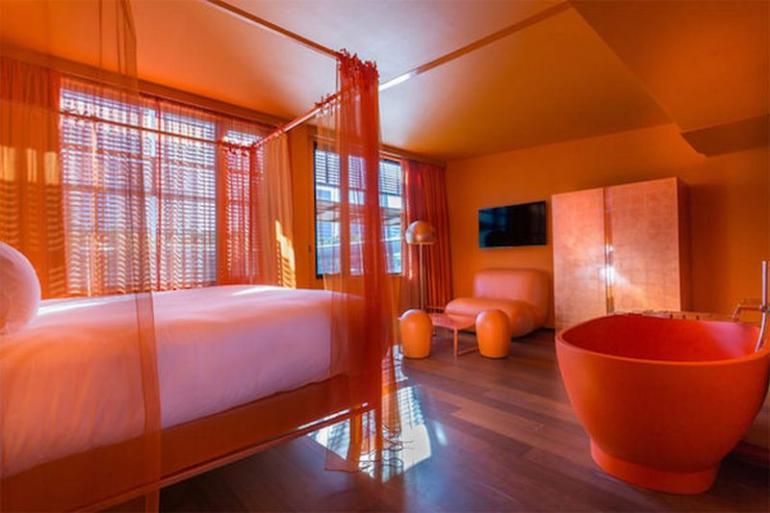 Two of its four suites are decked out in monochromatic palette. The 54 rooms are spread through the main and upper decks. Customers who love river views can go for the Rive Droite rooms as they overlook the river. On the other hand, customers who'd rather have the opposite can opt for the Rive Gauche rooms instead as the overlook the quay.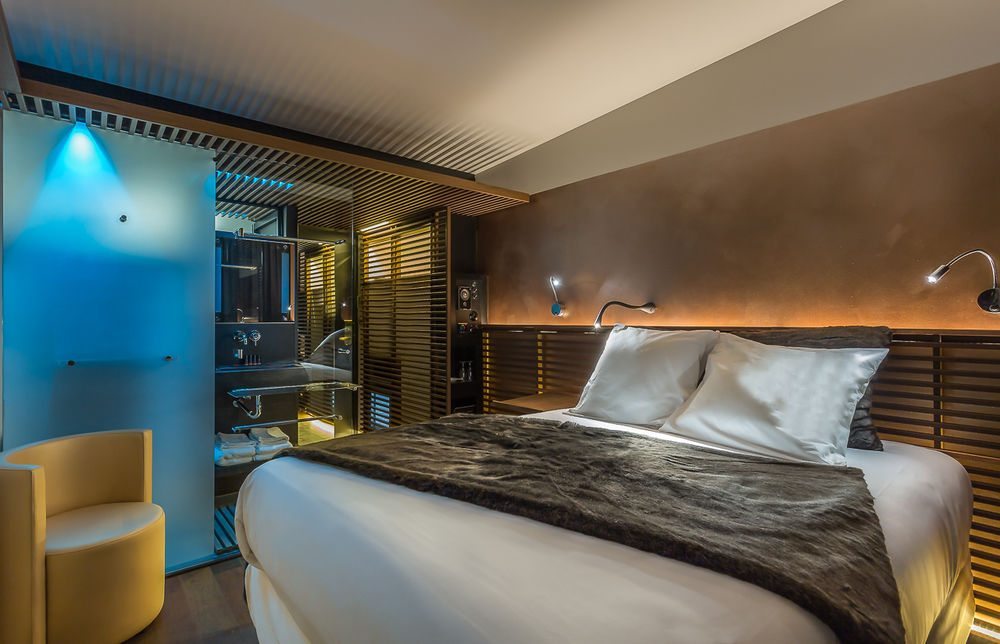 Room amenities include Smart TVs and minibars stocked with artisanal beer from local La Parisienne brewery. The bathrooms feature 100% organic toiletries by Atelier Cologne and showers that change their color at the press of a button.
See Also: Top 10 Most Romantic Luxury Resorts For Valentines Day
There's also value for money, a double room at Off Paris Seine goes for £132 per night in low seasons and £388 in high seasons. What's more? The hotel's cocktail and tapas bar is open to non-residents from 5 p.m. to 1 a.m.
Reserve here.