Republican front man Donald Trump may be channeling all his energy to tongue-lashing Hilary Clinton in their race to the White House, however, he maintains focus on his non-political business ventures. The billionaire real estate mogul opened the doors to his new eponymous hotel, Trump International hotel in Washington D.C on September 12th 2016 and the views are nothing short of luxury.
The plush Trump International hotel is housed in the 1899 Old Post Office Pavilion which took over $200 million to renovate. Located around the corner of Pennsylvania Avenue and 12th Street, Trump would at least be able to stay 15 minutes away from the White House if he doesn't succeed at the forthcoming November polls.
Trump's real estate company acquired the landmark building back in 2014 in a 60 year lease from the federal government to restore its rich historic features. And Trump gladly revamped it into a luxury 5 star hotel with the help of his oldest daughter Ivanka who has the spa/fitness center and a suite named after her.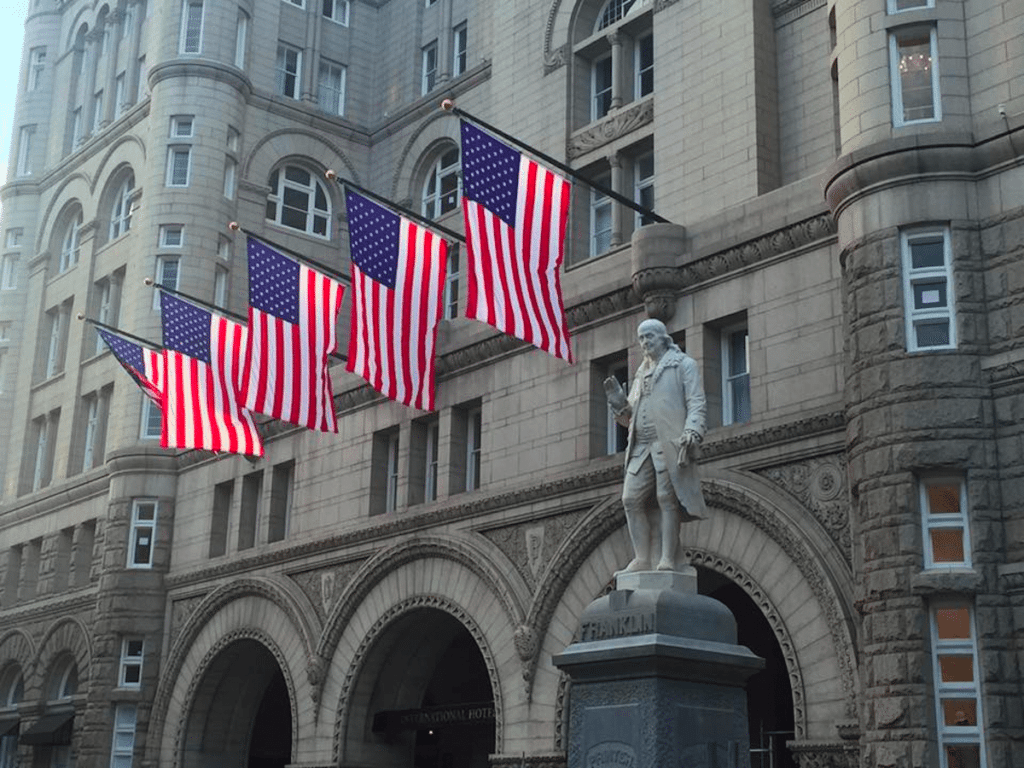 The Trump International Hotel features a total of 263 rooms and 35 suites. Regular rooms start at $396 per night and suites at $556 per night. The debut Ivanka suite will set you back around $1,000 per night.
The presidential suite which goes for $15,000 per night occupies the former Postmaster General's office which maintains its historic deep plaster crown moldings, and stained wood trim. Measuring 4,000 square ft, and 16 foot high ceilings, it includes two bedrooms, a living room, formal dining, butler's pantry, kitchen and walk-in closets. Visitors of this suite have unlimited access to all amenities including the Ivanka-branded fitness center. The master suite features the patriotic red and blue colors.
Another premium suite in the hotel is the Trump Townhouse which goes for around $25,000 per night. The 6,300 sq ft, two story suite which has a private entrance from the Pennsylvania Avenue boasts two bedrooms, two bathrooms, a dinning that seats 24, a workout room and private office.
The hotel's lobby is grandiose with varying shades of blue sofas and a ridiculous number of chandeliers. The twinkling chandelier goodness extends to the 13,200 square-foot ballroom, dubbed the Presidential ballroom, it is the largest in the capital and features a gold theme. There is also a Brioni boutique in the building; the suit maker is one of Trump's favorite luxury brands.
Restaurants also open to the public are Benjamin Bar and Lounge and David Burke's steakhouse BLT Prime. There would be more dinning options had the presidential hopeful's controversial comments on immagration not driven away Mexican restaurateurs Jose Andres and Geoffrey Zakarian. According to reports, the demand for Trump branded hotels have plunged by 60% in the past year, thanks to his bold controversial remarks. On the day of the hotel's soft opening, a small group gathered outside in protest of his political policies.
Trump's use of unAmerican-made items in the new hotel have raised eyebrows in question of his "Make-America-Great-Again" campaign slogan. The availability of Qurans in its rooms/suites also contradicts his opinion of Muslims entering the United States. But we all know it isn't Donald Trump if it isn't controversial.
Reservations for the hotel have already begun while a grand launch is slated for later in October.
See Also: Trump's Private Real Estate Collections