There is a chance that you have heard a version of this phrase 'women are not funny' from one person or the other, and like almost every negative stereotype about women, it has been proven untrue time and time again. One of the women who have shattered this stereotype is Iliza Shlesinger who has been in the business of making people laugh since 2007.
Iliza Shlesinger's career has seen her record several achievements, including producing multiple specials, appearing in several TV shows and movies as an actress and hosting comedy and game shows of her own.
For many women or men aspiring to be successful as comedians, Iliza is a worthy name to look up to and here is why.
Iliza Shlesinger's Background & Age
Iliza is a Jewish woman who was born on the 22nd of February, 1983 in Manhattan, New York. Although a native of the Big Apple, she was raised in Dallas, Texas where she studied and began her journey as a comedian. Not much is known about her parents but we know she was raised with a younger brother and two half-siblings.
Her education began at Greenhill School where she not only acquired basic knowledge but also began her career as an entertainer by joining the school's improv team. After her time at the school, she joined another improv team, ComedySportz Dallas which she remained a part of during her freshman year in college at the University of Kansas.
Iliza Shlesinger's higher education was a journey that also included time spent in Semester at Sea before she eventually transferred and graduated from Emerson College in Boston where she studied Film. At Emerson, Iliza continued her comedy journey by joining one of the school's comedy groups, Jimmy's Traveling All-Stars.
After she graduated from college, Iliza Shlesinger relocated to Los Angeles where she began the pursuit of her career in stand-up comedy. Soon, she was making waves as one of the most popular members of Whiteboy Comedy's group of comedians, eventually developing a profile that led her to the iconic The Improv stage in Hollywood.
Her early years as an aspiring comedian saw her record a number of achievements, a few of which was winning Myspace's So You Think You're Funny contest and getting featured in G4 network's Myspace Girl of the Week, appearing in John Oliver's New York Stand Up Show and hosting The Weakly News on TheStream.tv. Eventually, Iliza Shlesinger got her big break after she competed in and won NBC's Last Comic Standing, becoming the first woman and the youngest person to win the competition.
Her Career as a Comedian
Since she won the competition, Iliza Shlesinger has worked with Lewis Black to create the program, Surviving the Holidays. She has worked on several comedy documentaries and has released her own comedy album, iliza LIVE.
Iliza has also released several comedy specials, most of which have been distributed by the online streaming giant, Netflix and she has hosted several shows, such as the dating show, Excused and the comedy/game show, Separation Anxiety. She has also hosted a late-night talk show of her own, Truth & Iliza, which ran briefly on Freeform.
Other notable career accomplishments of Iliza Shlesinger include her hosting a comic show with celebrated astrophysicist, Neil DeGrasse Tyson. She has also performed for United Service Organizations (USO), performing for the troops on the USS Hornet.
She is also a producer, writer, and actress. As a writer, she is the published author of Girl Logic: The Genius and the Absurdity and she has appeared in shows and films like Girlboss, Forever 31, Deadbeat, Paradise, Wonderland and a few more as an actress.
Is Iliza Shlesinger Married?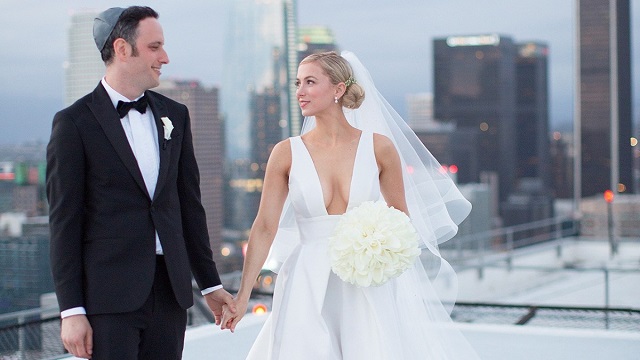 Iliza Shlesinger has been married to Noah Galuten since the 12th of May, 2018. The two of them began dating in July 2016 after they met on a dating website and the got engaged a year before getting married in 2018 in front of their friends and family. Her husband, Noah is a chef and he has a sibling named Jason. His parents are Albhy Galuten and Nancy Lyons.
See Also: Bobby Lee -Bio, Wife, Girlfriend, Net Worth, Brother of The Comedian
What Is Iliza Shlesinger's Height?
Iliza has a height of 5 feet 8 inches and she has a bodyweight of 63 kg. She has a curvy body admirable to both men and women. Other noteworthy body facts about the comedian include sizes of her clothing items which are – a bra size of 34C, dress size of 8 US and a shoe size of 7.5US.