As far as comic acting goes, Josh Gad is one of the more popular purveyors of the genre. Josh, who has starred in several popular films like Beauty and the Beast, The Angry Birds Movie, The Wedding Ringer among others is perhaps most popular for his role as Olaf in the 2013 hit film, Frozen. One person who he has had the pleasure of sharing this success with is his wife, Ida Darvish.
Just like Josh, Ida Darvish is also a member of the biggest entertainment industry in the world, Hollywood. She is both an actress and a producer, appearing in major productions like Inferno, and several TV shows like Californication and Eleventh Hour. Learn more about Ida Darvish, her career and her relationship with Josh Gad below.
Ida Darvish's Biography
When it comes to Ida Darvish, there is not an abundance of information about her life, particularly her childhood background. She is a very private public personality whose disinterest in the media also extends to social media where she has no presence. She was born in 1975 (day and month unknown) in the United States of America. Other than that, nothing is known of the actress, including facts like her birthplace and parents.
Her career as an actress began in 2001 when she played a nameless character in the short film, AppleJax and YoYo. Then in the same year, she made another an appearance in a video, The Holy Cannoli, playing Bernice.
After about four years without credit to her name, Ida Darvish returned to the screen in 2006 playing an Italian Anchorman in the film, The Astronaut Farmer. In the following year, she appeared in the short film, Rick Speed, Private Shrink and played her first role as a voice actress, for the video game, Assassin's Creed.
Her return to dramatic roles was in 2008 when she starred in an episode of Californication and Eleventh Hour. Her other projects in the 2000s included Big Guy, Rent Control, Raising the Bar. At the start of the 2010s, the returned to her voice acting role for Assassin's Creed, reprising her role in the two sequels of the original game – Assassin's Creed: Brotherhood and Assassin's Creed: Revelations.
Her most significant role in a TV show came in 2011 when she began to star in Gigi: Almost American as the character Didi. She played the role through 2011 to 2014, appearing in six episodes. But perhaps for Ida Darvish, her most significant role yet was in 2016, when she played Marta Alvarez in the Tom Hanks film, Inferno.
As a producer, she has credits to her name for Gigi: Almost American, Rent Control and a couple more others.
Who Is Her Husband – Josh Gad?
Ida Darvish's husband, Josh Gad has been an active part of Hollywood since 2002, having made his debut that year. A graduate of Carnegie Mellon College of Fine Arts, Josh Gad career has seen him play mostly comic roles, starting from the early days of his career when he was a part of The Daily Show as a correspondent.
Josh Gad's career has seen him appear on both film, television and stage plays, with his performance on one of his stage roles recognized with a Tony Award nomination in 2011.
His extensive film and television filmography include The Wedding Ringer, Frozen, Wish I Was Here, Ice Age: Continental Drift, Love & Other Drugs, among several others.
There are no specifics on how Ida Darvish and Josh Gad met but with both of them being members of the same industry, one supposes they met via one of the several productions or events in Hollywood. And although Ida Darvish is seven years older than her husband, it did not prevent from starting a relationship and eventually getting married in 2008.
Their age difference was not only the fundamental difference between Josh Gad and Ida Darvish. Ida Darvish is a Catholic while her husband is a non-religious man who celebrates aspects of Judaism and Catholicism. Regardless, they have been made their relationship work and have cultivated one of the most admired marriages in Hollywood.
See Also: Kerri Higuchi – Facts About The Actress And John Cho's Wife
Meet Her Children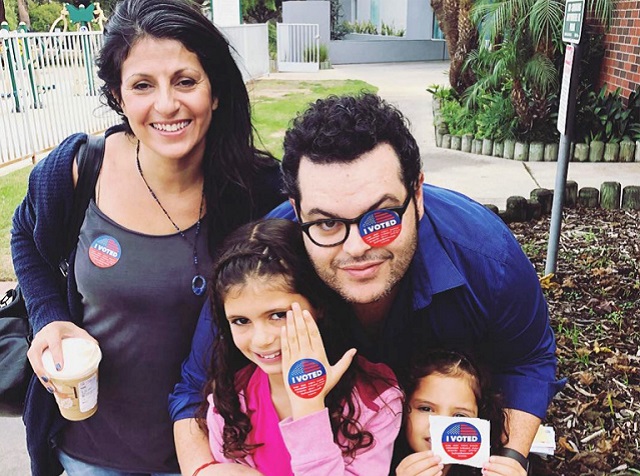 Their marriage has lasted long enough to be worthy of praise in an industry that is notorious for several broken marriages but the celebration of their marriage is not only in the fact it has beaten the Hollywood odds. Ida Darvish and Josh Gad have also given birth to two children, two girls who were born in January 2011 and February 2014. The first daughter is named Ava Tanya Gad while the second is named Isabella Eve Gad.