The 2020 U.S. elections may have come and gone, but several sour points remain, and one of them is the issue of Hunter Biden's earnings and net worth. The trained lawyer, investor, and lobbyist has had decades of practice in the business world, which has enabled him to acquire a fortune of $3 million. There have, however, been allegations that he may have been involved in shady dealings.
The Trump administration had alleged that Hunter's father had stopped the investigation and potential prosecution of a Ukrainian energy company just because his son worked there. These claims were largely discredited but it is not yet "Uhuru" for the junior Biden as he has faced allegations of money laundering and tax issues in connection with his activities in China. Whether these allegations turn out to be true or not, one thing that cannot be disputed is that Hunter Biden has benefitted from his family name.
Hunter Biden Earned a Salary of $100,000 During his Days at the MBNA Corporation
Upon qualifying as a lawyer in 1996, Hunter Biden kick-started his career with a bank holding company known as MBNA. This role lasted for about three years, a time during which he earned a salary of about $100,000 per annum and rose to the position of the executive vice president. The whole thing would later raise some eyebrows as MBNA was a major political backer of his dad's. There was also the fact that his father supported legislation favorable to the company. Analysts have, however, pointed out that even though Hunter probably got the job as a result of his father's cozy relationship with MBNA, there was no reason to believe that he, Joe Biden, supported the company because his son worked there.
Hunter Served as a Director of the National Railway Passenger Corporation for Three Years
Following a successful stint at MBNA, Hunter Biden got his first taste of public service when he was appointed into the United States Department of Commerce. He held that position until 2001 before switching back to the more lucrative business world and setting up his first lobbying firm, Oldaker, Biden & Belair.
Utilizing his connections with MNBA, Biden and his firm were able to score consulting deals that paid millions of dollars. He also landed a role in his father's political campaigns which paid him more than $100,000. By 2006, Hunter was appointed to serve on the board of directors of the American Railway Passenger Corporation. His tenure was meant to last for about five years but he spent only three years there, from 2006 to 2009, before calling it quits.
Biden and His Uncle James Ran the Defunct Paradigm Global Investors Hedge Fund
Upon quitting public service for a second time, Hunter Biden joined hands with his paternal uncle, James, to purchase a hedge fund known as Paradigm Global Investors. They drafted out an $8.1 million promissory note to cover the purchase and hoped to take the venture higher. Their dreams failed to materialize though as they lost lots of money through bad investment decisions, frauds, and Ponzi schemes. This forced the duo to wind down the hedge fund in 2010. This was quite a big disappointment for their clients but Biden took consolation in the $1.2 million salary which he had received annually while heading the company.
He was a Director of the Ukrainian Energy Company Burisma Holdings for Five Years
One role which has brought Hunter Biden much financial reward and controversy is his time as a director of Burisma Holdings; one of the largest private natural gas producers in the world. Hunter was appointed a director of the company around April 2014 and he held this role for the next five years. During that time, he helped the company iron out its corporate governance best practices. They in turn rewarded him with a monthly paycheck which got as high as $50,000. In all, it is estimated that the lawyer-cum-lobbyist made from $850,000 to $3 million during his stint with the company.
That stint would eventually come to an end in April 2019 but this marked the beginning of a major controversy for Hunter. His father's political opponents, namely Donald Trump, saw it as a major chance to gain leverage, and so started spreading claims that he, Hunter, carried out numerous shady dealings in Ukraine, including paying thousands of dollars which ended up in the hands of an eastern European human trafficking or prostitution ring. They also asserted that his father, Joe, had gotten Ukraine's prosecutor general, Viktor Shokin, fired in order to prevent any prosecution of Burisma Holdings. These claims were largely unproven and so nothing tangible came out of it.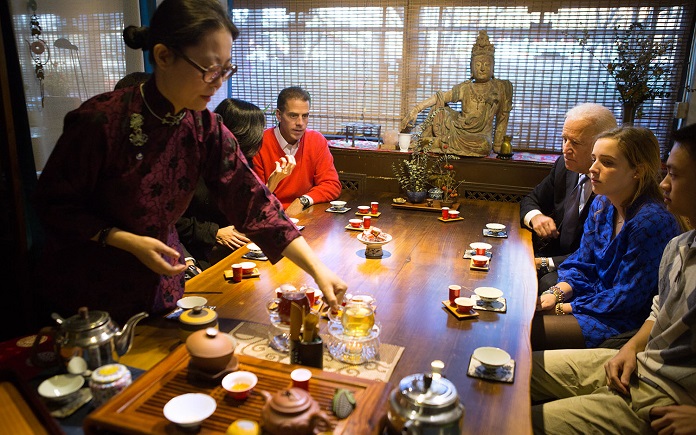 Hunter Biden Holds a 10% Stake in the Chinese Private Equity Firm BHR
Another engagement that has buoyed Hunter Biden's net worth, albeit with controversies, is the Chinese private equity firm known as BHR. Prior to joining the board of the company, Hunter had joined hands with two other individuals, namely Christopher Heinz and Devon Archer, to set up an investment and advisory firm known as Rosemont Seneca Partners in 2009. Rosemont Seneca would amble along until 2013 when Biden and his partners decided to merge the company with three other organizations, namely Thornton Group LLC, Bohai Industrial Investment Fund, and Harvest Fund Management, to form BHR.
BHR was aimed at investing in and reforming state-owned Chinese enterprises and Rosemont Seneca got a 20% stake in the new organization. Hunter was then allowed to purchase a personal 10% stake at the discounted price of $420,000. Asides from that stake, he served on the board of directors of the company from 2013 – 2020 but received no compensation for that work. Despite not receiving any compensation, Hunter's work with BHR served as another fodder for accusations as some political opponents alleged that he had laundered money for the Chinese. This claim was investigated and found to be unsubstantiated by the FBI. They, however, continue to pursue the claim that Biden may have offended some tax laws in the course of his Chinese dealings.
Highlights of The Sources That Have Contributed to Hunter Biden's Net Worth
MBNA Holdings – $300,000 est.
Department of Commerce and National Railway Passenger Corporation – N/A
Paradigm Global Investors – $3 million est.
Burisma Holdings – $850,000 to $3 million
BHR – N/A
Hunter Biden Claims To Be Too Broke To Pay Child Support Despite His $3 Million Net Worth
Having a net worth of $3 million certainly makes Hunter Biden a wealthy fellow but it doesn't mean that all of his money problems are over. The lawyer was hit with a $450,000 tax lien by the District of Columbia in July 2020. Luckily, he sorted it out within days and so avoided the embarrassment of potential seizure of his property. Prior to the tax lien, Hunter had been involved in a scandalous paternity scandal stemming back to 2019.
A former D.C. striper, Lunden Roberts, had accused him of fathering her child and sued him for support. He denied the claims severally but was forced to face reality after the DNA test proved that he indeed fathered the child. Following this confirmation, Biden made a deposition to the courts in which he claimed that he was too broke to pay child support. The court did not buy this argument and he had to reach a settlement with his baby mama on the amount of child support as well as health insurance premium that he would be paying for his child.