Hugh Hefner was an American businessman, political activist and philanthropist. He was most popular for being the inventor and publisher of the adult men's magazine, Playboy.
Hugh started off life early. He was a World War II veteran and served as a writer for a military newspaper in the U.S. Army from 1944 to 1946 between the ages of 18 and 20. Hefner subsequently took up a series of other jobs, including at Esquire Magazine where he worked as a copywriter until January 1952.
In 1953 at the age of 27, Hugh Hefner founded the infamous Playboy magazine. The capital for his new venture was gotten from many sources including $1000 from his mom, $600 from a bank loan, $8,000 from 45 investors and some from mortgaging his own furniture. The first issue of Playboy which had a nude photo of Marilyn Monroe in its centerfold sold more than 50,000 copies.
The Early Days of Playboy Enterprises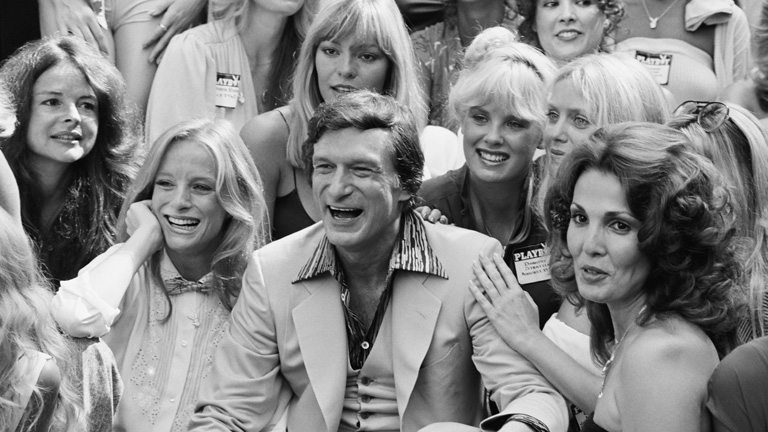 The Playboy magazine grew into Playboy Enterprises, Inc. and become very popular. In addition to its adult contents, the magazine started featuring short stories by notable novelists and interviews of public figures. It also includes special nation-specific versions published worldwide.
As at 1958, Playboy's annual profit stood at a mouthwatering $4 million. Circulation of the magazine continued to soar, reaching 1 million sales in 1960; and after going public in 1971, sold over 7 million copies by '72. At this point, Hefner's net worth was estimated as high as $200 million. Playboy's profitability hit its peak in 1999 when its stock alone stood at a whopping $250 million!
In addition to the magazine, Hefner ventured into movie production and TV shows, most of which were shot in his notorious Playboy Mansion. Some of them include "Playboy's Penthouse", and "Playboy After Dark" which both ran for two seasons between 1959-1960 and 1969-1970 respectively. He also went into cable and digital networking business, ran casinos, clubs and resorts, and launched a clothing and jewellery line.
The most notable and recent of Hefner's TV shows is "Girls Next Door" also known as 'Girls of The Playboy Mansion' which aired on E! from August 7, 2005, to August 8, 2010. The reality show spawned a number of 4 spin-offs which centred on the lives of his "playmates". Some of the playmates notably Kendra have found mainstream success with her own show.
In 2016, the Playboy Mansion was sold for $100 million to 32-year-old billionaire Daren Metropoulos, on an agreement that Hefner will be allowed to occupy it till his death, at a very low annual rent.
His Financial Standing
When the internet slowly began to be awash with free porn, Playboy saw a plunge in revenue. Between 2000 and 2010, its stock price fell by 80% forcing Hefner to privatize the company. The company now makes more than half of its revenue via its licensing arm rather than its media arm. Hefner revealed in 2009 that his net worth was $43 million, excluding his Playboy stock.
As at the time of his death in 2017, his net worth was reported to be somewhere around the 2009 figure ($43 million), excluding the $100 million proceed from the sale of his home, the Playboy Mansion.
Hugh Hefner's Wives and Children
Hugh Hefner got married the first time in 1949 to Mildred Williams born on March 10, 1926. According to Hugh, Mildred who was his high school classmate was the first lady he ever had sexual relations with. But unfortunately for him, she confessed ahead of their wedding, to having had an affair while she was in the university and Hugh away in the military.
To dissipate her guilt, Mildred allowed Hugh to engage in sexual relations with other ladies; an idea that obviously turned out not good for their marriage. The couple finally separated in 1959. They had two kids, a girl and a boy – Christie and David. Mildred later got married to Edwin Gunn, but they also divorced a few years later.
Hugh Hefner stayed without a wife until 1st July 1989 when he married one of his playmates, Kimberly Conrad who was the 1989 Playmate of the Year. Hugh and Kimberly had two kids together – Marston Glenn and Cooper Bradford. The couple, however, parted ways in 1998, but continued to feign married, living next door to each other until 2010 when they finally got an official divorce.
Hugh Hefner's second wife, Kimberly Conrad was born in Alabama on August 6, 1962. As such, she was just 26 when she married Hugh who was 63. With a striking height of 5'9″, a slim stature and a beautiful face, Kimberly was a hottie for modeling which she started at the age of 17. It was in the course of her modeling career that she met her husband, Hugh Hefner.
In 2012, Hefner married his third wife, 26-year-old Crystal Harris, one of the girls that feature in his "Girls Next Door". Hugh and Crystal first met in 2008 at the Playboy Mansion during Halloween and subsequently started dating in 2009. Their wedding was initially set to hold in June 2011 but Crystal called it off only five days to the event. She, however, changed her mind again and the wedding came off on December 31, 2012. But Hef who was already 86 then died only five years later. The couple had no child together.
The third and last wife of Hugh Hefner, Crystal (Harris) Hefner is an American model, TV personality and DJ. She had breast implants which started giving her health issues in 2016, causing her to remove them.
In all, Hugh Hefner's three marriages produced four children – Christie, David, Marston and Cooper Hefner.
Christie Ann Hefner, the first child and only daughter of Hugh Hefner, was born on November 8, 1952, in Chicago, Illinois. Christie studied English and American Literature at Brandeis University, graduating in 1974. She started working at Playboy Enterprises in 1975, serving as the company's president from 1982-1988, and as Chairman and CEO from 1988 to 2008.
She is currently holding a number of positions including Chairman of Hatch Beauty, member of the Advisory Board of Springboard Enterprises and a trustee at Rush University Medical centre. Christie is a philanthropist and HIV/AIDS advocate, having raised funds to build CORE Center, Chicago; the first out-patient medical facility for people living with AIDS in Midwest America. She also founded Hugh M. Hefner First Amendment Awards.
Christie Hefner was married to William Marovitz, a former Senator from Illinois state in 1995. They, however, divorced in 2013, with no children.
David Hefner was born on 30th August 1955. He is Hugh's second child and his first son with first wife, Mildred. Davis apparently distances himself from his father's brand (Playboy) and also keeps a low profile, off from the prying eyes of the media.
Marston Glenn Hefner is Hugh Hefner's first child and son with Kimberly Conrad, but his own third child and second son. He was born on April 9, 1990, in California. Having been raised in the Playboy Mansion, Marston appears to be living a rather more decent lifestyle compared to that of his father, not scooping half-naked ladies nor dressing in silk.
He once told GQ that he does not really care about a woman's looks when it comes to choosing a partner, but about her "personality and a personal connection". Marston once dated Claire Sinclair, a Playboy 2011 Playmate of the Year, whom he physically assaulted on different occasions, leading to court cases.
The youngest of Hugh Hefner's children, Cooper Bradford Hefner was born on September 4, 1991. He studied Film Production at Chapman University, California. Cooper started working at Playboy while still in college. In 2016, he founded Hop (Hefner Operations and Productions), a startup media company, and in July of the same year, he took over from his father as the Chief Creative Officer of Playboy Enterprises, planning to bring back nudity in the Playboy magazine.
Exposed to the everyday raunchy business of the Playboy Mansion right from childhood, Cooper is obviously stepping in his father's legacy. Now regarded as the "new prince of Playboy", he appears to be ready to take over his father's business as well as take the place of his 'playboy' persona. Cooper is also the only child of Hugh Hefner that conspicuously inherited his looks!
Cooper Hefner is also a member of California State Military Reserve. He was named in Forbes' 2018 30 under 30 List. In 2015, Cooper engaged British and Harry Porter actress, Scarlett Byrne. Scarlett's nude photo was featured in Playboy's March/April 2017 issue.
Details Of Hugh Hefner Partners and Girlfriends
For the greater part of his lifetime, Hugh Hefner had multiple girlfriends, most of whom were playmates who lived in the Playboy Mansion at each point in time. They are so numerous that it will be impossible to make a complete list of them all.
Recall that after parting ways with his first wife, Hugh Hefner stayed 30 long years officially unmarried. It was during this period that Hugh brought out to the limelight, his real Playboy persona. It was indeed, the height of Hefner's debauchery as he admitted to having slept with over 1,000 women within this period.
However, some of Hefner's girlfriends came to public notice. This was because they spent some years warming the Playboy's bed and so were rather referred to as "partners" instead of girlfriends. Below is a (still incomplete) list of Hugh Hefner's partners:
Barbi Benton (Playboy Model) – 1969-1976
Lilian Muller (1976 Playmate of the Year) – 1976-1977
Carrie Leigh – 1980's
Twin Mandy and Sandy Bentley (May 2000 Playboy cover page faces) – 1999-2000
Brande Roderick ('90s Playmate) – 2000-2001
Izabella St. James (Playboy Housemate) – 2002-2004
Holly Madison ("The Girls Next Door" Playmate) – 2001-2008
Kendra Wilkinson ("The Girls Next Door" Playmate) – 2004-2008
Bridget Marquardt ("The Girls Next Door" Playmate) – 2002-2009
You will notice that some of the years overlapped. It means that Hef sometimes had more than one partner at a time. Moreover, having all these numerous partners, never stopped the Playboy grandmaster from having a myriad of other sexual relations. He must have been an upgraded version of biblical King Solomon!
Meanwhile, the most prominent of Hugh's partners was Holly Madison, one of Hef's three female companions in his TV series "Girls Next Door". It was reported that Holly left Hugh after he refused to marry her and make kids with her. It was also rumoured that Hugh planned to bequeath Holly whom he called his "No.1 girlfriend", with $3 million at his death.
And Death Came Calling for the Play King 
Born Hugh Marston Hefner on April 9, 1926, in Chicago, Illinois, the play king died on the 27th day of September 2017 at the age of 91. Hugh died at his Playboy Mansion in Holmby Hills, in the Westwood District of Western Los Angeles.
Prior to his death, Hugh had bought a burying space beside Marilyn Monroe, late American actress and protagonist of the first centerfold of the Playboy magazine. He was buried there on the 30th day of September 2017.
Sicknesses alleged to have led to Hefner's death include drug-resistant sepsis disease and E.coli infection, respiratory failure and ultimately, cardiac arrest. He had also, earlier suffered a severe back problem that inhibited his mobility.