The Spectre 13.3 is Hp's latest flagship laptop dubbed the world's thinnest laptop with incredible specs and design that will certainly give the MacBook makers at Apple Inc. a lot to worry about. Spectre 13.3 which in addition to the regular CNC-machined aluminum chassis comes in two limited premium luxury versions featuring gold and diamond designs was unveiled not at one of the regular tech shows but at the New York Times International Luxury Conference in Versailles, France.
The laptop measures 10.4 mm thick about the same size as an AAA battery making it the thinnest laptop ever, for verification, the latest MacBook measures 12.5 mm, the LG Gram 12.7 and the Lenovo Yoga Pro 13 mm, not even the thinnest Apple iPad- the 9.7 iPad Pro (13 mm) comes close. However, don't let the skinny body fool you, Hp was able to incorporate very high tech features into its very skinny body which makes Spectre just that bit more amazing. Thanks to its carbon fiber base, Spectre weighs 1.1 kg which also makes it lighter than its flagship counterparts of other giant tech companies (Apple and Dell) which have metals for their bottom and as such weigh more. According to sources, the design was inspired by women's purses.
A statement from Hp says the laptop will feature "high gloss copper accents reflect a hand-polished, jewelry-like finish and an innovative hidden piston hinge creates the illusion of a hinge-less design to offer an unmatched premium look-and-feel". They forgot to mention the new sleek insignia.
Now to the exclusive luxury gilded versions. One of them was created by London-based designer Tord Boontje. Hp Spectre by Tord Boontje features floral, peacock and butterfly designs done with 18 k gold accents and Swarovski crystals all set on a deep Midnight blue backdrop creating an illusion of the perfect midnight sky with the twinkling stars represented by the shiny Swarovski gems. Magical and Dreamy!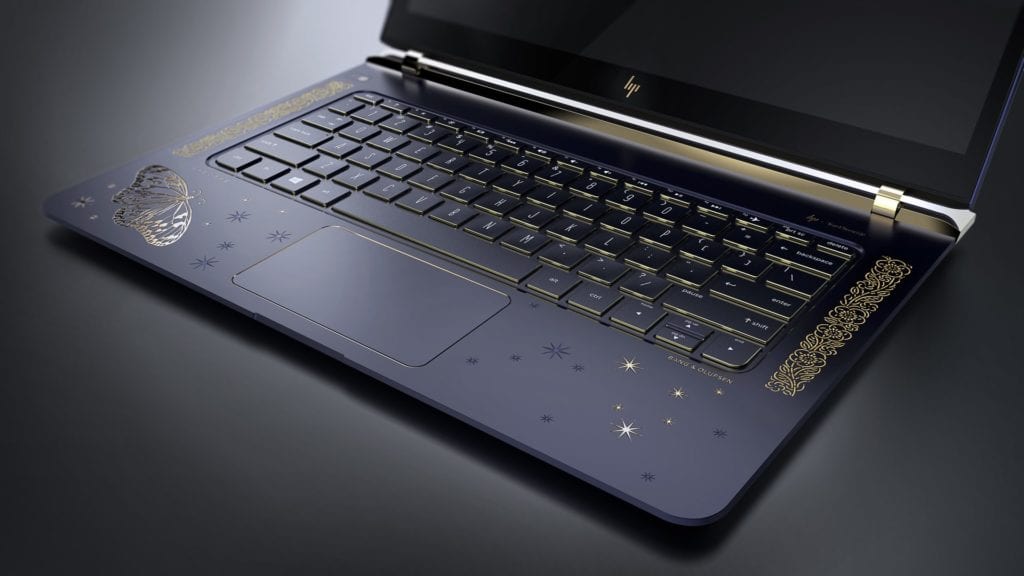 The other exclusive version was created by Los Angeles-based jewelry designer, Jess Hannah. A minimalist, Hannah adorned the entire laptop including the top, base and keyboard deck with 18 K gold with a highly glossy finish only highlighting the new Hp insignia and the power button with sparkling diamonds. Simple yet Opulent!. Each designer will produce a limited number of their works which will be auctioned at the Cannes Film Festival in May. The proceeds from the sales will be donated to the Nelson Mandela Foundation.
See Also: The New Styljoux's Luxury Sapphire Super-Pen Priced At Over £50,000
As earlier said, the Spectre 13.3 isn't all beauty with no brains. As a matter of fact, the skinny gadget has the best brains yet; it features an Intel i5 and i7 CPU which commands more power than the fanless Intel's Core M processor as used in the MacBook. The CPU is equipped with a hyperbaric cooling chamber to match up its power. The sound is by Bang & Olufsen while the display is a 13.3 diagonal edge-to-edge Full HD 1920×1080 IPS panel protected by a sheet of scratch-resistant Gorilla Glass 4. The company choose not to go with a touchscreen as that would've needed extra thickness and robbed it of its trophy of world's thinnest laptop (somebody ring Guinness, Hp had to make sacrifices just for this title). Other specs include 8 GB RAM size, 512 GB of storage, 3 USB Type-C connectors, two of which offer thunderbolt data transfers up to three times the USB 3.0 and internal batteries that can last for 9.5 hours of playback time on a single charge.
See Also: The New Oral B Smart Toothbrush With Its Own App And Bluetooth Connection
The regular aluminum, carbon fiber version (pictured below) will be available for pre-order from April 25th at the price of $1,170 also, Best Buy stores will start selling from May 29th at $1,250.