If you have the discipline, the hard work, motivation, and most importantly, the right guidance, sports can be a great opportunity to achieve fame and build a national and perhaps even international reputation. If you doubt that, just ask the thousands of athletes across different sports in America, including Howie Long, whose name is forever enshrined into American Football Hall of Fame after thirteen glorious years as a footballer.
Not only has Howie Long achieved a remarkable thirteen years in the sport, but he has gone on to capitalize on his status and expanded into other professions, including acting and broadcasting. He has been an analyst for Fox Sports since 1993. In this article, we explore the life of Howie Long, during his playing days and post-retirement. Read on to learn more.
Early Life 
Howie Long was born in Somerville, Massachusetts on the 6th of January, 1960. Born to unknown parents, he was raised in Charlestown, Boston and he began his football career at Milford High School.
While at Milford, Howie Long began to deliver the performances that would one day make him a member of the NFL Hall of Fame. Finishing his high school career, he was named to the Scholastic Coach All-America Team.
He then proceeded to Villanova University where he played college football and simultaneously earned a degree in communications. Unlike most college players, Howie Long spent his complete four years at Villanova, earning different honors, including being named in the All-East and All-American teams.
Professional Career
Having shown to recruiters that he was more than a high school fluke, Howie Long was drafted into the NFL in 1981 by the Oakland Raiders. He spent his entire playing career with the team, spanning from 1981 to 1993.
During his time with the Raiders, Howie Long's biggest achievements was a Super Bowl victory in 1983. Individually, he recorded achievements such as being named in the Pro Bowl eight times and making the All-Pro team five times. He was also named the Defensive Player of the Year in 1985 and was named in the 1980s All-Decade Team.
His football career has also recorded other achievements including being named a member of his high school's Hall of Fame and the Pro Football Hall of Fame.
Since his retirement, Howie Long has committed himself to sports broadcasting and acting, with appearances in a couple of films such as Broken Arrow, Firestorm, In 'n' Out, Dollar for the Dead and a couple of others, along with appearances in several TV shows.
As a broadcaster, he joined Fox Sports after retirement as a studio analyst and has maintained his role till date. His work on TV has earned him a Sports Emmy Award and he is also an author, for the book, Football for Dummies.
Howie Long's Net Worth and Salary
Thirteen years playing in the NFL, Howie Long earned a considerable sum as a player, earning at the upper half of the salary scale as a talented and popular football player. He has built on his career earnings by working as a broadcaster and also as an actor, all of which puts his total estimated net worth at $16 million. His annual salary at Fox Sports is believed to be $4 million.
See Also: Brett Favre – Bio, Age, Wife, Daughter, Net Worth, Height, Family
Family: Wife and Sons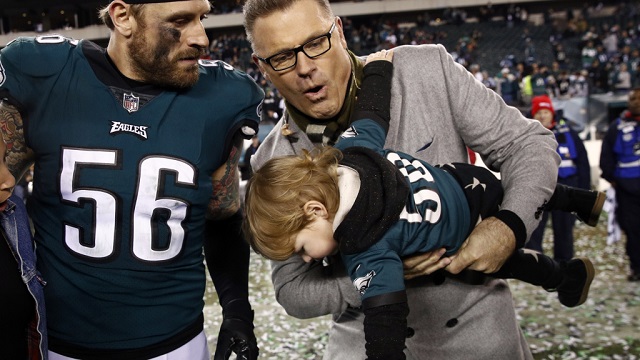 When you get famous and wealthy, sometimes finding a long-lasting relationship can be quite a challenge. Thankfully for Howie Long, that is not a challenge he has, considering he has been married to the same woman since 1982.
His wife, Diane Addonizio is a long-term sweetheart whom he has been in a relationship with long before the bells of fame and wealth came calling. The couple got married a year after he became a member of the NFL. Since then, the couple has remained together and have raised three children, all of whom are boys.
All three of Howie Long's boys are also football inclined like their father. His eldest son, Chris Long is a retired player for the Philadelphia Eagles while his second son, Kyle Long is still an active player for the Chicago Bears. His last born, Howie Jr. is the only non-football player in the family, who, instead, works as player personnel for the Raiders.
How Tall is He?
Although he no longer needs to be in tiptop shape like his playing days required, Howie Long still maintains the physical fitness of your average NFL player. He has a height of 6 feet 5 inches and has a heavy bodyweight of 122kg. His body profile is further completed with a signature haircut that makes him stand out in a crowd. Additional physical features of Howie Long includes dark brown hair and blue coloured eyes.

Fact Check: We strive for accuracy and fairness. If you see something that needs updating,