If you have the discipline, the hard work, motivation, and most importantly, the right guidance, sports can be a great opportunity to achieve fame and build a national and perhaps even international reputation. If you doubt that, just ask the thousands of athletes across different sports in America, including Howie Long, whose name is forever enshrined into American Football Hall of Fame after thirteen glorious years as a footballer.
Not only has Howie Long achieved a remarkable thirteen years in the sport, but he has gone on to capitalize on his status and expanded into other professions, including acting and broadcasting. The 6 feet 5 inches tall ex-footballer has been an analyst for Fox Sports since 1993. In this article, we explore the life of Howie Long, during his playing days and post-retirement activities.
Howie Long Started Experimenting With Football At Milford High School
Born to parents whose identities have never been revealed, Howie Long has his date of birth recorded as the 6th of January 1960. He spent a better part of his formative years in Charlestown, Boston, and began his football career at Milford High School. While there, Howie Long began to deliver the performances that would one day make him a member of the NFL Hall of Fame. Finishing his high school career, the young Long was named to the Scholastic Coach All-America Team.
Desiring to take his academic qualifications a notch higher, the emerging football star proceeded to Villanova University, where he played college football and simultaneously earned a degree in communications. Unlike most college players that would normally forfeit academics in pursuit of a career in sports, Howie Long spent his complete four years at Villanova, earning different honors, including being named in the All-East and All-American teams.
His Professional Career Began with the 1981 NFL Draft
Having shown recruiters that he was more than a high school fluke, Howie Long was drafted into the NFL in 1981 by the Oakland Raiders. Distinct from your normal footballers that are traded to several clubs before retirement, he spent his entire playing career with the team – his active football playing years spanned from 1981 to 1993.
During his time with the Raiders, Howie Long made very good stats. However, his biggest achievement was a Super Bowl victory in 1983. Individually, he recorded achievements, which include being named in the Pro Bowl eight times and making the All-Pro team five times. The former footballer was also named the Defensive Player of the Year in 1985, as well as the All-Decade Team title – an honorable feather that he added to his cap in the 1980s.
His football career has also recorded several other achievements, even the high school he attended chose to honor the superstar by naming him a member of the institution's Hall of Fame and the Pro Football Hall of Fame. This plethora of accolades places Howie Long among the greatest footballers to grace the NFL.
Howie Long Spends His Post-retirement Days As A Sports Broadcaster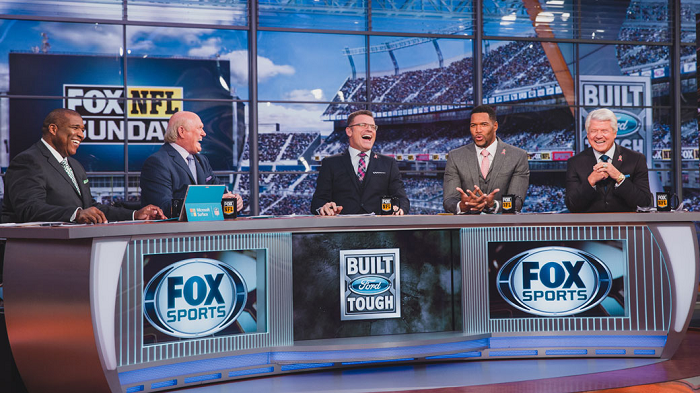 Howie Long's retirement from active football didn't take him far from the field of play; the former sportsman has committed himself to sports broadcasting. He started his career as a broadcaster by joining Fox Sports, working in his capacity as a studio analyst covering the Fox Network's NFL – a role which he has to date. His job with Fox Sports involves playing the "straight man" to his co-host Terry Bradshaw, who is known for his comic antics. Long also functions as a columnist for Foxsports.com, as well as hosting Fox's annual award show Howie Long's Tough Guys – a show in honor of the NFL players, whom he considers the toughest. Long's "toughest" goes home with a Chevrolet truck.
His work on TV has earned him a Sports Emmy Award, and he is also an author, for the book, Football for Dummies, which is targeted at assisting the average football fan to better understand the basics of the game. He is a volunteer for the Boys and Girls Clubs of America, where he is equally an alumnus. Howie Long's services to mankind were crowned by the Walter Camp Foundation, which named him the 2001 Walter Camp Man of the Year.
He Equally Made A Foray Into The Acting Profession
Howie Long equally has a finger in acting, appearing in a handful of films such as Broken Arrow, a suspense movie where he came as a co-star, sharing the screen with the likes of John Travolta. Firestorm – a 1998 feature film cast him as a leading character. He has equally appeared alongside screen legends like Kurt Russell, Kevin Costner, and Courteney Cox, playing a cameo role on the set of 3000 Miles to Graceland. The actor joined the cast of That Thing You Do!as the partner of Mr. White played by Tom Hanks and appeared as part of In 'n' Out, Dollar for the Dead, and a couple of others.
He has several cameo appearances in commercials and television shows to his credit. Radio Shack had him as a spokesman, and he also appeared in their commercials alongside actress Teri Hatcher. Other ad campaigns and commercials under Howie Long's belt include those from Nike, Coors Light, Hanes, Campbell's Chunky Soup, Coca-Cola, and Pepsi. Others include Frito Lay, Taco Bell, Pizza Hut, Kraft, Nabisco, the Bud Bowl campaign, Honda, and Chevrolet, which is the most recent.
His Marriage to Diane Addonizio Has Endured For Almost Three Decades
When you get famous and wealthy, sometimes finding a long-lasting relationship can be quite a challenge. Thankfully for Howe Long, that is not a challenge for him, considering he has been married to the same woman since 1982.
His wife, Diane Addonizio is a long-term sweetheart, whom he has been in a relationship with long before the bells of fame and fortune came calling. The couple got married a year after he became a member of the NFL. Since then, they have remained together and have raised three children, all of whom are boys.
His Legacy In Football Include His Football Playing Sons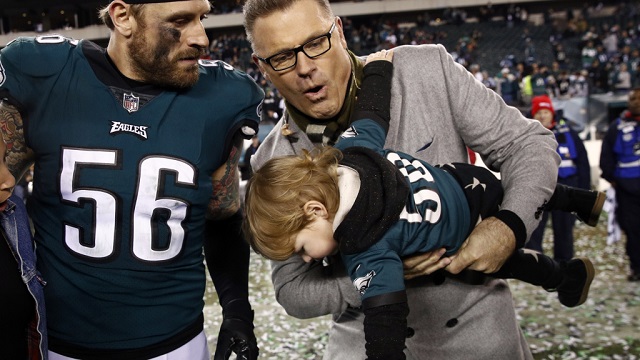 We have seen rare instances where sports stardom has been passed down from father to children, and no other family fills this scenario more than the Long family where all the three children Chris Long, Kyle Long, and Howie Jr. are either established as professional football players or involved in careers that are connected with the game
His eldest son, Chris Long is a retired player for the Philadelphia Eagles while his second son, Kyle Long is still an active player for the Chicago Bears. His last born, Howie Jr. is the only non-football player in the family, who, instead, works as player personnel for the Raiders. Howe Long is also a grandfather.