Jimmy Fallon is easily one of the best comedians and late-night show host in the industry right now. It can even be argued that he is partly responsible for revamping the talk show game and putting it on the pedestal that it is today. He is an absolutely hilarious guy and has spent the last two decades making people laugh until their ribs hurt and tears are rolling down their faces. Considering the level of success he has attained, one can't help but wonder how exactly Jimmy Fallon's net worth came to be.
The American comic star is known for the hysterical performances he delivered as part of the cast for the award-winning late-night sketch comedy show, Saturday Night Live. He is also known for his work as a host on his own television show, Late Night with Jimmy Fallon and on NBC's The Tonight Show. His shows are all the rage amongst audiences from all over the world. Today, he is the highest-paid late-night talk show host in the business so his valuation has taken a huge rise in recent years. Here is all you need to know about Jimmy Fallon's net worth and how he made his money.
How Jimmy Fallon Became Famous
The beloved comedian was born James Thomas Fallon on September 19, 1974, in Brooklyn, New York. His parents are Gloria and James W. Fallon. He has one sibling, an older sister named Gloria after their mother.
When Jimmy was little, he and his sister used to watch a lot of Saturday Night Live videos, which he would later re-enact for their parents or family friends and relatives. This was how he got his first taste of comedy and his passion for making people laugh. He was also musically gifted and would often enter into music contests.
He attended Saugerties High School until 1992 when he graduated. While there, Jimmy served as class director and participated in several stage productions. Moving on, he enrolled at The College of Saint Rose in Albany, New York to pursue a degree in computer science, but he later switched gears in his senior year and became a Communications major.
While in college, Jimmy began doing stand up comedy during the weekends and managed to land gigs at Caroline's comedy club located in Times Square. Eventually, he decided that he could no longer survive on giving half of himself to his craft so he dropped out of school even though he was only one semester away from graduation. However, he returned years later to earn his communications degree.
Jimmy Fallon's net worth did not just happen overnight, the comedic genius worked hard at making a name for himself for several years. After abandoning school, Jimmy moved to Los Angeles to pursue comedy full-time. He started out by performing in comedy clubs across the country. His act involved him impersonating various celebrities and he was unbelievably good at it.
In 1998, he was featured on the show Spin City and this led to him being asked to audition for Saturday Night Live. At the audition, the casting crew was thoroughly impressed with his impersonations of Adam Sandler, Hilary Swank, Jerry Seinfeld, and Eddie Murphy. Jimmy was given a spot on his favorite show.
Two years later, he decided to broaden his professional horizon by venturing into movies starting with a role in Almost Famous. He also released his Grammy-nominated comedy album The Bathroom Wall. He has also appeared in films like Taxi, Anywhere Else, and Fever Pitch. After leaving Saturday Night Live, Jimmy found work as the host of his own show Late Night with Jimmy Fallon. In February 2014, he took over from Jay Leno and made his first appearance as the host of The Tonight Show.
How Jimmy Fallon Achieved A Net Worth of $60 Million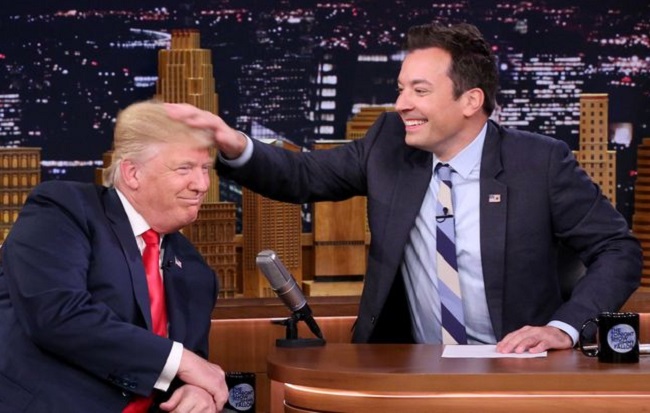 As of 2019, Jimmy Fallon's net worth is estimated to be about $60 million. He has been able to achieve such an enormous net value thanks to the many professional irons he has placed in the fire over the years. Most of Jimmy Fallon's net worth has come from his salaries as the host of the popular television shows Late Night with Jimmy Fallon and The Tonight Show. He currently earns around $16 million annually for his work on the latter.
The funny man's net worth has also been impacted by the money he has earned through his acting career, as well as the endorsement deals he has managed to land. Jimmy has modeled for Calvin Klein and served as an ambassador for brands like Pepsi, iPhone, and Comcast amongst others. He has also booked his fair share of TV commercials. In addition, Jimmy Fallon's net worth has gained some hard cash thanks to the hefty cheques he has picked up for hosting events such as the 2005 MTV Movie Awards and the 2010 Emmy Awards.