Brazilian model, Hermann Nicoli, is a very good looking man who is currently living his childhood dreams of being a model. Despite being a successful model capable of promoting any brand, he is known by most as the beau of the famous Victoria Secret supermodel, Candice Swanepoel.
Hermann's breakthrough came in the form of a deal with Next Model Management. Since then, he has gone all the way to achieve international stardom with him modeling around the world for top fashion brands such as Tommy Hilfiger, Nike, and Marks and Spencer amongst others. Keep reading if you intend to know more about this dashing model, his relationship with Candice Swanepoel, and many other facts.
Hermann Nicoli Biography
Hermann Nicoli Rise was born on July 8, 1982, in Brazil. He is of Brazilian nationality and Caucasian ethnicity. There is very little information as regards his family, except the fact that he was raised by his parents alongside his two sisters Gabi Nicoli and Sabrina Nicoli. He is well versed in speaking English and Portuguese. As of date, there is no information as to where he had his elementary, high school and college education.
He first piqued interest in modeling while he was still a young boy; most time, he pretended to be walking the runway while playing with his sisters in the playground. Furthermore, he was known to declare his intention of becoming a model to anyone who cared to listen.
While there is no information regarding the year he became a professional model, several sources claim it was during his teen years. According to the model himself, he started his career as a model in Brazil by modeling for local fashion brands. Over time, he became a popular figure in Brazil which eventually led to him being signed by the famous modeling agency – Next Model Management.
His Girlfriend or Partner – Candice Swanepoel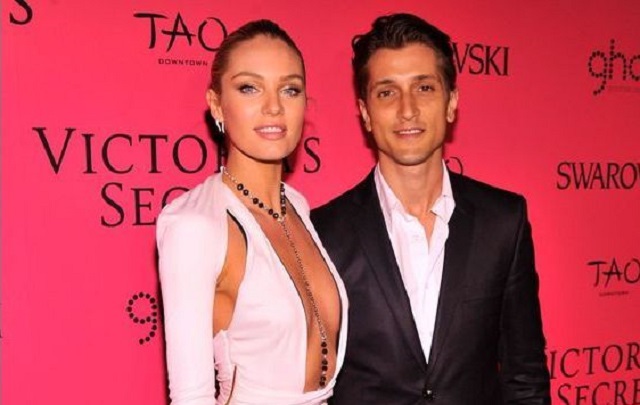 It's no news that the handsome Brazilian model has been in a romantic relationship with Candice Swanepoel for several years now. However, the question on the lips of most people is if they are married or just dating? To answer that question let's start from the genesis.
Candice Swanepoel is a South African supermodel currently signed to Elite model management and Victoria's Secret. On the 20th of October, 1988, Candice was born in Mooi River, Kwa-Zulu Natal, South Africa. Her modeling career started at the tender age of 15 after she was spotted by a model scout in Durban. Today, she is known as a successful model who has worked for several top fashion brands like Tom Ford, Versace, Givenchy, Nike, and Victoria's secret to name a  few. In 2005, while attending a runway event in Paris, she met Hermann Nicoli and lo and behold, they fell in love with each other instantly. Months later, they started dating officially.
After ten years of dating, the pair eventually got engaged in August 2015. Judging by their immense love for each other, which is evident by the amount of time they spend together despite their busy schedules, it's only a matter of time before they tie the knot.
See Also: Dustin Mcneer Biography, Is He Gay? Here are Facts You Need To Know
Quick Facts about Hermann
Here are quick facts we are pretty sure Hermann would love you all to know about him.

1. Hermann Nicoli is a lover of fast-moving superbikes. In his garage, he has a Bull EBR and a Super Duke R worth about $14,000 and $17,395 respectively.

2. He is a father of two boys – Anaca Nicoli, who was born on October 5th, 2016 and Ariel Nicoli, who was born in June 2018; both sons were birthed by his fiancée, Candice Swanepoel.

3. The audacious model is a strong supporter of animal rights. He is vehemently against the hunting of animals in Africa. In 2015, he was part of the celebrities who publicly condemned the killing of a lion named Cecil by American dentist and big game hunter Walter Palmer in Hwange District, Zimbabwe.

4. Over the years he has amassed a total net worth of about $1.5 million through his career as a model for top fashion brands. However, his salary per annum is pretty much unknown.

5. Nicoli stands at a height of 6 feet 1 inch (185 cm). He currently weighs 80 kg. His most attractive body feature beside his long light brown hair is his attractive pair of green eyes.

Fact Check: We strive for accuracy and fairness. If you see something that needs updating,