In the United States, people not only gain notoriety for their professional achievements but also for several odd reasons among which could be an unusual relationship. One of those who has risen to the spotlight as a result of this fact is Heidi Van Pelt.
Pelt first achieved some measure of the spotlight as a vegan cook of repute. She, however, gained notoriety after she began dating a famous child actor, Taran Noah Smith, who was half her age. What later transpired was a fantastic tale, filled with police reports, partying, money battles, and squabbles over company ownership, which would put a Hollywood script to shame.
Heidi Van Pelt Struggled To Find Her Purpose In Her Early Years
Heidi Van Pelt was born on July 11, 1968, in the Midwestern state of Missouri where she also spent her childhood. According to sources, Heidi was raised by her parents who reportedly separated when she was barely a year old. From her childhood years, she split her time between her two parents in their separate homes.
The Missouri native attended two high schools namely the Blue Springs and Oak Park high schools. After graduation, she shuffled from one college to the other and pursued different courses. First, she attended Stephens College in Columbia, where she studied fashion designing, but later transferred to the University of Missouri to study German and philosophy. However, in 1988, she transferred yet again to the University of Washington where she tried the Russian Studies program with the hope of becoming a CIA agent. With just a single semester left, Heidi Van Pelt abandoned her studies to start a media company named Emergent Films.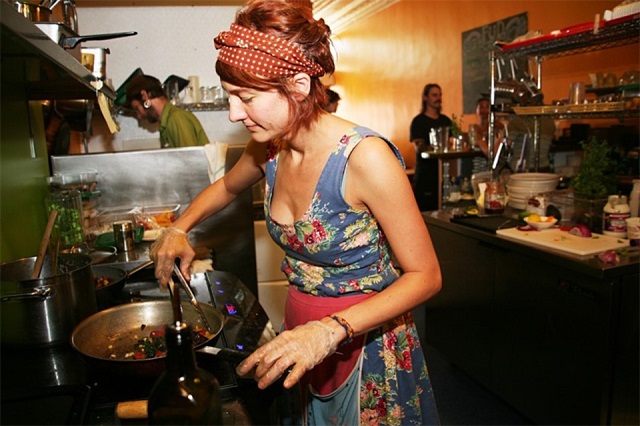 Building A Reputation As A Vegan Food Aficionado In California 
Like her educational background, Heidi's career was never a stable one but we can simply put that her career began with the Emergent Films which she established in the 1990s but left it shortly after to move to Los Angeles. Even after moving to Los Angeles, Heidi remained unsettled about what career she would love to pursue. Hence, she got frustrated hopping between working as a prop master and as a production assistant. In the long run, she was able to discover a new calling as a vegan cook.
Settling down as a vegan cook was no big deal for Heidi Van Pelt because she had been a vegetarian for years. More so, she found an animal rights organization that supported her and within a short while, she made her way into the heart of the Hollywood party life. While doing that, she was able to study online at the American Academy of Nutrition and received a certificate which she used to earn a living as a nutritional counselor in an L. A.-based clinic. She soon became popular in the city and co-hosted a show, Raw Health, on local radio.
How She Developed Her Relationship With Taran Noah Smith
Two things changed in Heidi Van Pelt's life after she moved to Los Angeles. First, she was able to discover her true calling, and second, she met Taran Noah Smith – her heartthrob who later became her husband. Smith is a native of San Francisco, California, and was born on April 8, 1984. He began acting at the age of seven and gained fame on the 1991 TV sitcom, Home Improvement, where he featured as Mark Taylor for eight seasons.
Heidi Van Pelt first met Smith while hosting a raw-food dinner party at her home in 1998. The actor was just 14 years old at the time and she didn't pay him much attention. Fast-forward to the year 2000, the two ran into each other at a movie premiere. They bonded over music and the child star invited Heidi to hang out with him. Things quickly progressed between them and they commenced a romantic relationship. Heidi felt awkward about the 16-year-old difference between them but Taran couldn't care less. He, however, lied to his parents that she was only nine years older and so they allowed her to move into their home.
The truth, however, surfaced after some time and Smith's parents kicked the couple out of their home. The determined lovers spent the next several months squatting in different places and doing various odd jobs to survive. At this point, Smith's acting career had fizzled out but he still had about $1.5 million in acting salaries in a trust fund. However, he couldn't touch the money until he was 18 and as such, the couple lived poorly. Their situation was further worsened as Smith's parents reported him missing to the police. This predisposed Heidi to potential arrest and tabloids, such as The National Enquirer.
Going Into Business Together Affected Heidi's Relationship With Taran Smith
With the couple broke and 'on the run', they decided to take the one step which would solve their situation. They tied the knot in a civil ceremony conducted by a judge friend of Heidi's on the 27th of April 2001 in Topeka, Kansas. The couple, thereafter, returned to California and sued Smith's parents to give him control of his trust fund. Their case was, however, rejected and they had to wait until 2002, when Smith turned 18, in order to get their hands on the money. On finally getting the money, Heidi Van Pelt and her husband invested in several places including the stock market.
They also set up a vegan restaurant which they called Playfood. Heidi had come up with a recipe for manufacturing cheese from cashew nut and Smith bankrolled a restaurant to that effect. The couple put all their energies and love into the establishment and it soon grew popular, attracting hundreds of customers daily. Heidi and Smith made loads of profit and got to keep it all as the IRS wasn't aware of the establishment. Given this improvement in their financial situation, one would have thought that the couple would grow closer but that was not to be.
Divorce And Battle Over Ownership of Playfood 
The union between Heidi Van Pelt and Taran Noah Smith lasted from 2001 up until 2007 when they both filed for divorce. The reason for their split differs depending on whom you ask. According to Heidi, her husband had become a party monster who would spend all his time partying away while she slaved over their restaurant. She also alleged that he was a serial cheater and had suggested to her that they embark on an open marriage. He, however, did the unpardonable when he took one of her friends to an annual drug, music, and art festival in the Nevada Desert.
On his own part, Smith accused Heidi Van Pelt of moving money from their food business into her personal business. Whichever the truth was, the fact remained that the relationship between the couple had broken down irretrievably and Heidi filed for divorce in early February, asking for a portion of marital property, financial support, and attorney fees. Taran, on his own part, filed for an annulment in March 2007 claiming that the marriage was never valid as he was 17, and therefore a minor, when it was contracted.
What eventually played out was a long drawn battle over the ownership of the company which they had created during their marriage. Smith maintained that he bankrolled the project, shelled out thousands of dollars to install electricity, put up walls and paint the interior of the warehouse, and as such was entitled to continued ownership of the company.
Heidi, however, contested this stating that the vegan cheese idea was her intellectual property and that it was her sweat that got the company off the ground. She also described her ex as a reckless business partner who stood aside while she did all the hard work. The couple squabbled over the ownership of Playfood for two years during which the company declined. It eventually went out of business around 2009 and the divorce battle naturally ended.
See Also:  Anthony Bourdain & His Ex-Wife Ottavia Busia: The Untold Story Of Their Marriage 
Heidi Van Pelt Forges On With Her Passion For Veganism
Following her divorce from Smith as well as the sad end of Playfood, Heidi Van Pelt forged on with her vegan food passion and established a restaurant, known as Füd, in her home state of Missouri. A café-like establishment, the restaurant offered both cooked and raw vegan meals with dishes such as raw pizzas and mock meats. Heidi established FUD in 2010 and the Westside enterprise grew in leaps and bounds. The establishment, however, ran into controversy in 2017. Staff had complained that Heidi had been sprouting anti-immigrant and anti-trans sentiments as well as conspiracy theories.
Heidi then unilaterally shut down the restaurant in August that year; this move annoyed her business partner and ex-husband, Jeremiah Rozzo, as she did not inform him beforehand. Heidi Van Pelt married Rozzo after things ended with Taran Noah Smith and reportedly has a child with him. Rozzo demanded a severance of the partnership while Heidi maintained that the restaurant will soon reopen. This is, however, not the case as the establishment remains closed to date.