Aside from professional reasons, people get popularity for several other obvious reasons among which could be an unusual relationship. Heidi Van Pelt became a public figure not just because of her marriage to a famous child actor, Taran Noah Smith, but also because of the huge age gap between them. The relationship became even more controversial when they began to have issues that led to their separation, after laying accusations on each other. Learn more about the American vegan Heidi Van Pelt, her personal life and family.
Heidi Van Pelt Biography
Heidi Van Pelt was born in the Midwestern state of Missouri where she also spent her childhood. She is of white ethnic background and her nationality is American. Heidi's birth date is July 11, 1968. According to sources, Heidi was raised by her parents who reportedly separated when she was barely a year old. From her childhood years, she shuffled between her two parents in their separate homes.
The Missouri native attended two high schools namely the Blue Springs and Oak Park high schools. After graduation, she shuffled from one college to the other while trying to pursue different courses. First, she attended Stephens College in Columbia, where she studied fashion designing but for some reasons that had to do with her classmates, she left the college and transferred to the University of Missouri to study German and philosophy. However, in 1988, she transferred yet again to the University of Washington in Seatle where she tried the Russian Studies program with the hope to become an agent for the Central Intelligence Agency (CIA).
With just a single semester left, Heidi Van Pelt abandoned her studies to start a media company named Emergent Films.
Career and Net Worth
Like her educational background, Heidi's career was never a stable one but we can simply put that her career began with the Emergent Films which she established in the 1990s but left it shortly after to move to Los Angeles. Even after moving to Los Angeles, Heidi remained unsettled about what career she would love to pursue. Hence, she got frustrated hopping between working as a prop master and as a production assistant. At the long run, she was able to discover a new calling as a vegan cook.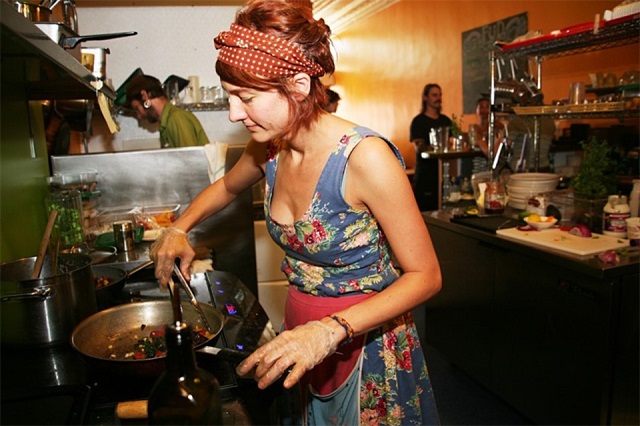 Settling down as a vegan cook was no big deal for the American lady because she has been a vegetarian for years. More so, she found an organization owned by some animal-rights activists who supported her and within a short while, she made her way into the heart of the Hollywood party life. While doing that, she was able to study online at the American Academy of Nutrition and received a certificate which she used to earn a living as a nutritional counselor in a Los Angeles-based clinic. She soon became popular in the city of Los Angeles when she co-hosted a show, Raw Health on the local radio station.
Heidi's net worth is still under review, however, sources claim she generated quite a lot from her culinary business. An additional wealth came to the Missouri native when she got married to the former child actor, Taran Noah Smith and together they established an illegal grocery store.
See Also: Gary Anthony Williams – Biography, Wife – Leslie Williams, Family
Does Heidi Van Pelt Have A Boyfriend or Is She Married To A Husband?
Two things changed in Heidi Van Pelt's life after she moved to Los Angeles. First, she was able to discover her true calling and second, she found her heartthrob who later became her husband.

Heidi Van Pelt first met Taran Noah Smith while trying to penetrate into the heart of Hollywood through her culinary business. As a caterer and nutrition counselor, she had Taran Noah Smith who visited her house with his friend and co-child actor, Zachary Ty Bryant for a raw-food dinner party. Although their first meeting did not make any meaningful impact, the second did and the rest was history.

Heidi and Smith got married in 2001 and at that time Smith was just eighteen years old and Heidi was thirty-four. As expected, the marriage between the two sparked off controversies in the media. While Heidi van Pelt felt awkward about their age difference, Smith felt a little unconcerned. He went as far as lying to his parents about her age.

The two lived together for six years but in 2007 they went their separate ways. Among the many reasons given for their separation was Smith's excessive partying and extramarital affairs. On his own part, Smith accused Heidi of moving money from their grocery business into her personal business. These are some of the reasons that led the young Taran to file for divorce and by February 2, 2007, it was finalized. There are reports that the union between the two produced a child named Nolan Eric Smith but the whereabouts of the child is not known.

Taran Smith is a native of San Francisco, California, born on April 8, 1984. He began acting at the age of seven after dropping out of college. His first role is in the 1991 TV sitcom, Home Improvement, where he featured as Mark Taylor. He eventually stopped acting at the age of Nineteen after having starred in films like Ebbie, Little Bigfoot 2: The Journey Home, Batman Beyond, and 7th Heaven.

Fact Check: We strive for accuracy and fairness. If you see something that needs updating,