But for Instagram and the direct message feature, the name Heidi Hoback might mean nothing to basketball and sports fans all over the world. However, they exist, and through them, Heidi became one of the most famous names on the platform after she leaked an unexpected direct message (DM) conversation with LeBron James, who is arguably one of the biggest sports players on the planet.
If it were another player, it would have been just another day on Instagram, but LeBron James has a reputation of fidelity to his wife, whom he has been with since high school and thus, a DM suggesting the basketball player was stepping outside his marriage became newsworthy.
Although nothing was stated explicitly and either party has confirmed nothing, many wondered who Heidi Hoback is. We answer everything you need to know below.
Everything You Need to Know About Heidi Hoback
Before diving into everything you need to know about Heidi Hoback. Here is a refresher on what happened between her and LeBron James.
On a relatively normal day in the fall of 2017, Heidi Hoback, an Instagram model, posted screenshots of a conversation with Lakers superstar, LeBron James. The famous basketball player slid into her DMs, asking her to teach him how to hunt in exchange for him to teach her how to play basketball.
On the surface, it seemed innocent, but it quickly became a mini-controversy when Heidi got accused of calling LeBron a 'buck,' after explaining their interaction in YouTube video. LeBron also came under fire for infidelity allegations by those who believed his message meant more than it said.
Without further ado, here is everything you need to know about one of a couple of women who have gotten LeBron James into a rare infidelity scandal.
1. She is a Virginia Girl
Heidi Hoback was born on the 1st of February 1994 in Virginia to Paula Hoback and Frederick Hoback. She is one of two children born to her parents; her only sibling is a brother, Charles, who was born in 1992.
Also, by her birthday, she is an Aquarius, the eleventh astrological sign in the Zodiac.
2.  Heidi Hoback is a college graduate
If you thought of Heidi Hoback as another random high schooler who is trying to make a career off of Instagram, you would be wrong. The Instagram model is a college-educated woman who started her college education at Virginia Tech University before transferring and eventually graduating from George Mason University.
3.  She is a hunter
One surprise skill that you might not have expected Heidi Hoback to possess is that she is quite the accomplished hunter. A run through her Instagram page shows her in various hunting outfits, and they not just for the 'gram. She is an avid hunter who made a few killings of her own.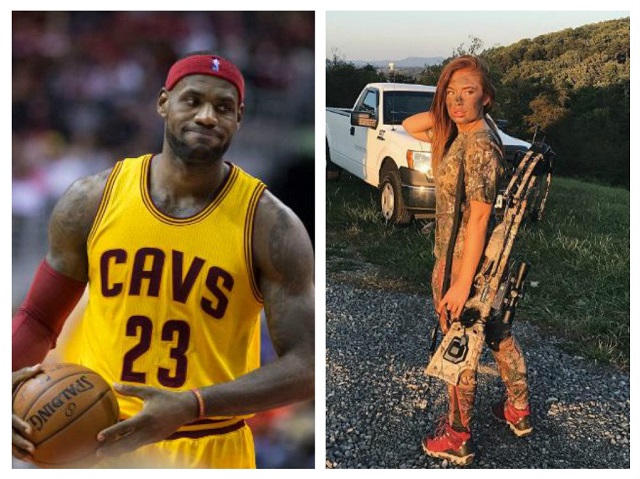 On the fateful day that a conversation between her and LeBron transformed her into an Instagram star, she had killed a buck. But her skills are not just limited to land. As a fisher, She is also quite adept at hunting in the water too. According to a post she shared on her Instagram page, she once caught a record-breaking 26-lb freshwater bass in October 2017.
4.  She is a model and an entrepreneur
Heidi Hoback is an Instagram model, and although there are no particular brands she is known to be attached to, she maintains the tag.
One career path that she is definitely known for is entrepreneurship. The Virginia born model sells stickers through her online Etsy store, under her name, which after the Lebron James incident, has become a brand of its own.
She is also the owner of Lil Red Lures, a fishing product company based in North Carolina. The company has a website, lilredlures.com, and some of its products include worms, jerk baits, paddle tail and many more.
See Also: Savannah Brinson (Lebron James Wife) Bio, Height, Net Worth, Kids, and Family
5.   Heidi joined Instagram in 2014
Heidi Hoback joined the growing world of Instagram in 2014, and until the 2017 incident, she was a relatively lowkey user of the platform. Since the DM fiasco, her follower count has gotten an astronomical increase.
She now has more than 300 thousand followers, all from less than 600 posts. Her IG handle is @lilredheidihood. Apart from her Instagram account, she also has a Facebook and YouTube page, which are Heidi V. Hoback and Heidi Victoria Hoback, respectively.