Heather Storm is one actress and TV host who made her way to fame by getting her hands dirty. Yes, but not in the wrong way, rather through her special Velocity Network's hit series Garage Squad. Not only is she famous as a star behind the wheel, but she is also a successful businesswoman. She founded the eco-event Company named Black Lab. Her success both in the big and small screen has earned her a comfortable place among the most influential people in her time. Here are more facts to know about the American television personality.
A Look At Heather Storm's Stint On Garage Squad
Heather Storm started her career trying her hands on different jobs like modeling, fitness training, and luxury spirit portfolio management. As an actress, she featured in a good number of films including Surviving Disasters, Nightingale, Rush Hour 3, Epic Movie and the 2003 thriller movie Underbelly. But her debut film is the Action, Adventure Comedy movie, No Bad Days, which was directed by David Murphy. It featured great actors like Jane Stuart, Richard Tyson, and Keth David.
Prior to becoming a reality TV superstar, Storm also produced and hosted the Complex TV series, The Mix Down which garnered over 180 million impressions for sharing unique cocktail recipes with a beautiful electronic dance background music to go with it. Her most notable appearances, however, were as a host of shows like Zepter 25th Anniversary; Hip Hop 101; Twist and Shape; and Street Tuner Challenge. She even starred as a guest on CNBC's American web television series Jay Leno's Garage. Her beautiful face has appeared on over fifty national commercials but her fame increased greatly with her role in the TV series Garage Squad.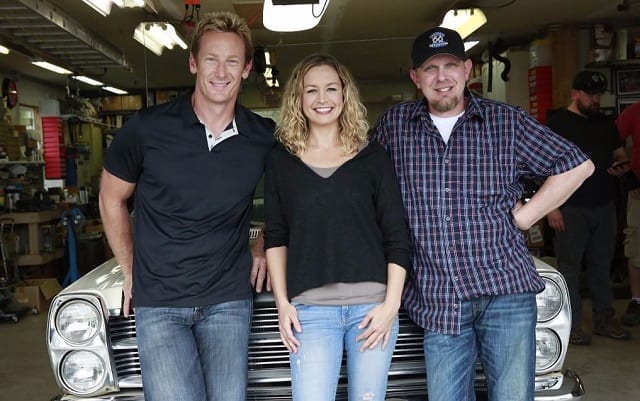 The show is about a number of mechanics who make people's dream cars a dream come true. They also offer advice on how to maintain a transformed car. Heather's hosting of the show greatly changed her life. When asked about her feelings with the job as she often would get dirty while working under a car, she simply replied by saying "It's so much fun."
With its premiere on August 22nd 2014 on Velocity Network, Garage Squad has had a successful run of six seasons, but the comely TV host didn't start co-hosting the show right from the onset. She actually joined the cast of one of the most popular auto TV shows during the second season. Other main casts of the show include the lead mechanic Joe Zolper and the National Hot Rod Association (NHRA) driver, Bruno Massel, who also works as a mechanic.
Together, the three co-hosted Garage Squad for four seasons before Heather Storm was replaced by Cristy Lee, a former host of MotorTrend's All Girls Garage. During her stint on the show, she made a good display of her expertise of automobiles. Alongside her squad of mechanics, the dexterous actress also crashed several garages, working tirelessly in refurbishing cars. They also got to work along with the owner of the vehicles to ensure that the perfect vehicular vision is accomplished.
Working round the clock to transform cars, Heather Storm and her co-hosts often got their mission executed once they return to the car owners their ultimate dream cars. This, often lead to an emotional reunion of man and his machine.
Why Did Heather Leave Garage Squad?
After putting up fascinating performances on Garage Squad, fans of the reality TV show got the shock of their lives when MotorTrend announced on April 1st 2019, that Heather won't be returning as the co-host of the series, which was renewed for a sixth season during that time. In the statement they released, it was revealed that longtime automotive enthusiast and TV host, Cristy Lee will serve as the replacement for Heather, whom the company showered votes of thanks for her immense contributions on the series for four years.
A few days after MotorTrend released their statement, the blonde beauty took to her social media handles to apologize to her fans for not being the first to break the awful news to them. Through her post, it is clear that Heather Storm never wanted to leave the reality series in that manner, after citing that she wished she could have lasted longer on the show. However, with the full awareness that all good things must come to an end at one point or the other, Heather didn't hesitate to move on with her new projects.
Currently, she serves as the host and the executive producer of Drive Yourself Local, a travel series that follows the businesswoman across the United States, as she cruises in her 1965 Ford Mustang. Having been passionate about traveling, Heather Storm has journeyed across twenty countries around Europe, Africa and Asia. She has equally been to all the states in the US. As a result, she has built a lucrative career from her hobby by producing the travel documentary series, Drive Yourself Local from her road trips.
Follow my adventures exploring small town America in my '65 Mustang @driveyourslflcl Latest episode: https://t.co/eaABPqRSQl #traveltuesday pic.twitter.com/LhrictDyhz

— Heather Storm (@HeatherStormLA) October 9, 2018
Moreso, she purchased a Volkswagen minibus, which she sometimes used for her travel rather than using her '65 Mustang. Following the launching of her YouTube channel in September 2010, Heather Storm regularly uploads the videos of her road trips on YouTube, where she has gathered over five thousand subscribers and more than 150,000 views.
Additionally, the certified fitness trainer works as the co-host of a podcast titled, Man Seeks Adventure alongside Dave Marek – ACURA executive creative director and former Car Wamors star, Brad Fanshaw. Following her ardor for vintage cars, the TV personality has been a role model for many young girls who are car lovers. Her remarkable expertise with cars has been an inspiration to other females who are beguiled with the automotive industry.
As a fitness trainer, Heather Storm got her Personal Trainer certification from the National Academy of Sports Medicine (NASM), a US-based nonprofit fitness certification body. Her multiple talents have earned her an estimated net worth of  $1.8 million.
See Also: Amy Allan Wiki, Ex-Husband – Matt Anderson, What Led To Their Divorce
Is Heather Storm Married? Here's What We Know About Her Relationship Life Below
Standing 5 feet 7 inches tall, with an amazing body figure of 36-26-37, the blonde North American seems to be more focused on her career; she is not as public with her personal life as she is with her career. Her low-key lifestyle has made it difficult to tell about her relationship status. Hence, there is no information about her past relationships or if she is in any relationship, as such, we could assume she is still single.
Instead of revealing things about her love life, Storm chose to use her social media presence to talk about her adventures. The career-focused actress and social influencer have over 27K followers on Facebook, 9.6K followers on Twitter and 35K followers on Instagram. She often uses her downtime to explore the culture of several cities. She has also been busy attending car shows like SEMA, an industry cars show held in Las Vegas.
Apparently enjoying a life of singlehood, Heather Storm shared with her fans on social media, her experience with Tenors of a Rock band during one of her road trips to Las Vegas in November 2019. She is obviously having great fun while focused on getting to the summit of her career.