Heather Storm is one actress and TV host who made her way to fame by getting her hands dirty. yes,  but not in the wrong way but through her special Velocity Network's hit series Garage Squad. Not only is she famous as a star behind the wheel, but she is also a successful businesswoman. She founded the eco-event Company named Black Lab. Her success both in the big and small screen has earned her a comfortable place among the most influential people in her time. Here are more facts to know about American television personality.
Who is Heather Storm and How Old is She?
Born in West Chester, Pennsylvania, on the 13th day of the month of June 1962. Storm shares her birthday with the famous race car driver, Davey Hamilton. With the birth name Danielle Trotta, Storm was raised by her father Dan Trotta and her mother Phyllis Trotta, in large snowy mountains in Montana, she learnt about cars from her father who is a DIY maverick.
Heather Storm is one of the graduates of Oregon State University, where she studied environmental science and graduated with a high degree. While studying, she managed to work in Puerto Rico on sustainable tourism initiatives. Her love for nature and adventure was a product of where she lived during her childhood days. Her father was fond of taking her for bike riding, hiking and camping. This made her love for nature to grow exceedingly. Today, she is a strong advocate for sustainable tourism and marine conservation.
Heather Storm started her career trying her hands on different jobs like modelling, fitness training and luxury spirit portfolio management. As an actress, she featured in a good number of films including Surviving Disasters, Nightingale, Rush Hour 3, Epic Movie and the 2003 thriller movie Underbelly. But her debut film is the Action, Adventure Comedy movie, No Bad Days, which was directed by David Murphy, it featured great actors like Jane Stuart, Richard Tyson and Keth David. Storm also produced and hosted the Complex TV series The Mix Down which garnered over 180 million impressions for sharing unique cocktail recipes with a beautiful electronic dance background music to go with it. Her most notable appearances, however, were as a host of shows like Zepter 25th Anniversary; Hip Hop 101; Twist and Shape; and Street Tuner Challenge. She even starred as a guest on CNBC's American web television series Jay Leno's Garage. Her beautiful face has appeared on over fifty national commercials but her fame increased greatly with her role in the TV series Garage Squad.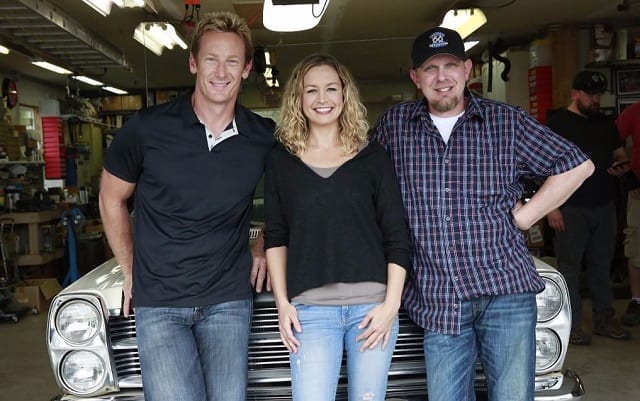 The show is about a number of mechanics who make people's dream cars a dream come true. They also offer advice on how to maintain a transformed car. Heather's hosting of the show greatly transformed her life. When asked about her feelings with the job as she often would get dirty while working under a car, she simply replied by saying "It's so much fun." The show has so far reached its fifth season.
As a fitness trainer, Heather storm got her Personal Trainer certification from the National Academy of Sports Medicine (NASM), a US-based nonprofit fitness certification. Her multiple talents have earned her an estimated net worth of  $1.7 million.
See Also: Amy Allan Wiki, Ex-Husband – Matt Anderson, What Led To Their Divorce
Is She Married? Who is Her Husband?
Standing 5 feet 7 inches tall, with an amazing body figure of 36-26-37, the blonde North American seem to be more focused on her career, she is not as public with her personal life as she is with her career. Her low-key lifestyle has made it difficult to tell about her relationship status. Hence, there is no information about her past relationships or if she is in any relationship. We could assume she is still single.

Instead of revealing things about her love life, Storm chose to use her social media presence to talk about her adventures. The career-focused actress and social influencer has over 27K followers on Facebook, 9.6K followers on Twitter. and 29.1K followers on Instagram. She has travelled to over twenty countries worldwide and enjoys sharing her experiences with her fans on her popular website heatherstorm.com. One other interesting fact about this beautiful woman is that she is enthusiastic about wines. She loves to taste wines from various corners of the world.

Fact Check: We strive for accuracy and fairness. If you see something that needs updating,