The Heather Mills and Paul McCartney Kerr's short-lived romance began in May 1999, after he laid eyes on her for the first time at an awards ceremony in London. She was a sight to behold with her gorgeous blonde hair and the confidence she radiated so easily despite the fact that she was wearing a prosthetic leg.
A few days after he became aware of her existence, Paul left her a message, saying that he would like to discuss her charity work. They made plans to meet at his office where he presented her with a cheque for £150,000 meant for her nonprofit organization, Heather Mills Trust.
Paul was completely awed by Heather and she was the first woman he felt himself desiring since his wife, Linda passed on from breast cancer about a year earlier. He was determined to date the blonde bombshell so he asked her out, and Heather, who was engaged at the time, broke up with her fiance Chris Terrill to join him on a vacation to the magnificent Long Islands.
Heather Mills and Paul McCartney Kerr's Marriage
Nothing anyone would say could dissuade the Beatles frontman from pursuing Heather. Details about her troubled history didn't faze him. Heather had published a contentious autobiography in which she claimed that she and a childhood friend had been abducted by pedophiles. Furthermore, she alleged that she ran away from home when she was 14 and became mixed up with the wrong crowd. Although many people who knew her have since refuted many of her claims, branding her a liar and an attention seeker, Paul decided he could make peace with Heather's shortcomings so their whirlwind romance took off.
The former glamour model seemed to genuinely make the singer happy. He was able to come out of the grief bubble he had gotten trapped in since his wife died. The love-smitten Paul showered Heather with all kinds of expensive gifts, surprising her with trips to exotic destinations, and happily introducing her to his friends and associates.
Nearly two years after they began dating, Paul popped the question while they were spending time at a luxurious Lake District hotel. Heather accepted the sapphire and diamond ring that he held out to her and they became engaged. Paul was overjoyed by the new state of affairs. He continued to shower Heather with more gifts including jewelry, a joint credit card, and about £1 million which went towards buying and decorating a house for her.
They were a picture-perfect couple but away from the cameras, cracks were starting to show. While on tour in Florida, they had a big fight during which Paul threw her engagement ring out of their hotel room window and announced that he was calling off the wedding. However, they were able to fix their differences and come 2002, they walked down the aisle in a lavish ceremony that was held in Ireland. Of course, this marked the beginning of the Heather Mills and Paul McCartney Kerr's union.
After their wedding, Heather's fame reached new heights, but she felt that there were some negative consequences to being married to one of the most famed people in the world. Outwardly, the couple kept up a happy appearance while their marriage got increasingly volatile and susceptible to angry rows. More questions were being raised about her past that left her uneasy, but Paul continued to look the other way. They began fighting frequently but were always able to patch things up.
In 2003, Heather became pregnant, and in October of that year, the McCartney's welcomed their daughter Beatrice into the family. Following the birth of their child, they became more incentivized to make their marriage work, but issues kept arising to dampen their spirits. Heather wanted to relocate to the U.S. so she could pursue a career as a media personality, while Paul wanted to remain in the United Kingdom. Before long, they couldn't seem to agree on anything else and the tensions in their relationship multiplied.
After four years of being married, the couple decided to split. They announced their separation, stating that they were both committed to parting ways amicably and were only interested in doing what was best for their daughter. However, in the weeks that followed, things took a drastic turn as their divorce became increasingly bitter and public.
How Much Did The Heather Mills and Paul McCartney Kerr Divorce Cost?
Heather Mills and Paul McCartney Kerr's divorce is one of the most publicized and expensive divorces presided over by the British court to date.
Things got really ugly very fast as lawyers of both parties leveled all sorts of allegations against the opposite side. Heather's checkered past was brought to light, ripped into, and torn to shreds. In fact, she got such bad publicity from the divorce that she repeatedly condemned the way she had been treated, stating that she had gotten worse press than a murderer or pedophile even though all she has done for the last twenty years was devote herself to charity work.
Her popularity took a massive hit. Along the way, Heather fired her lawyers and opted to represent herself. She asked for the presiding judge, Justice Bennett, to award her a settlement in the amount of £125 million, claiming that her husband was worth over £800 million.
The judge disagreed because all the findings before him proved conclusively that Paul McCartney was only worth about £400 million and that she had greatly overestimated her needs and demands. He ruled that Heather should receive £16.5 million in lump sum as well as other assets, altogether amounting to a settlement of £24.3 million, which is roughly $50 million. He also provided that Paul should make periodic payments of £35,000 annually for his daughter, Beatrice's upkeep, as well as her school fees and nanny expenses.
Throughout the divorce proceedings, Paul McCartney made a concerted effort to maintain a dignified silence except when the occasion truly called for words on his part. After a decision was reached, Heather tried to impose a condition that the full details of the case should be kept a secret, but Paul decided that he wanted them released.
Despite the fact that it was Heather who dragged her husband to court and made damaging accusations against him, she was the one who came out of the divorce looking really bad. The judge called her an unimpressive witness who was fond of exaggerating the facts as they are. She grossly overestimated how wealthy and successful she was before she met Paul McCartney, as well as the negative impacts that their relationship supposedly had on her career.
Most of the claims that Heather Mills made during the divorce hearing were either proven to be false or held to be ridiculous. Since their separation, the couple's marriage has been described as a sham, make-believe, and considerably volatile. During the hearing, some of the witnesses called on gave disparaging testimonies concerning Heather's past and behavior. It was revealed that she tried to extort money from Paul on several occasions by claiming that she had taken out loans on one of her houses and demanded huge sums so she could settle them.
In addition, it was adduced that she had spent time trolling for rich men in clubs. Apparently, Heather had also been involved with the Arab billionaire Adnan Khashoggi and several of his associates whom she granted sexual favors in return for money. This was the work she was doing during the time she claimed she was working in Paris as a swimsuit model.
After being awarded the £24.3 million divorce settlement, Heather was both satisfied and curious. She claimed she and her daughter had been cheated out of what they actually deserved, but she was also glad that the debacle was over and she could finally move on with her life. Since the divorce was finalized and the judgment made public against her wishes, Heather has been flung into semi-obscurity. Despite her attempts to revamp her public image and relaunch her career away from the shadow of her ex-husband, she has not found as much success as in the past.
Paul McCartney, on the other hand, has moved on quite elegantly from the mess. When asked about his ex-wife, he does not speak of her in a bad light but actually does his best to defend her reputation. He has expressed his disapproval of the suggestions that Heather only married him because of his wealth. He wants people to know that the claim is not true because they loved each other even though things didn't pan out quite well in the end. He also didn't wallow too much in misery before returning to the dating scene. In 2011, the Beatles singer remarried again. He tied the knot with Nancy Shevell, the woman he had been going out with since 2007.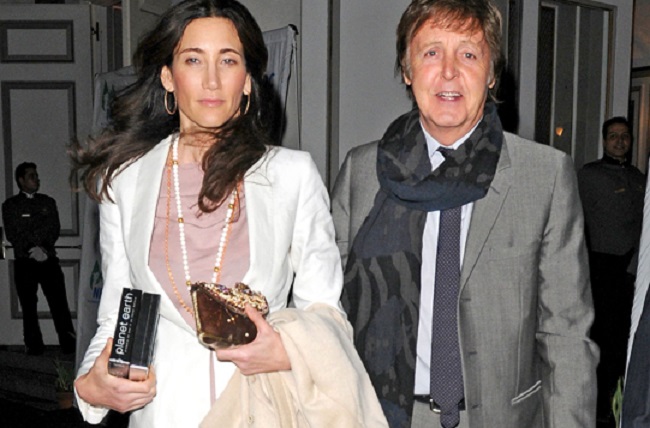 Now that the dust from their divorce has settled, Heather Mills and Paul McCartney Kerr have returned to living their respective lives. They are both committed to raising their daughter to the best of their abilities and doing what is best for her well being even at the expense of their own comfort.