Staunch followers of American politics should be conversant with the name Steven Mnuchin, the very successful businessman and financial analyst who became the 77th United States Secretary of Treasury following his appointment by President Donald Trump on February 13, 2017. However, little is known about his ex-wife Heather Deforest Crosby, a fact we intend to change through this piece.
Heather Deforest Crosby is a successful businesswoman and she rose to prominence in 1999 as a result of her marriage to Steven Mnuchin who at that time was a managing director of the famous investment firm, Goldman Sachs.
Heather Deforest Crosby Bio
Heather Deforest Crosby was born in 1967. Due to her private and secretive nature, she hasn't revealed her exact place and date of birth to the media. In terms of her nationality, she is American and belongs to the white ethnic group.
Heather has also been quiet about her childhood and early educational background. Nonetheless, it is an open secret that she attended Hobart and William Smith College in Geneva, New York where she graduated in flying colors.
Upon graduation from college, she was employed by Launch media and made a public relation officer, a job she was good at as she performed to the best of her abilities. After several years as a public relation executive, she was promoted to the position of Vice President for corporate communication.
Despite all her successes as a career woman, she achieved fame when reports broke out that she was in a romantic relationship with Steven Mnuchin (born on December 21, 1962, in New York City, USA) who was an investment banker and hedge fund manager in charge of monitoring trade and mortgage bond securities as it pertains to the money market for Goldman Sachs.
After dating for quite some time, they tied the knot in the summer of 1999 and lived happily together as a couple in their Bel Air mansion until 2014 when they got divorced for reasons they never made public.
Her Family
Being a very private person, there are only tiny bits of information available about Heather Deforest Crosby's family. She once revealed the name of her parents as Henry Ashton Crosby Jr. (father) and Virginia Duel Crosby (mother).
Further inquiries revealed that her dad was once a Latin and English teacher at The Rippowam-Cisqua School of Bedford while her mother, on the other hand, was a director of volunteers at St Luke Roosevelt Hospital. Hardly can anyone tell if she is the only child of her parents, she has never talked about any brother or sister.
Facts About Steven Mnuchin's Ex-Wife
The following are facts to keep in mind about Heather Deforest Crosby, the woman who was once married to Steven Mnuchin.
1. What's Her Net Worth?
Looking at all her successes in business, Heather Deforest Crosby is sure expected to be worth a large sum of money. Nevertheless, she is quite reluctant in revealing such personal information to the media. As a result, several sources have estimated that her net worth should be around $1 million. She might be worth more than that given her achievements in business and the amount of money she reportedly pocketed after her divorce from Steven Mnuchin who currently has an estimated net worth of $300 million.
2. Relationship Status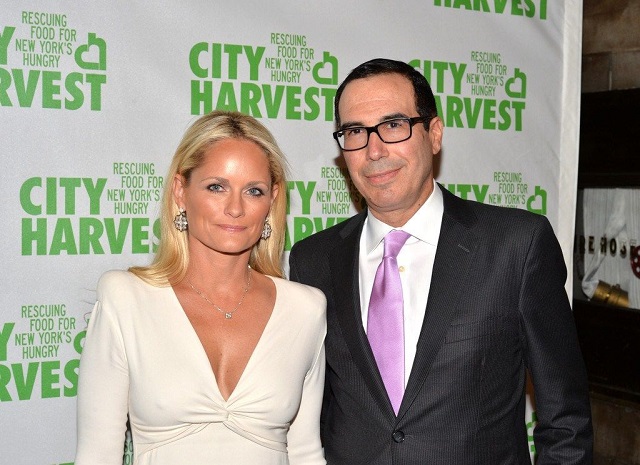 Following her divorce from Steven Mnuchin in 2014, she stayed off the dating scene for a while until 2017 when she announced that she was in a romantic relationship with David Ford. Her ex-husband, on the other hand, is currently married to famous Scottish actress, Louise Linton.
3. Charitable Projects/Activities
Over the years, she has grown a reputation for being a philanthropist owing to her penchant for giving to the needy without second thoughts. She has been involved with several charity organizations in the past and is presently a member of the board of directors of Joyful Heart Foundation – a foundation created to help and empower survivors of sexual assault, domestic and child abuse.
4. Her Children
She is a mother to three children with her ex-husband Steven Mnuchin; they go by the names Dylan, Emma, and John Mnuchin
See Also: Mckinzie Roth – Bio, Net Worth, If Married, Who Is The Husband?
5. Hobbies
When she isn't working or busy with one philanthropic activity or the other, she spends time doing Yoga. As a result of her love for yoga, she set up her own Yoga clothing line and uses the proceeds from the business to support her philanthropic endeavors.

Fact Check: We strive for accuracy and fairness. If you see something that needs updating,