Anyone conversant with American politics should have an idea about who Steven Mnuchin is, a highly successful businessman and financial analyst who became the 77th United States Secretary of Treasury following his appointment by President Donald Trump on February 13, 2017. But while much is known about him, little is known about his ex-wife, Heather Deforest Crosby, a fact we intend to change through this piece.
In her own right, Heather is a successful businesswoman. She, however, owes her rise to prominence to her marriage to Mnuchin who at that time was an executive at the renowned investment firm, Goldman Sachs. The pair have since gone their separate ways but Heather's name continues to be dragged into the public sphere thanks to her ex-husband's gaffes.
Heather Deforest Crosby was Born and Bred in the Big Apple 
Heather Deforest Crosby was born in New York in the year 1967. Her father's name is Henry Ashton Crosby Jr. while her mother's name is Virginia Duel Crosby. Her father once taught Latin, theatre, and English at The Rippowam-Cisqua School of Bedford while her mother was a director of volunteers at St Luke Roosevelt Hospital. It is not clear if she has any siblings.
Heather grew up in New York and completed her high school diploma there. She subsequently attended Hobart and William Smith College in Geneva, New York where she majored in Art History and minored in Religious Studies. During her time in college, she undertook several summer jobs in the world of advertising. She later graduated with a cum laude degree in the year 1989.
Forging a Successful Career as a Publicist
Upon graduation from college, Heather Deforest Crosby landed her first job as an assistant at Bobby Zarem Inc. She spent one year with the firm that served as publicists to a few famous people and helped create campaigns to attract press coverage and make their clients even more famous. Heather enjoyed the interesting and challenging work that she did at the firm but there was a snag. The company CEO had a penchant for making life miserable for his employees and Heather found herself crying during most of her lunch breaks. She, therefore, started looking for a new job and fortunately got one with another publicist company, Planet Hollywood, in San Francisco.
Heather gladly moved out to California and spent the next several years doing publicity and marketing for clients of the company. She planned and oversaw the grand opening of several restaurants. She also helped her celebrity clients manage PR nightmares such as getting arrested or traveling without their international passports.
After several years with Planet Hollywood, Heather Deforest Crosby moved back to New York in 1998 and joined Yahoo Music (formerly Launch Media), an internet-music, music information, and news company. She spent three years with them and rose to become their senior vice president of corporate communications. She later retired to become a homemaker in 2001.
Heather Deforest Crosby and Steven Mnuchin Together as a Couple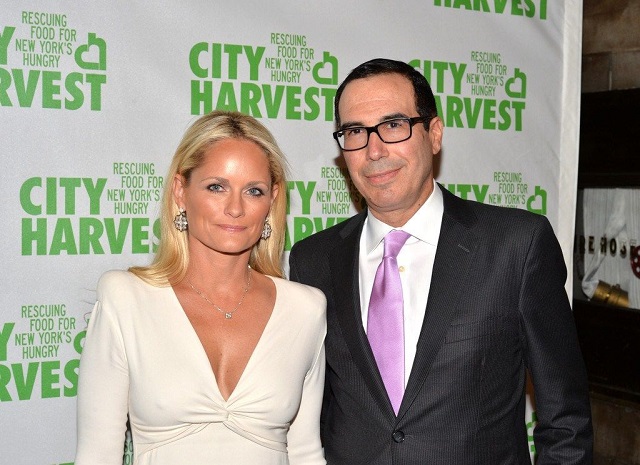 Even though they are now divorced, Heather Deforest Crosby and Steven Mnuchin were once happily married. Mnuchin is a native of New York City as well as a graduate of Yale. He spent several successful years as an investment banker and hedge fund manager. He is now a public officer thanks to his 2017 appointment as United States Treasury Secretary.
It is not exactly known when or how Heather met her ex-husband. It is, however, public knowledge that they tied the knot on the 26th of September 1999. Their nuptials took place at the grand and luxurious Cipriani Wall Street in New York. Following the ceremony, the couple settled down to a busy life filled with couple's activities as they also continued to work at their respective jobs. They further welcomed three kids; daughters Emma and Dylan and son John.
Upon the arrival of her first child, Heather quit her job and primarily became a homemaker. She also dedicated a great deal of time to various philanthropic activities. The New York native co-chaired the annual Practical Magic Ball which raised $1.25 million for a food bank. She also supported breast cancer awareness initiatives as well as the Joyful Heart Foundation – a foundation created to help and empower survivors of sexual assault, domestic and child abuse.
Heather Deforest Crosby also embarked on joint philanthropic initiatives with her husband. As a couple, the Mnuchins donated generously to various fundraisers, including the Winter Ball Fundraiser. They also hosted some fundraisers in their Hamptons and Bel Air homes to benefit various non-profit organizations. Through all these fundraisers, the couple also made an effort to give their children an idyllic family life. They stayed married for about 15 years and many tipped them to last forever. This was, however, not to be as they ended up divorcing in 2014. It is not known what caused their split but the divorce was an amicable one as the couple did not bash each other in public.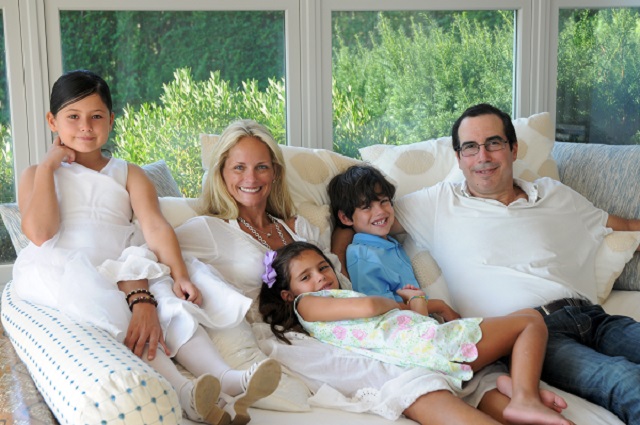 See Also: Juicy Insights Into Kate Connelly's Dating Relationships, Marriage and Career Endeavors
Life After Divorce 
Since the divorce, Heather Deforest Crosby has maintained a low profile and is focused on her philanthropic activities as well as raising her three children. While it is not clear how much she received in the divorce settlement from her ex-husband, we can surmise that it must be a significant sum given that Mnuchin has a net worth estimated at a whopping $300 million. The treasury secretary notably made a killing from Hollywood while they were married as he financed the production of several successful movies, including Avatar, one of the highest-grossing movies of all time.
Heather has further been able to find love again in the arms of a man simply identified as David Ford. Their relationship commenced in 2017 and has been moving smoothly. Her ex-husband, on the other hand, has also found love again as he wed Scottish actress Louise Linton in 2017. Their nuptials was officiated by United States Vice President Mike Pence and featured several high-profile guests including President Trump himself. Mnuchin and his wife have, however, been caught in several controversies since they wedded. The first was an allegation that he requested a military jet to take them on their honeymoon. The couple also drew public ire after they utilized an official government plane for what ostensibly seemed like a day trip to Lexington, Kentucky.