Best known for her roles in films like A View from the Bridge, The Duchess and Captain America: The First Avenger, Hayley Atwell is a talented and well regarded British American actress. The stylish actress, who had her stage debut in 2005 with a role in Prometheus Bound, has been committed to the expansion of the industry through her artistic skills.
Since making her acting debut, the actress has gone on to build a career anyone would be proud of. While her involvement in the Marvel Cinematic Universe shot her into the limelight, Hayley has also gained attention for her repeated appearance in period pieces over the years.
She Began Her Professional Career In 2005
Born in London on April 5, 1982, Hayley Elizabeth Atwell is the only child of her American Father, Grant Atwell from Kansas City, Missouri and her British mother whose name is Allison Cain. Her parents met for the first time as motivational speakers at a workshop in London. Her father also worked as a photographer and massage therapist before he separated from her mother, who later raised her singlehandedly.
When Atwell was born, her mother named her after her favourite TV star, Hayley Mills. She grew up in western London and attended Guildhall School of Music and Drama where she worked on her skills in performing arts. Prior to her time at Guildhall, Hayley Atwell attended Sion-Manning Roman Catholic Girls' School after which she went to London Oratory School for her A-level. Due to her low grades in at this stage, Atwell lost the opportunity to study at Oxford University.
Her acting career began a few months after her graduation from Guildhall Musical and Drama school in 2005. As previously mentioned, she debuted with a stage role in Prometheus Bound at Sound London. Other theatre productions she has appeared in include Women Beware Women, A View from the Bridge, and Measure for Measure, to mention a few. In 2007, she starred as Angela Stark in Woody Allen's film Cassandra's Dream.
Hayley Atwell Rose to Stardom As a Marvel Star
With more experience under her belt, Hayley Atwell became more popular in the industry, receiving onstage and onscreen roles until she landed a role as Peggy Carter in the 2011 blockbuster film Captain America: The First Avenger. This catapulted her career to new heights, earning her recognition as one of the 'Breakout Stars' to watch out for.
Thereafter, she wasted no time to establish herself as one of the favourite stars of Marvel Cinematic Universe; she reprised her role as Peggy Carter in Agent Carter, Ant-Man, Avengers: Age of Ultron, and Avengers: Endgame. These are all Marvel films that made a big impact in the movie industry; it is only natural that Hayley became a force to reckon with after being a part of the successful movies.
Nonetheless, her breakthrough came earlier in 2008 when she played the Duchess of Devonshire, Elizabeth Cavendish, in The Duchess. Hayley is a very versatile actress. Over the years, she has come to play various roles for not only the big and small screens, or the stage, she has also pulled off various radio roles while featuring in a few video games, including 2011's Captain America: Super Soldier and 2016's Lego Marvel's Avengers.
The Actress Has Been Nominated for Various Prestigious Awards
Although she is yet to receive any notable award for her efforts, the American British actress has so far received over ten award nominations from prominent associations.
For instance, her Elizabeth Cavendish role in The Duchess earned her a British Independent Film Award nomination for Best Supporting actress. Another significant nomination was the Golden Globe Award for Best Actress; this was for her role in TV miniseries, The Pillars of the Earth.
Also, her stage performance in A View from the Bridge earned her a Laurence Oliver Award. This isn't the only time she has been nominated for the award. In 2014, she was nominated for the title for her role in The Pride and again in 2020 for Rosmersholm. Other notable awards she has been nominated for include the Saturn, Scream, Gemini, and Empire Awards.
Regarding her roles in television shows, Hayley Atwell has appeared in Whatever Love Means as Sabrina Guinness, The Shadow in the North, The Long Song, Black Mirror, Howards End and Life Of Crime. She has also taken voice roles in Avengers Assemble, 3Below: Tales of Arcadia and Marvel's What If…?
See Also: Perdita Weeks – Bio, Husband, Age, Family, Height, Measurements
Hayley Atwell Is In Love With A Medical Doctor
Hayley Atwell is not yet married but she has been in several relationships over the years. At the moment, it is believed that she is involved with a medical doctor whose name she is yet to reveal.
While the identity of the man has remained a secret, we gathered that he is a medical doctor and a childhood friend of the actress. Offering that she has been friends with the fellow since she was 10 years old, Hayley divulged that she is hoping to settle down with the doctor.
She described him as someone she wants to spend and share her life with, but insists that they wouldn't make a public appearance together until they are engaged. Before the secret lover, it is known that the actress dated a few popular figures, among whom are:
Gabriel Bisset–Smith
Beyond being an actor, Gabriel is a writer, comedian, and director. He is best known for co-creating, co-writing, and directing The Last Hours of Laura K. 
It is said that Hayley Atwell and Gabriel met at the Guildhall School of Music and Drama. They reportedly dated from 2009 to 2012 before they parted ways for reasons that are best known to them.
Paul Wilson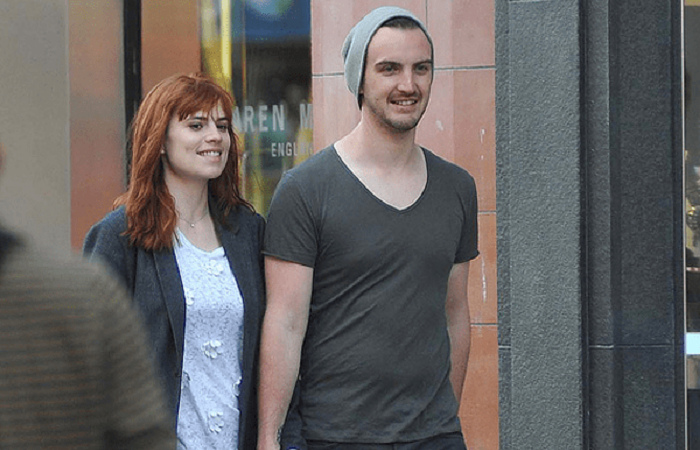 Atwell dated the Scottish musician who is famous for being the bass guitarist for the rock band, Snow Patrol. While the relationship was a very publicised one, it wasn't meant to last as the two parted ways just when people began taking them seriously.
What the actress had with the musician lasted from 2012 to 2013 and nothing is known in terms of why they split.
Stephen Merchant
After dating Paul Wilson for about one year, the actress was spotted with Stephen Merchant, a writer, comedian, and director. Merchant is probably best known as the co-writer and co-director of the popular British TV comedy series, The Office.
While it is believed that he had something special with the actress, it was never confirmed if they truly dated. Whatever it was they had, it started and ended in 2013.
Evan Jones
Atwell also has Evan Jones on her list of ex-boyfriends. Like her earlier relationships, she got separated from him after about one year of dating. Evan is a musician also known for modelling under the Storm model agency. The actress announced her breakup from the musician on Instagram and Twitter without specifying why they are parting ways. Their relationship lasted from 2014 to 2015.