Hasan Minhaj is a multi-talented American television personality, comic actor, political commentator, and writer. He rose to the limelight following his appearances on The Daily Show, a late-night show on Comedy Central. The comic star released his first comedy special Homecoming King on Netflix in 2017.
He left The Daily Show in 2018 and began to host his own show titled Patriot Act with Hasan Minhaj. Hasan has equally recorded some awards in his name, in 2018; he was honored with the Peabody Award for his wonderful performance on Homecoming King Show. From all these, the celebrity has amassed a good fortune for himself and his family amounting to millions of dollars. But before we get to that, let's trace his roots.
Here's How Hasan Minhaj Got Into Comedy
Minhaj started his career as a Comedian while at the University. After a while, he started getting invitations from all around San Francisco. Being a young and talented comedian, it didn't take long before he started dinning with top stars in the industry. He did opening acts for popular comedians including Gabriel Iglesias, and Katt Williams. He also worked as a writer for the website called Ning. Interestingly, Hasan has cited the likes of Arj Barker and Kevin Shea as stars that inspired him to do comedy. He participated in the Wild 94.9 comedy competition in which he won the Best Standing Comedian in 2008.
His quest for a more challenging environment led him to relocate to Los Angeles where he participated in NBC's Stand-Up for Diversity competition. Although Hasan didn't win the competition, he made his way to the finals. He appeared in the 2011 sitcom State of Georgia as well as MTV's Failosophy, and Disaster Date. He briefly served as a host of the web series titled Stand Up Planet and in 2014, he created his own comedy show The Truth with Hasan Minhaj.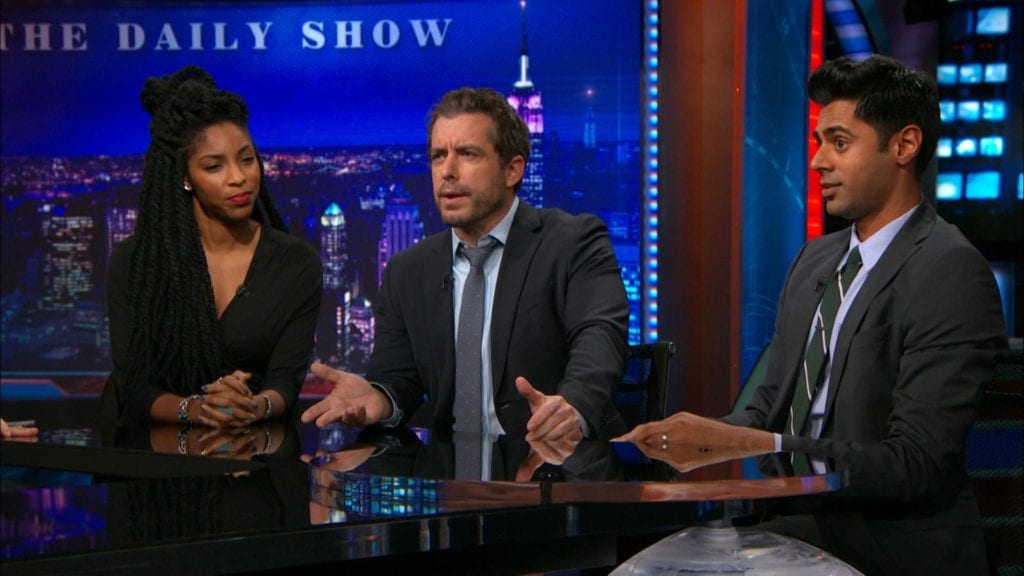 He was later hired by Jon Stewart on The Daily Show in 2014. On the show, he worked as a correspondent as well as a host. He continued making strides on the show until 2018 when he began his own show Patriot Act with Hasan Minhaj. Currently, in its first season, the show first premiered on Netflix in October 2018. The comedian also hosted Hasan Minhaj: Homecoming King for which he won a Peabody Award in 2018.
Additionally, Hasan has equally done a great job as an actor; he has made several appearances in comedy films such as Good Son in 2013 and Rough Night in 2017. He appeared in Most Likely to Murder and The Spy Who Dumped Me in 2018, among others.
What are His Other Sources of Income and Net Worth?
Currently, the inspirational Indian-American comedian has a current net worth of $4 million as of May 2020. His net worth is largely derived from his exceptional and consistent stage performance coupled with his independent performances.
Whenever the fact-finding searchlight beams on Minhaj and his wealth, like every other exceptional celebrity, a lot of obvious factors in his life come to play. More astonishing is the fact that most of his fans and followers are willing to invest valuable time to explore every avenue he ventures into in furtherance of his career. That's why Hasan's greatest wealth is possibly his words and unique sense of humor which he expressly freely whenever he's on stage.
However, his material wealth has also come from other sources beyond comedy. Throughout his years in the entertainment industry, Minhaj has moved from featuring in various comic shows to hosting discussions on political issues. He is renowned for his role as a senior correspondent on the Daily Show and the White House Correspondents Dinner TV special where he hosted various elites and politicians.
He has also featured on popular movies like The spy who dumped me, Most likely to murder, Rough night and Indian spider man. In addition,  he has hosted independent shows like the "Patriot Act with Hasan Minhaj" and Hasan Minhaj the homecoming king. He still holds the Patriot Act show remotely where he films his at home segments tagged: "Hasan from a distance "on YouTube. He initiated these remote shows as a way of leveraging on the global lockdown to grow and inspire his followers.
Another unconventional skill of his is delivering a lot of genuine written content about his ideas with a spice of humor and satire. Most people have also considered it right for the world to believe that at each point where he lucratively delivered this wealth of creativity and inspiration, he has earned himself a lot of accolades, fans, and connections that have translated to both immediate and potential wealth.
Notably,  Minhaj has commanded a lot of fans and publicity through his comedy entertainment. Though Minhaj is still growing, his strategic use of satire and radical truth in his political comedy is still exceptional for constant wealth creation.
Hasan Minhaj's Family Life
His Mom and  Dad were Muslim Indian immigrants from Aligarh in Uttar Pradesh, India. After his parents NajmeMinhaj (Dad)and Seema Usmani (Mom) left India,  they settled in Davis, California where they gave birth to him. His sister, Ayesha Minhaj was born about 8 years later and he met her after his mom returned to the United States from medical school in India. Summarily, Minhaj grew up in a loving family such that he had the freedom to explore his dreams. His sister Ayesha is currently an attorney in the San Francisco Bay Area.
His Marriage With Beena Patel
Hasan Minhaj is currently married to Beena Patelin. They got married in 2015 and they had their first child; a daughter who is just two years old. Minhaj is notably one of the celebrities heralding the league of Generation C dads. Like himself, his family has become a spectacular one especially with the welcoming of his Generation C baby boy born in March amidst the outbreak of the global Coronavirus pandemic IN 2020. On occasions where he shared what it felt to be a Dad in such a trying time like this, he hinged a huge part of his lessons on how he has found joy and beauty in balancing his gifted privileges as a Dad with more attention and love given to the family.
Also Read: Bobby Lee Bio, Wife or Girlfriend, Net Worth and Brother of The Comedian
With the arrival of his new baby boy, Minhaj always talks about how he had to share the child care in shifts with his wife who resumed work as a health management staff. He also explains how his little girl reminds him so much of finger painting and other little fun that he had during childhood. He describes his little girl as quite an agile, explorative child who licks lots of door handles and still rotates what should be done as "fun" to please her childish appetite at every point in time.
As his family grows, he seems to believe that the love and attention they give to each other will go along way in strengthening his bond as a responsible dad no matter the limitations. Though Beena believes this might be their last baby Minhaj believes that shooters can still shoot.