When One Direction announced its indefinite hiatus in 2016, it broke many hearts around the world. It also led to the inevitable questions and soul searching as many distraught fans sought to understand what went wrong. Years down the line, some of these questions have not been fully answered but the boys are soldiering on with their careers as well as their personal lives. Take for example the duo of Harry Styles and Louis Tomlinson. Both have dropped solo albums since the group's hiatus. They have also veered off into other creative pursuits including modeling, TV work, and even acting. This has ensured that they continue to maintain the significant net worth that they accumulated during their 1D days. It must however be noted that one out of the two has performed slightly better and as such, is wealthier.
Harry Styles vs Louis Tomlinson: Who is Wealthier?
Harry Styles has been able to accumulate a net worth of $80 million from all of his lucrative pursuits in the artistic industry. Tomlinson is not far behind as he now has a fortune estimated at $70 million. With such fortunes, both men are living their best lives and have acquired impressive real estate portfolios.
Styles owns several houses across cities such as London, Los Angeles, and New York City. One of his latest purchases is an $11.2 million mansion in London which he purchased in order to be able to move out of a former home where a stalker regularly accosted him. Tomlinson does not have such stalker problems but he also has an impressive real estate portfolio. They include a Hollywood Hills mansion worth $6.9 million and a Calabasas home priced at $13.9 million.
Harry Styles was The Youngest Member of One Direction While Louis Tomlinson was The Oldest
A native of Redditch, Worcestershire, England; Harry Styles was born on the 1st day of February 1994. He spent his formative years in Holmes Chapel and started singing at an early age. Using a karaoke machine gifted to him by his grandfather, he recorded covers of his favorite songs. He then headlined a band called White Eskimo as a teenager and they went on to win a local battle of the band competition. All this made Harry's family realize that he loved music and they soon started encouraging him to take part in musical talent shows. He acquiesced and enrolled in X-Factor 2010.
On his own part, Tomlinson was born on the 24th of December 1991. This makes him about two years and two months older than his bandmate, Styles. He was also the oldest out of the entire five-man ensemble. A native of Doncaster, England; Tomlinson grew up with a love for music and dramatic performances. This led him to take roles in several high school musicals. He also scored bit parts in some TV series including Fat Friends. Despite these acting gigs, Tomlinson found that it was when he was singing that he was the happiest. This led him to try out for X-Factor in both 2009 and 2010.
Both Styles and Tomlinson Contested for X-Factor in 2010 and Were Subsequently Organized Into One Direction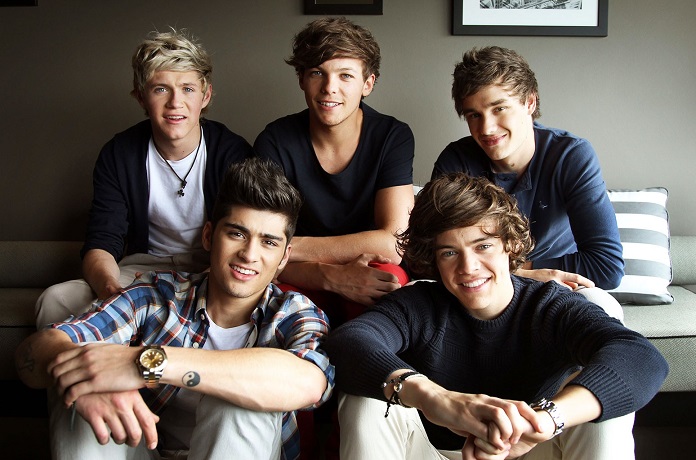 Harry Styles and Louis Tomlinson may have followed different paths to get to X-Factor but they all shared the same fate at the competition which was that they failed to progress as individual acts. Luckily for them, Simon Cowell spotted their potentials and decided to bring them together with three other contestants; Niall Horan, Zayn Malik, and Liam Payne, into a boy band named One Direction. The band managed a decent third position at the end of the whole competition. They then went on to mesmerize the world and sweep it into a 1D mania.
Between 2010 and 2015, the group dropped five albums out of which four topped the Billboard 200. They sold a total of 70 million records and also garnered over 200 awards, including six Billboard Awards. One Direction headlined one of the highest-grossing musical tours in history, namely the Where We Are Tour of 2014 which grossed $290.2 million. They also landed mega endorsement deals with the likes of Colgate, Nokia, Pepsi, and Toyota. All this success helped the boys garner individual fortunes running into tens of millions of dollars. Sadly, this was not enough to forestall their permanent hiatus in 2016.
Harry Styles Has Dropped Two Chart-Topping Albums and also Made Waves as an Actor Since his 1D Days
Following the breakup of 1D, Styles forged on with his solo career and co-wrote songs for a couple of artists. He also got to work on his own music and dropped his eponymous debut album in May 2017. The album featured hit singles such as "Ghost" and "Signs of the Times". It received positive reviews and went on to become one of the best-selling albums of 2017 with over one million copies sold. Building on that momentum, Harry has dropped a second solo album, Fine Line (2019), which sold over two million copies. He has also headlined two worldwide tours that have grossed much revenue.
Away from music, Styles has landed prestigious modeling gigs with the likes of Gucci and Vogue. He is also building a credible reputation as an actor. The Ghost crooner played a major part in the 2017 war film, Dunkirk. The movie depicts the incredible Dunkirk evacuation of WWII and was directed by Christopher Nolan. It was a commercial success, grossing $526.9 million on a budget of $100-$150 million, and Styles received much praise for his bright and convicted performance. He is now set to star in other films such as Don't Worry Darling and My Policeman.
Louis Tomlinson Has Released One Album and Has Returned As a Judge on X-Factor
While Harry Styles is busy proving his mettle as a model and an actor, Louis Tomlinson is building a solid reputation as a TV personality. The singer was asked to return as a judge on X-Factor in 2018 and reportedly earned an impressive paycheck of about $5.5 million. It was therefore an extra icing on the cake that one of his mentees, Dalton Harris, eventually went on to win the show.
Tomlinson also continues to make waves in music. He has recorded collaborations with the likes of Bebe Rexha. He also dropped his debut solo album, Walls, in January 2020. The album spurned hit singles such as "Don't Let It Break Your Heart" and "Kill My Mind" which reached No. 9 on the Billboard Top 200. It also spurred his first headlining world tour of 2020 – 2021. Sadly, some of the dates on the tour failed to materialize as a result of the global covid-19 pandemic.
A Quick Comparison of the Two British Musicians 
| | | |
| --- | --- | --- |
| |  Harry Styles  | Louis Tomlinson  |
| Age | 29 | 31 |
| Height | 5 feet 9 ¾ inches (1.83m) | 5 feet 7 inches (1.72m) |
| Salaries/Earnings | N/A | $5.5 million |
| Net Worth | $80 million | $70 million |
| Creative pursuits | Music, Modeling, and Acting | Music and X-Factor Judge |
| Solo albums | Two | One |
| Headlining tours | Two | One |
| Relationship status | Dating (Olivia Wilde) | Dating (girlfriend – Eleanor Calder) |
| Children | None | One (Freddie Reign Tomlinson) |