| Net Worth: | $300 million |
| --- | --- |
| Salary: | N/A |
| Income Sources: | His acting career, endorsement deals |
| Age/Date of Birth: | July 13, 1942 |
| Height: | 6 ft 1 in or 185 cm |
| Nationality: | American |
| Last Updated: | 2020 |
Renowned for his role as Han Solo in the original science fiction film Star Wars, Harrison Ford is an American actor and film producer who built a lucrative career from the scratch.
A blockbuster staple, Ford is one of Hollywood's top highest-grossing actors with his lead role films (37 of them) grossing approximately $6.3 billion at the global box office as of 2020. The veteran actor commands a high paycheck for his roles in addition to a slice of the box office gross. Little wonder why Harrison Ford's net worth hovers around $300 million.
A Step-by-step Breakdown of How Harrison Ford Achieved His Net Worth of $300 Million 
…from $150 a week to $25 million per movie!
The veteran actor was born on July 13, 1942, in Chicago, Illinois. He graduated from Maine East High School, Park Ridge, Illinois in 1960 and proceeded to the Ripon College in Wisconsin where he studied philosophy.
Harrison Ford has always had a thing for the media starting from high school where he became the first student to broadcast on the school's new radio station. Harrison was however, the shy type and during his college days, he enrolled in a drama class to overcome his awkwardness. It was in the bid to gain public confidence that Harrison Ford indirectly acquired the skills with which he would eventually kickstart an acting career.
He Had to Drop Out of College!
With his passion for the media ever on the increase, Harrison abandoned his Philosophy studies in the mid 1960s and moved with his college sweetheart to Hollywood in search of radio-voice over jobs. However, when none of his desired jobs was forthcoming, Harrison Ford inked a $150 per week deal with New Talent – a Columbia Pictures program.
The paycheck may have been meagre, but it created a platform for the future star to hone his talents. Harrison subsequently landed his first Hollywood opportunity on the 1966 crime film, Dead Heat on a Merry-Go-Round. The role however, turned out uncredited. Few other uncredited roles followed alongside a couple of minor ones, leaving Harrison yet to break even in Hollywood as of 1970.
He Became a Carpenter too!
With a wife to cater for, he was left with no better choice than become a self-taught carpenter to bolster his earnings.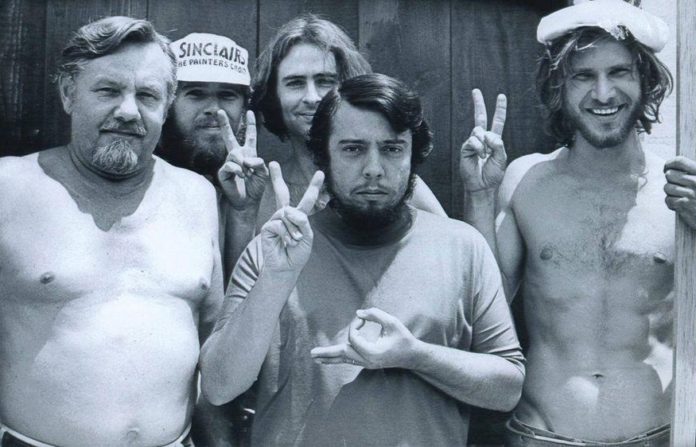 Harrison Ford would later do carpentry work for filmmaker, Francis Ford Coppola. Through his contact with Coppola, he earned supporting roles in some of his movies including The Conversation (1974) and Apocalypse Now (1979).
Fame and Financial Breakthrough with Star Wars
In the early 1970s, Harrison Ford successfully auditioned for the role of Bob Falfa in the George Lucas film, American Graffiti (1973). Harrison would later reprise his Falfa role in the film's also very successful sequel, More American Graffiti (1979). Although the role was still a minor one initially earning Harrison just $500, it opened the doors to his big break in the mainstream movie industry.
Not long after American Graffiti, George Lucas began filming his groundbreaking science fiction movie, Star Wars and he hired Harrison Ford to read out the lines to auditioning actors. In the process, Lucas discovered from the way Harrison was reading the lines, that he had the talent he was searching for. He thus offered him one of the major roles – Han Solo.
The first installation of Star Wars released in 1977 was a box office smash hit, catapulting Harrison to stardom with immediate effect! He also earned $10,000 for his role, a huge leap from the few hundreds he was receiving hitherto. During this time, Ford also starred in another box office darling, Heroes which brought in a box office revenue of $33.5 million against a $3.1 million.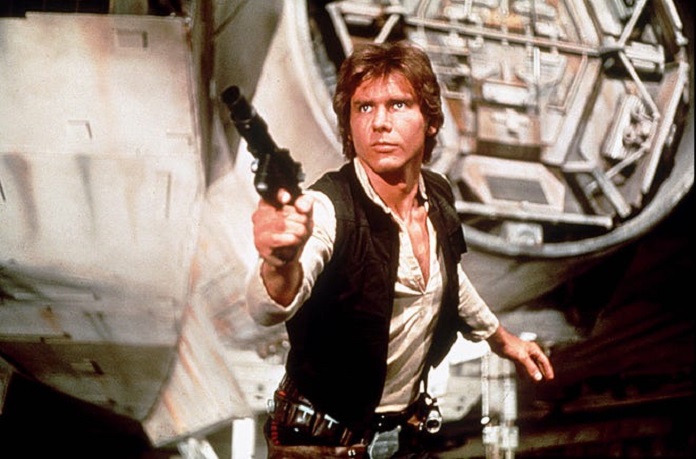 With Star Wars quickly growing into a franchise, Harrison Ford's economic and stardom status became well established. He reprised his Han Solo role in the two subsequent sequels: The Empire Strikes Back (1980) and Return of the Jedi (1983) both of which were box office darlings. For the latter, he reportedly earned $500,000.
More Commercial Success
In the 80's, Harrison solidified his star status with other blockbuster movies like the George Lucas/Steven Spielberg film, Raiders of the Lost Ark (1981) where he played the lead character of Indiana Jones. The movie grossed approximately $390 million worldwide. Following the success, Harrison has starred in three its sequels. His subsequent hit cult classic was Blade Runner (1982) of which he has starred in all sequels as well.
The 1990s came with even more successful movies like Presumed Innocent released in 1990 for which Harrison Ford pocketed a paycheck of $12.5 million. The same year, Harrison starred as Jack Ryan in the action film Patriot Games, earning a salary of $9 million. For Clear and Present Danger (1994) he received $10 million.
By the late 90s, Harrison Ford ranked among Hollywood's top-earning acts, receiving an average of $20 million per role. The movies for which Ford earned between $20 and $25 million include: The Devil's Own" (1997), Air Force One (1997), Six Days Seven Nights (1998), Random Hearts (1999), What Lies Beneath (2000) and K-19: The Widowmaker (2002).
In 2009, Harrison became the highest paid actor in Hollywood after earning $65 million between June 2008 and June 2009. This was hugely thanks to a deal to star in the fourth film in the "Indiana Jones" series.
In 2015, Harrison Ford reprised his Han Solo role in the fourth Star Wars installation, The Force Awakens. The movie broke box office records grossing $2.068 billion worldwide. Ford received $15 million upfront payment alongside an entitlement of 0.5% of the entire gross. You do the Math…

With a career spanning over six decades in Hollywood, Harrison is showing signs of slowing down. The veteran however, stands to bank more as he continues to reprise his role in some of his cult classics. Just before 2020 packed up, news broke that the action movie legend will be making a return for the fifth and final installation of the Indiana Jones series. That will no doubt, mean more cash for Mr. Ford.
You'd certainly love to see a more concise presentation of his major commercially successful movies and earnings over the years.
Movie
Role
Salary
Box Office (Budget in bracket)
American Graffiti
Bob Falfa
$500 (per week)
$140 million ($777,000)
Star Wars
Han Solo
$10,000
$775.8 million ($11 million)
Apocalypse Now

Colonel Lucas
NA
$150 million ($30 million)
The Empire Strikes Back
Han Solo
$100,000
$550.9 million ($33 million)
Raiders of the Lost Ark
Indiana Jones
N/A
$389.9

 

million ($20 million)
Return of the Jedi
Han Solo
$500,000
$475.3 million ($32.5 million)
Indiana Jones and the Temple of Doom
Indiana Jones
NA
$333.1 million ($28.17 million)
Indiana Jones and the Last Crusade
Indiana Jones
NA
$474.3 million ($48 million)
Presumed Innocent
Rusty Sabich
$12.5 million
$221.3 million ($20 million)
Patriot Games
Jack Ryan
$9 million
$178 million ($45 million)
The Fugitive
Dr. Richard David Kimble
NA
$368.9 million ($44 million)
Clear and Present Danger

Jack Ryan
$10 million
$215.9 million ($62 million)
The Devil's Own
Tom O'Meara
$20 million
$140,807,547 ($86 million)
Air Force One
President James Marshall
$22 million
$315.2 million ($85 million)
Six Days, Seven Nights
Quinn Harris
$20 million
$164.8 million ($65–70 million)
Random Hearts 
Dutch Van Den Broeck
$20 million
$74.6 million ($64 million)
What Lies Beneath
Dr. Norman Spencer
$20 million
$291.4 million ($100 million)
Firewall
Jack Stanfield
$15 million
$82.8 million ($50 million)
Indiana Jones and the Kingdom of the Crystal Skull
Indiana Jones
NA
$790.7 million ($185 million)
Star Wars: The Force Awakens
Han Solo
$25 million
$2.068 billion ($306 million)
The Secret Life of Pets 2

Rooster (voice)
NA
$430 million ($80 million
While the table above represents Harrison Ford's major roles in commercially successful movies, the actor also earns millions from his minor roles as well as his commercially unsuccessful films; of course, he must get a pay for every role.
For instance, Harrison Ford received a $25 million salary alongside 20% gross income cut for K-19: The Widowmaker (2002) which was a box office flop. Yes, that's how good his job is!
Meanwhile, the box office icon also makes some handsome bucks from appearing in several documentary/television series.
What Does the Famous Actor Do with All the Cash?
Harrison Ford's estimated net worth of $300 million makes it indisputable that the movie hero has the good life at his beck and call. Nevertheless, Ford isn't the type that lavishes his money on frivolities. He rather prefers to spend his cash in the most investable ways and that of course includes real estate.
Harrison Ford's initial estate acquisition that came to media notice was his massive Brentwood, Los Angeles residence which he bought for $1 million in 1983. In 2001, he acquired another property in New York City. The Indiana Jones actor parted with $5.3 million to have the penthouse which is precisely located in the Flatiron District.
Later in 2011, Harrison purchased another home in Brentwood. He acquired the $12.6 million property together with his wife, Calista Flockhart not long after they tied the knot. The house has since been the couple's main residence. Ford reportedly owns about three or more other houses in Los Angeles either as a form of investment or as alternative homes. In 2012, he sold his first Brentwood home for $8.2 million.
Another prominent real estate property owned by Harrison Ford is his 800-acre ranch in Wyoming situated along the Snake River. The Han Solo portrayer spends most of his leisure on the ranch and he doesn't find it difficult to quickly navigate from his homes in other cities to the Wyoming refuge, thanks to his ability to fly himself – in his own jets!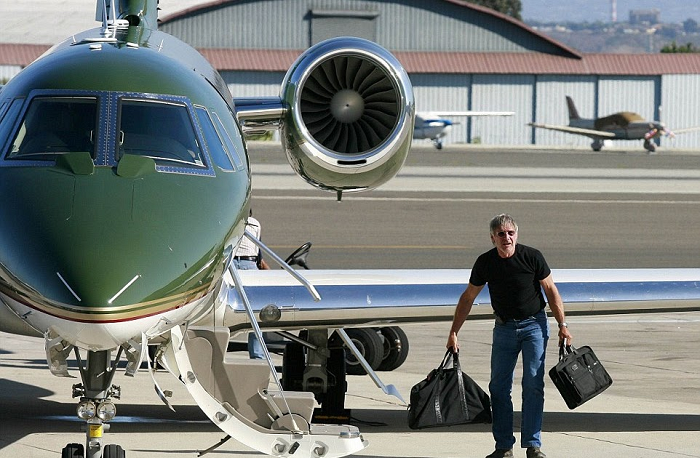 Yes, Harrison is actually a licensed pilot and counts among the few celebrities that own the most private jets. He has up to ten of them plus a Bel 407 private helicopter, most prominent among them being his 2009 Cessna 680 which he reportedly bought brand new for $18 million. Quite impressive, but its actually no big deal for his $300 million worth treasury!
Harrison Ford parks his jets and helicopter at the Santa Monica Airport, about a 10-minute drive from his residence in Brentwood. His fleet of planes has actually caused the media not to care about the kind of autos making up the actor's car collection as he often prefers to Uber to the airport, hop on to his plane and fly himself to his desired destination. For instance, Ford on August 20, 2020 flew his son back to school in one of his planes. That's a lot faster and of course, grander.
Meanwhile, the wealthy actor has really lost some big bucks to divorce settlements and agreements. The story of his marital life provides the facts and figures.
Lesser-known Details about the Marital Life of Harrison Ford
Looking at the height of his career success, one may be tempted to think that Harrison Ford's life behind movie sets is just as successful. But the fact is that the movie legend has so far in his lifetime, married thrice. Let's have a closer look.
Harrison and Mary Marquardt (Ex-Wife)
Full Name: Mary Marquardt
Date of Birth: 1945
Occupation: Chef, Former Illustrator
Spouse(s): Harrison Ford (m. 1964; div. 1979)
No. of Children: 2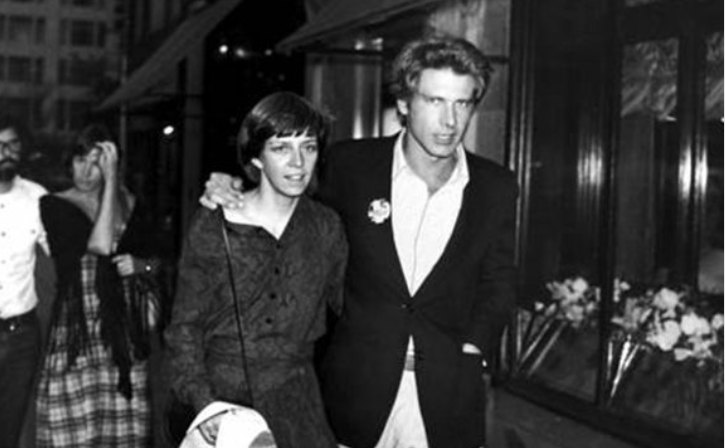 Born in the US in 1945, Mary Marquardt attended Harrison Ford's alma mater, the Ripon College in Wisconsin where she earned a degree in Culinary Arts. It was during her days at Ripon that she met and began dating Harrison. Not quite long after they began seeing each other, Harrison walked Mary down the aisle. That was on the 18th of June, 1964.
Well over a decade into their union, issues began to arise between the couple, especially as a result of Harrison Ford's growing media popularity. This led to their separation and they eventually signed the divorce papers October 3, 1974. It later emerged that Harrison cheated on Mary with Carrie Fisher, one of his Star Wars co-stars. The now ex-couple has two sons together.
Mary Marquardt has remained single and off the media eye ever since her divorce from Harrison Ford. Unfortunately, she became diagnosed with Multiple Sclerosis in the early 2000s, a disease she still battles with as of the time of writing this article.
Harrison Ford and Melissa Mathison (Ex-wife)
Full Name: Melissa Marie Mathison
Date of Birth: June 3, 1950 (died November 4, 2015)
Occupation: Screenwriter
Spouse(s): Harrison Ford (m. 1983; div. 2004)
No. of Children: 2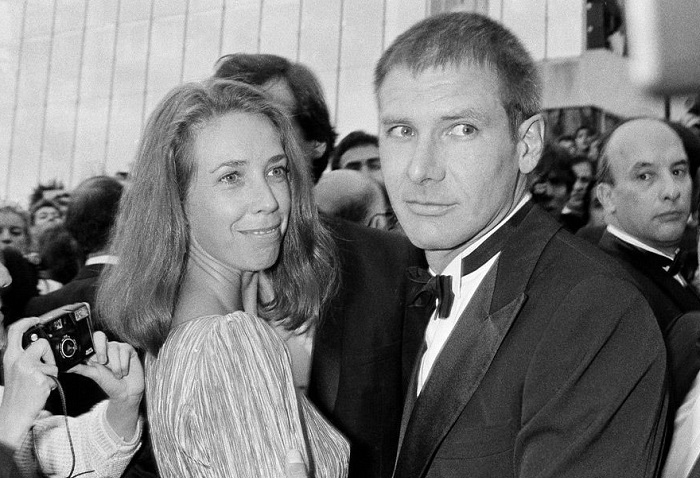 About four years after officially parting ways with his first wife, Harrison Ford walked another woman down the aisle – Melissa Mathison. Melissa who is a screenwriter is most popular for Steven Spielberg's 1982 sci-fi film, E.T: The Extraterrestrial, a role that earned her an Academy Award nomination for Original Screenplay.
Mathison and Harrison Ford tied the knot on March 14, 1983 and after close to two decades of marriage, they went their separate ways in 2000. The reason behind their separation was also associated with rumors of infidelity on Harrison Ford's part.
Mathison filed for divorce in August 2001, and they finalized it in January 2004, with Ford paying her an estimated total settlement of $118 million alongside half of the royalties of all the movies he made during their marriage as well as child support until their two children turn 21.
Unfortunately, Melissa Mathison died of neuroendocrine cancer in 2015. She was aged 65.
Harrison Ford and Calista Flockhart (Wife)
Full Name: Calista Kay Flockhart
Date of Birth: November 11, 1964
Occupation: Actress
Spouse(s): Harrison Ford (m. 2010)
No. of Children: 1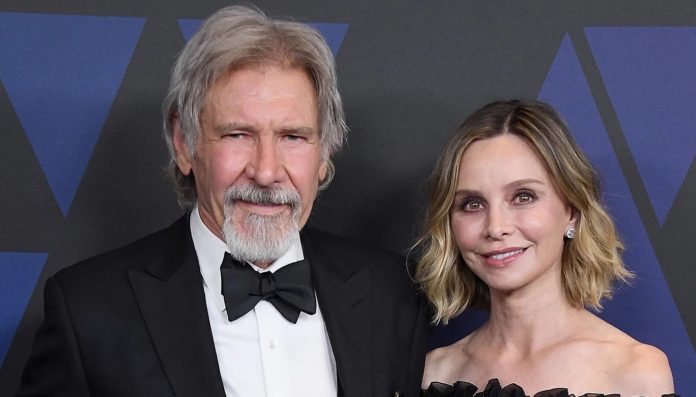 Harrison Ford is currently married to actress Calista Flockhart who he met at the 2002 Golden Globes. Flockart who is a Golden Globe Awardee is popular for her roles in TV series and films like Supergirl, The Birdcage and A Midsummer's Night Dream. After a quite long courtship, the duo married each other on June 15, 2010, in Santa Fe, New Mexico where Ford was filming Cowboys & Aliens. They are parents to Flockhart's adopted son.
From his three marriages, Harrison Ford has a total of five children – four sons and a daughter, namely:
Ben (Son)
Full Name: Benjamin Ford
Date of Birth: September 22, 1967
Occupation: Chef
Spouse(s): Emily Tomerlin
No. of Children: 3
Ben is Harrison's oldest child whom he had with his first wife, Mary Marquardt. Following his mother's footprints, he became a chef. Ben has since extended his culinary career to authoring with the menu instruction/guide book, Taming the Feast. Together with his dad, he owns Ford's Filling Station, a chain of restaurants scattered across Los Angeles.
Ben is married to Emily Tomerlin and they have two children together, Waylon and Ethan. He also has an older son from a previous relationship.
Willard (Son)
Full Name: Willard Ford
Date of Birth: May 14, 1969
Occupation: Clothing Designer
No. of Children: 1
Willard is Harrison's second child. His mother is Mary Marquardt. Willard is a clothier and fitness enthusiast and respectively owns Ludwig Clothing and Strong Sports Gym. He is also a part owner of Ford & Ching.
Willard has a son named Eliel born in 1993.
Malcolm (Son)
Full Name: Malcolm Ford
Date of Birth: October 3, 1987
Occupation: Musician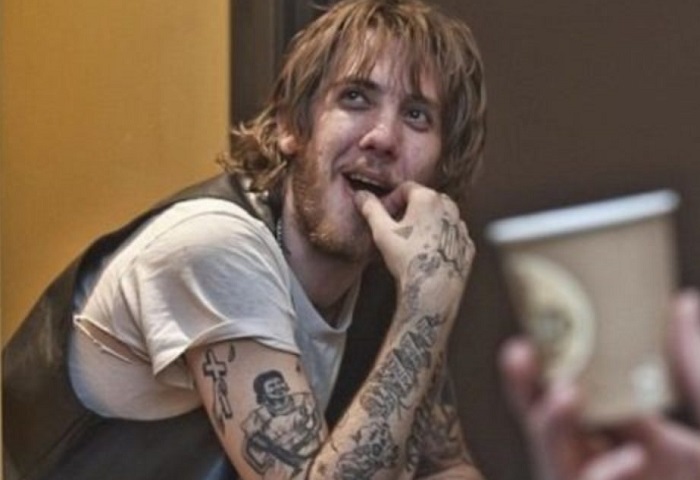 Malcom is Harrison Ford's third child and son. He is, however, the actor's first with his second wife, Melissa Mathison. Malcolm has taken the path of music and serves as a vocalist and guitarist on the indie band, The Dough Rollers. Prior to launching his music career, he delved into drug abuse in the bid to cope with his parents' devastating separation. He, however, later cleaned up through rehab.
Malcolm has a sister named Georgia alongside half brothers, Ben and Willard.
Georgia (Daughter)
Full Name: Georgia Louise Ford
Date of Birth: June 30, 1990
Occupation: Actress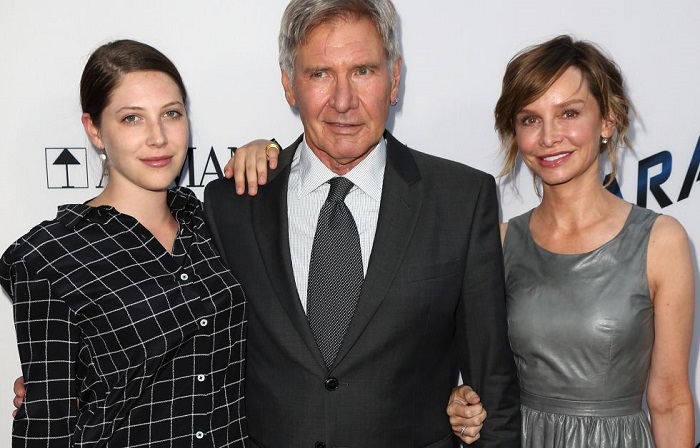 Georgia is Harrison Ford's fourth child and only daughter. She is however, his second with Melissa Mathison. Born in 1990, Georgia has grown to become an actress. She made her acting debut in the 2013 dark comedy film, American Milkshake and has subsequently featured in several other films including True Story (2015) and I'm Being Me (2020).
Unfortunately, Georgia Ford has epilepsy. Harrison Ford made the revelation in 2016 while attending an event held at the NYU Langone Medical Center's "Find a Cure for Epilepsy and Seizures" (FACES). In addition to her brother Malcolm, she has Ben and Willard as her half brothers from her father's previous marriage.
Liam (Son)
Full Name: Liam Flockhart Ford
Date of Birth: January 1, 2001
Liam is Calista and Harrison's adopted son. The two adopted him at birth in 2001. Liam gained admission into Amherst College, Massachusetts in 2019. Just like every other Harrison Ford's kid, he keeps a lowkey lifestyle.
Profile Summary
First Name:
Harrison
Last Name:
Ford
Estimated Net Worth:

$300 million
Salary:
N/A
Source of Wealth:
His acting career, endorsement deals
Last Updated:

2020
Also Known As:

Harry
Sex/Gender:

Male
Profession:

Actor, aviator, and environmental activist
Famous For:
Portraying the character of Han Solo in the original Star Wars series and being cast as a lead role in the Indiana Jones film series.
Colleges/Universities Attended:

Ripon College in Wisconsin
Educational Qualifications:

Dropped out
Religion:

Agnostic
Birthday & Zodiac

Age/Date of Birth:

July 13, 1942
Zodiac Sign:
Cancer
Birth Place:

Chicago, Illinois, United States
Nationality:
American
Ethnicity/Race:

White
Country of Residence:

USA
Physical Attributes

Height:

6 ft 1 in or 185 cm
Weight:

81 kg or 179 lbs
Eye Colour:

Hazel
Hair Color:

Salt and Pepper
Other Body Measurements:

Chest – 42 in or 107, Arms / Biceps – 14 in,
Waist – 35 in
Relationships

Marital Status:

Married
Spouse/Partner:

Calista Flockhart (2002-Present), He was previously married to
Mary Marquardt
(m. 1964; div. 1979) Melissa Mathison (m. 1983; div. 2004)
Family and Relatives

Father:

Christopher Ford
Mother:
Dorothy Nidelman
Children:

Benjamin, Willard, Malcolm, Georgia, Liam Flockhart (adopted)
Siblings:
Terence Ford (Younger Brother)
Other Relatives:

– John Fitzgerald Ford (Paternal Grandfather), Florence Veronica Niehaus (Paternal Grandmother), Harry Nidelman (Maternal Grandfather), Anna Lifschutz (Maternal Grandmother)