A stunning blonde, Hanna Prater and her long term beau defy almost all norms expected of drivers under the helmet and their partners. The childhood sweethearts are known to conspicuously shy away from the spotlight. But their decision to lead a private lifestyle has become increasingly difficult especially given the German superstar's stellar Formula 1 record. Away from the tracks, not much is known about the longtime partners' personal lives.
Despite being the long term partner to a public figure, Hanna Prater has proven to be a pretty private individual. She prefers to live her life away from the spotlight and has not disclosed details regarding her birthplace, parents, siblings, and family. Nonetheless, it is no secret that the English-German lady was born sometime in 1988. For her academic records, Prater was first educated at Heppenheim Middle School. She's always had interests in the fashion industry and thus later pursued her passion by studying textile design at Baden Wurttemberg Fashion School.
Hanna Prater began working in the fashion industry right after school and has worked with some top brands over the years. Her first major professional gig in the field was when she styled for Look Magazine. Hanna also gained experience as a fashion stylist while working at the S. Oliver Fashion House. When she started having kids, she took a break from her career to become a stay-at-home mom. It is uncertain what her future career goals are, but there are unconfirmed reports that plans are underway for Hanna to launch her own fashion accessory line.
Hanna Prater's Relationship With Sebastian Vettel
Prater and Vettel have a very interesting love story which sounds more like a fairytale. The pair's romance dates back to their teenage years at Heppenheim Middle School in Germany. Though they initially began as platonic friends while in school, the couple's relationship eventually blossomed into a romantic one. Despite the long-distance strain their relationship suffered when Sebastian moved to Switzerland for his racing career, love conquered for the couple. Thankfully, they were reunited in 2010 when the German F1 driver purchased a home for them in Thurgau, Switzerland.
The childhood sweethearts have since remained inseparable and are family-oriented. Hanna and Sebastian who live in a farmhouse in Switzerland have expanded their small circle and are raising two daughters together. The first, Emilie was welcomed in 2014, while the second, Mathilda came along a year later.
Given how long the couple has been together as well as their private lifestyle, the media has been left with only speculations. Rumors have been rife at various times that the couple has secretly married but it didn't hold water for long. Particularly in 2014, Vettel and Prater dismissed the speculations stressing that they did not feel the need for marriage just yet.
However, at the 2019 Canadian Grand Prix, Hanna's longtime beau Sebastian Vettel gave the Formula 1 world more reasons to speculate after he was spotted in Le Castellet wearing a wedding ring. The childhood sweethearts are believed to have finally tied the knot secretly, although neither parties have confirmed or denied the rumors. Regardless, the couple has remained inseparable over the years and continue to wax stronger together.
Other Interesting Facts About Sebastian Vettel's Partner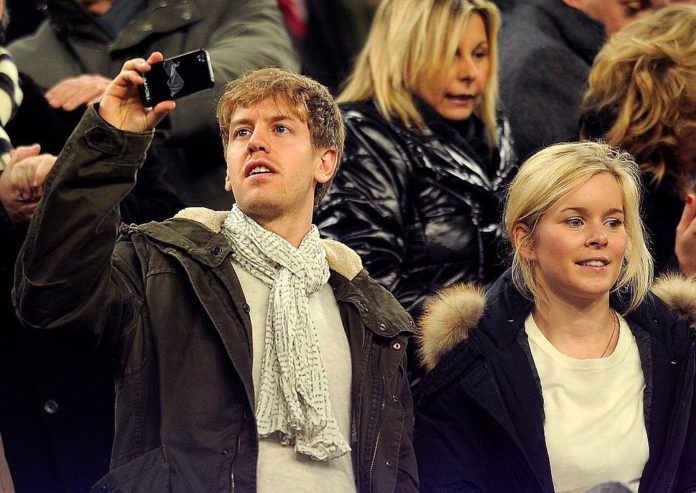 Prater Is A Sports Lover
Besides her partner's F1 racing, not many are aware that Hanna Prater is a sports enthusiast and has interests in other sports. Particularly she loves football and is an ardent fan of Barcelona FC.
She Is An Unusual WAG
Unlike most other WAGS, Hanna Prater is a pretty private woman and consciously shies away from the spotlight and media. In fact, she is seldom seen at the track during Sebastian Vettel's races. But the celebrity spouse explained the reason for her conspicuous absence, stressing that she sees the race tracks as her partner's workplace and thus avoids going there in order not to distract the F1 racer.
Prater Is On Social Media
Hanna Prater is quite active on social media. While she may not be found on all popular social networking sites, she is present on Instagram. Although her last post on the photo-sharing app dates back to 2013, Hanna's account shows that she is proud of her beau Vetter and does not hesitate to flaunt pictures of his career achievements.
She Is a Fitness Enthusiast
If Prater's Instagram account is anything to go by, it is safe to say she is a fitness enthusiast as she once made a post that suggests she trains hard like a beast.
See Also: Nina Altuve – Biography, Age, Facts About José Altuve's Wife
Her Partner Sebastian Vettel
Considered one of the world's richest F1 racers, Sebastian Vettel is a four-time world champion clinching the titles from 2010 to 2013, consecutively. The German superstar made his debut at age 19 and at the 2007 US Grand Prix. He has gone on to make a stellar Formula 1 record with four world titles and 51 victories in 216 Grand Prix starts.
One of the things the F1 racer and his longtime partner share in common is their ultra-private lifestyle. Away from the inevitable Formula 1 glare, Vettel loves to keep his personal life under the radar. Interestingly, the German superstar does not consider himself to be a celebrity but just a sportsman. While he admits that F1 is a big part of his life, Hanna Prater's beau believes it is not the most important thing and does not define his personality.
Off the tracks and back home, Vettel seems like the ideal domestic man who loves to do things that some people may consider boring. From spending time with his loved ones to cooking to mowing the lawn to shopping and then doing the school run, Vettel is apparently more a regular guy than your dream glitz and glamour celebrity.