It would be a challenge to convince any observer of Hollywood that Hailee Steinfeld isn't poised to become one of the next generations of megastars in the world's premier entertainment industry. Not only has she appeared in some of the most popular and successful films, but she is a multi-talented young woman who has significant footprints across two major aspects of show business- singing and acting. Through them, Hailee Steinfeld has amassed a considerable net worth in less than two decades in the industry.
We examine everything you need to know about Hailee Steinfeld's net worth below, including how much of her income comes from movies.
What is Hailee Steinfeld's Net Worth?
According to CelebrityNetWorth.com, the celebrity wealth tracking website, Hailee Steinfeld has a net worth of $8 million. While that doesn't make her the richest under-30 woman in the world, it certainly makes her one of the richest in Hollywood.
Her net worth has come via a thriving career as both an actress and a musician. With a continuously growing popularity and her name continually mentioned for some of Hollywood's most prominent projects, the Los Angeles-born actress is poised to feature at the top of celebrity wealth rankings in the near future.
How Does She Make Her Money?
To those who only know Hailee Steinfeld as an actress, presuming she makes her money via acting alone would be a fair assumption. But as mentioned earlier, she is also a singer and has made considerable income as a musician. Aside from music and acting, Hailee has also earned her net worth via endorsement and commercial deals. Below is an in-depth look at how each source has contributed to her net worth.
Acting
Hailee Steinfeld began acting in 2007, at the age of 10. She made her debut in the show, Back to You, and subsequently appeared in a couple of short films like She's a Fox, Heather: A Fairy Tale, and Without Wings.
Three years after she made her debut onscreen, she appeared in the film True Grit as Mattie Ross. Her performance in the movie was a breakthrough for the actress, fetching her an Oscar nomination for Best Supporting Actress. Having secured her breakthrough and earned recognition in the industry, she has gone on to appear in several films such as the Pitch Perfect series, where she plays Emily, The Edge of Seventeen, Bumblebee, and Spider-Man: Into the Spider-Verse, where she voiced Gwen Stacy.
So far, her substantial net worth has come from appearing in more than 30 movies and TV shows.
Singer/Songwriting
While acting might take the number spot as the most significant source of Hailee Steinfeld's net worth, her career as a singer and songwriter is a close second.
She began her music career in 2015 when she released the single, Love Myself. The single peaked at #30 on the US Billboard Hot 100 and charted in various major music markets across the globe, including Australia, Canada, UK, and New Zealand. The single has sold more than 2.5 million copies around the world, with at least two million copies sold in the US alone.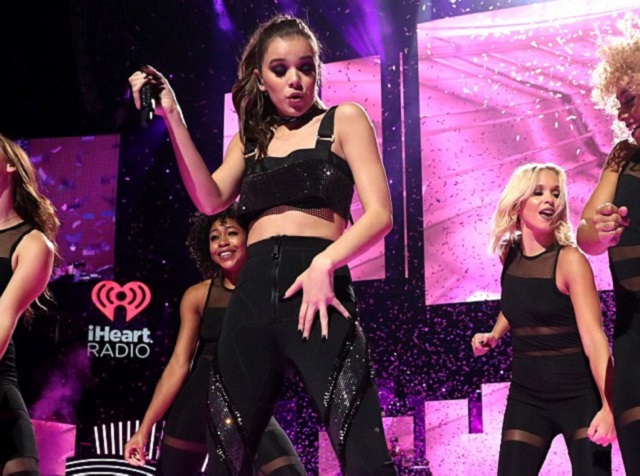 Hailee Steinfeld has since followed up her debut single with fourteen singles, including seven as a featured artist. Her debut album, Haiz, was released in 2015 and peaked at #57 on the US Billboard 200. It achieved modest commercial success, charting in Canada, Japan, and the Philippines.
So far, Hailee Steinfeld has achieved her impressive net worth from selling over three million copies of her music.
Endorsement Deals
Hailee's popularity among young adults and her commercial attraction has helped her to a couple of endorsement deals, which has helped her to her $8 million net worth.
She has endorsement deals with Reef footwear and Mission activewear. She has also featured as a model in a couple of magazines. She also enjoys a moderate-income through sponsored ads on her Instagram page, where she has over 12.3 million followers.
How Much She Makes From Her Movies?
The secretive nature of Hollywood's accounting makes it difficult to determine how much Hailee Steinfeld makes from her movies correctly. However, it is believed that Hailee's salary has increased continuously since she became a recognizable name in the industry. In just a short period as an adult actress, she has shown she can be a box office success, having made over $1.5 billion at the box office.
Over $700 million of her box office totals so far has come when she has played leading roles and a further $680 million from films where she has played a member of a leading ensemble.
If Hailee Steinfeld's movies continue to be a box office success, her salary per movie could immensely increase to an industry high of $20 million for major actresses, and long with it, her overall net worth.