When it comes to music superstars and icons, there are a few names that have established themselves as one since they became members of the global music industry and at the top of that illustrious list is Madonna. Since she became a global music star, there are plenty of major incidents and milestones she has attained as both a musician and a person. Outside of her music, Madonna has been a married woman, married to Guy Ritchie, for eight years.
It was a controversial eight years between Madonna and Guy Ritchie, one that also resulted in the birth of a child and the adoption of another. Their divorce was the culmination of a bitter ending for the couple, and not only did it signal the end of another major Hollywood relationship but it also set the record for one of the most expensive divorces in history. Let's take a look at the relationship between Guy Ritchie and Madonna, including how much their divorce cost. Read on to learn more.
How did Madonna and Guy Ritchie's Relationship Begin?
Before their relationship became nothing more than custody battles and hitting each other with slurs, Guy Ritchie and Madonna were in love. They had met for the first time in March 1998 during a party that was hosted by musician Sting and his wife.
Madonna, who is famously referred to as the Queen of Pop, was there along with Guy Ritchie who is a famous film producer and director. She was introduced to the director and a nice conversation and an agreement to go on a first date became the beginnings of their relationship. At the time Guy Ritchie and Madonna met, both of them were at the peak years of their respective careers. Guy's film, a crime comedy, Lock, Stock and Two Smoking Barrels was released in 1998, to critical acclaim while Madonna released her album, Ray of Light.
The success that continued in their respective careers extended to their relationship and eventually led them to the altar in December 2000. The high-profile couple got married in a very lavish ceremony in Skibo Castle in Scotland, which was attended by other high-profile actors, celebrities and musicians. Before they got married on the 22nd of December 2000, they gave birth to their first and only biological child, Rocco John Ritchie on the 11th of August, 2000 in Los Angeles.
Despite the difference in their respective worlds as a musician and filmmaker, the early days of their marriage suggested that things may very well work out. In 2006, after a visit to Malawi, Madonna and Guy Richie adopted a baby boy, David Banda, and a girl, Mercy from the African country. David had been born in the previous year, on the 24th of September 2005.
However, it didn't take long after the adoption before the differences between Madonna and Guy Ritchie began to affect the balance of their relationship.
Why Did Madonna and Guy Ritchie Divorce?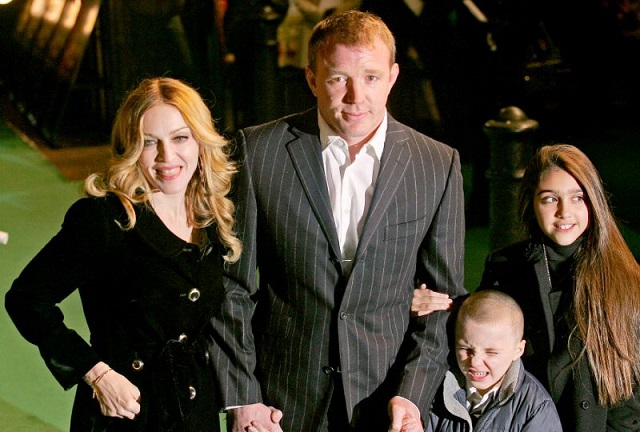 Every relationship goes through its up and downs, and often, with partners resolved to be with each other, they find a way to navigate those downs and stay with each other. The eventual end of the marriage between Guy Ritchie and Madonna can best be described as a result of both parties' refusal to work together on their marriage.
In a way, one could say that their divorce was the accumulation of the issues that had plagued their marriage since it began but things got revved up in 2008 when Guy Ritchie began to miss out on attending major events with his wife. Some of those issues were largely described as the emasculation of Guy Ritchie by the media who often portrayed him as a purse holder for the music icon and infamously referred to him as Mr. Madonna. Despite being able to roll with the punches from the media, it was Madonna's inability to find a balance between her career and the marriage that eventually led to the eventual end of the marriage.
Well into the first quarter of 2008, despite swirling rumors of an impending divorce, Guy Ritchie and Madonna put up a united front for their relationship, trying to communicate that all was well, but restaurant dates were not enough to end the rumors and things got kicked into high gear in March when Guy missed the induction of Madonna into the Rock and Roll Hall of Fame in New York.
Prior to missing out on that major event, Guy also missed a UNICEF fundraiser organized by Madonna for her charity, Raising Malawi. The event had other major celebrities in attendance such as Demi Moore, Tom Cruise, and Gwyneth Paltrow. The growing list of major events of Madonna missed by Guy also included the premiere of her movie, Filth & Wisdom in February.
As rumors of a possibility of a divorce intensified, it was confirmed by Guy Ritchie's father that the couple was no longer spending time together. Despite a late attempt at reconciling the challenges in their marriage, ultimately, Madonna's insistence and inability to forge a balancing act between her marriage and her career became the nail in the coffin.
Guy reportedly advised and encouraged Madonna to shelve the sexy image she cultivated as an artist, suggesting she was too old for it. To say the least, the advice and suggestions were not pleasantly received by the Queen of Pop. After months of putting up a brave face to the media, Madonna finally announced to the media that the marriage was over in October 2008.
How Much Did their Divorce Cost?
When Madonna finally admitted the end of the marriage in October 2008, all eyes were focused on the divorce proceedings, which many envisaged would be a tumultuous affair. However, that wasn't to be as they completed the divorce proceedings within three months and were officially pronounced divorce in December 2008 by District Judge Reid at the Principal Registry of the Family Division in High Holborn, London.
The rapid conclusion of the divorce, however, came at a high cost to Madonna who paid a settlement estimated between $67 to $80 million to Guy Ritchie. The large settlement, which is considered one of the largest divorce settlements in British history, involved willing the couple's London pub and Wiltshire estate to the filmmaker.
Although those were the figures published by the media for the divorce, both Madonna and Ritchie came out in a joint statement denying the accuracy of the figures. One thing is for sure, whatever the truth might be, Madonna could certainly afford it. The pop icon has a net worth of over $600 million.
Post-Divorce Life
The rapid conclusion to their marriage may have suggested an amicable end to their marriage but about ten years after, the custody battle for their son, Rocco Ritchie became a major source of conflict between the famous personalities.
The couple had originally agreed to share custody of their two children, Rocco and David. The conflict began in 2015 after Rocco Ritchie, who had become a teenager, refused to return to his mother's home in the US, choosing instead to spend the Christmas holiday with his father in London.
The decision by Rocco further escalated the divide between Guy Ritchie and Madonna post-divorce as both parties have repeatedly said some nasty words to each other, such as Madonna calling Guy a cunt and Guy referring to her as a granny.
After a protracted period of fighting and mudslinging, a court battle over the custody of Rocco Ritchie was eventually settled when a judge ruled that Rocco will remain in London with his father pending the conclusion of his time in school.
Outside of their custody battles, Guy Ritchie has since moved on to another relationship after his divorce from Madonna. He got married to the model, Jacqui Ainsley on the 30th of July, 2015 after five years of dating which began sometime in 2010.
Since they've been together, the two have welcomed three children to the world, Rafael, who was born on the 5th of September 2011, Rivka, who was born on the 29th of November, 2012 and Levi, who was born on the 8th of June 2014. His three children with Jacqui Ainsley bring Guy Ritchie's total number of children to six.
As for Madonna, she has been in a relationship with Brahim Zaibat, a young French dancer since 2011. The two of them reportedly met at the launch of Madonna's clothing line, Material Girl. Despite the fact that Brahim is well younger than the Queen of Pop, the two of them have remained in a relationship ever since.
Prior to dating Brahim Zaibat, Madonna's next relationship after her marriage to Guy Ritchie ended was a one-year relationship with Jesus Luz between 2009 and 2010. Luz, who is a Brazilian model was 22 years of age when he met and began a relationship with the singer. The two of them had met during a racy and steamy photoshoot for W magazine. During their time together, Jesus Luz appeared in one of Madonna's music videos, for the song, Celebration.
Just like Guy Ritchie, Madonna has a total of six children, three of which were from her marriage to Guy Ritchie (one biological, two adopted) and the other three are – daughter, Lourdes Leon, who has followed in her mother's footsteps as a professional singer. She was born out of her mother's relationship with Carlos Leon. The other two are the Malawian twins adopted by the famous singer in 2017.