Graveyard Carz is a highly-rated reality television show that sits on the Velocity Network. The series revolves around a group of automotive mechanics headed by Mark Worman, who are dedicated to restoring Mopar and other muscled cars made in the 1960s and 70s. The incredibly talented mechanics work their magic out of The Graveyard Carz shop located in Springfield, Oregon.
The show was created by Mark Worman who got the idea after he found a completely destroyed 1971 Plymouth Barracuda which he wanted to restore. The car became a total wreck after it collided with a pickup truck while doing 100 mph. He then decided to film the restoration process and pitched it to a couple of networks until it was picked up by Velocity.
Over the course of the first seasons, delighted viewers watched attentively as the Barracuda underwent a total transformation that practically restored it to assembly-line condition. Despite the terrible conditions of the cars they take on, Mark and his crew have proved that there is no challenge too difficult for them. Whether they're doing research, painting, assembling a car, or simply playing pranks on each other, the Graveyard crew are absolutely entertaining to watch.
The show has helped propel the crew to popularity, increasing their client base, and expanding their professional resume. Lots of people pay them top dollar to restore their dream cars, which are mostly bought from auto salvage yards and junk from all over the world. These cars are usually very expensive, but their value tends to rise through the roof once they have been fully restored by the crew of the hit reality TV series.
Who Are The Cast of Graveyard Carz?
Mark Worman
As creator and producer of the show, Mark is responsible for the creative direction of the show. He is a lover of cars and an avid car collector. Worman developed a passion for automotive when he was a little boy and his interest hasn't wavered ever since. Professionally, he only works on restoring wrecked, damaged, and old Mopar cars. He has magical hands that can bring these vehicles back to life no matter how far gone they are.
Will Scott
Will is one of the main cast on the show; he works as the garage painter. He is responsible for the amazing color shades that end up on the cars that the crew restores. Will also helps with other aspects of car rebuilding. He joined Graveyard Carz cast in the fifth season and has since spent his time making the customer's dream cars a beautiful reality.
Dave Rea
Before Dave joined Graveyard Carz, he was a big fan of the show. He joined the series in season five as a mechanic. His main responsibilities include making sure the prep work is done and all the assembly pieces accounted for. Aside from cars, Dave also builds guitars, which he has a real knack for playing. He is a fun-loving guy who has endeared himself to the fans with his sense of humor.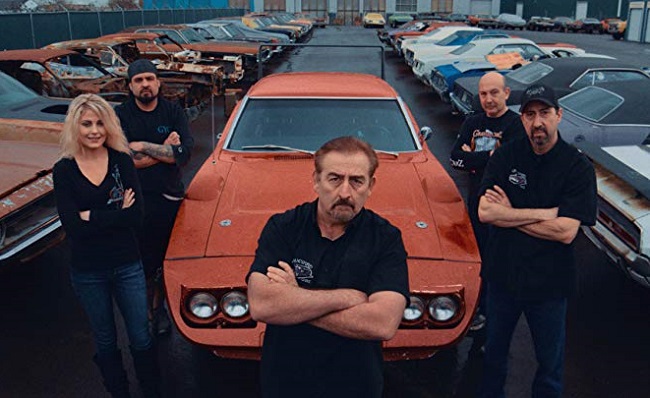 Royal Yoakum
Since the inception of the show, Royal has been putting his phenomenal carpentry skills to good use. However, carpentry is not the only place he excels, Royal is best described as Jack of all trades. He assists other crew members with whatever needs to be done. He is very close friends with Mark Worman whether the cameras are on or off. Yoakum brings a lot of positive vibes to the group and serves as a father figure to the younger crew members.
Alyssa Rose
Mark Worman's daughter, Alyssa developed a love for cars when she was little. She began repairing motor vehicles when she was ten years old and has since become exceptionally good at fixing them. She serves as the head researcher and apprentice on Graveyard Carz.
See Also: What Happened To Holly On Graveyard Carz, Where Is She Now?
Is Graveyard Carz Cancelled, Will There Be a New Season?
The first episode of Graveyards Carz aired on June 14, 2012. It has been broadcast in the Velocity Network every year since on Tuesdays at 10 PM. The show is currently in the 11th season, and the season finale aired on June 11, 2019.
Velocity is yet to announce if they will be renewing Graveyard Cars for a new season, but the good news is that they are yet to announce any plans for cancellation either. However, according to Mark Worman's Twitter page, production is already underway for the twelfth season of the hit reality TV series.