This New York socialite is known for her legacy in all three fields of fashion designing, acting, and writing. Aside from her professional career, Gloria Vanderbilt was also known for having a very busy love life, which included multiple lovers and spouses.
In many ways, she was a remarkable woman and there is plenty to say about her. But, for this article, we shall be discussing her marriages, as well as the identity of her children.
Gloria Vanderbilt's Spouses
Like a plot out of Mamma Mia, Gloria Vanderbilt got married four different times. Her spouses were Pat DiCicco, Leopold Stokowski, Sidney Lumet, and Wyatt Emory Cooper.
Aside from her marriages, Gloria Vanderbilt was involved in several other relationships with notable personalities like Marlon Brandon, Howard Hughes, Roald Dahl, and Gordon Parks.
Pat DiCicco
Gloria Vanderbilt's first marriage was to Pat DiCicco, a Hollywood agent. She got married to him at the age of 17. While they were together, Pat allegedly abused her on multiple occasions.
She was his second wife and despite four years together, Gloria and Pat never had any children. She divorced him in 1945.
Leopold Stokowski
Just weeks after she divorced Pat DiCicco, Gloria Vanderbilt married her second spouse, Leopold Stokowski. She was the third wife of Leopold, a music conductor who had been married to two women – Olga Samaroff and Evangeline Johnson.
The two were together for about a decade, from 1945 to October 1955. During their time together as a couple, they gave birth to two sons – Leopold Stanislaus Stokowski and Christopher Stokowski.
Sidney Lumet
About a year after her divorced from Leopold, Gloria Vanderbilt returned to the altar with her third husband, Sidney Lumet.
Sidney was a film director who is known for films like Network, 12 Angry Men and The Verdict. He was nominated for the Academy Award five times, and 14 of his films also got award nods.
Like her previous marriages, Gloria was the second wife of the director. They got married on the 28th of August, 1956, and were together until August 1963. She had no children with the renowned director.
Wyatt Emory Cooper
Gloria Vanderbilt's fourth husband was Wyatt Emory Cooper. She was the first and only wife of the author. They got married on Christmas Eve in 1963 and were together until his death in 1978. He died from complications during open-heart surgery.
She gave birth to her last two children while she was married to the author.
Gloria Vanderbilt's Children
Anderson Cooper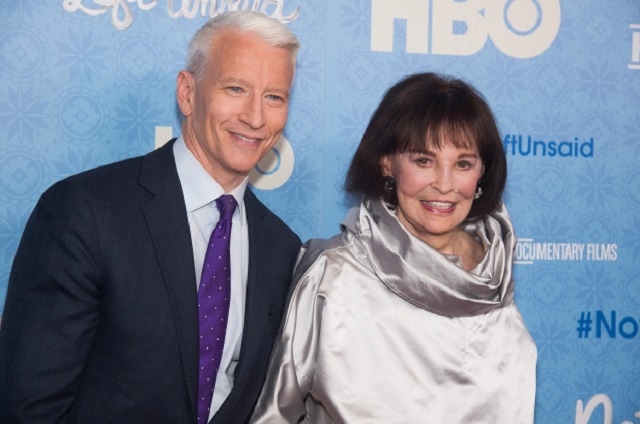 Gloria Vanderbilt's most famous child is the CNN news anchor, Anderson Cooper. He was born on the 3rd of June 1967. In addition to being a journalist, Anderson is also a talk show host, an author, and a TV personality. On CNN, he is renowned for anchoring the news show, Anderson Cooper 360o.
He also hosts a conversational stage show with Andy Cohen. The show has toured in more than 50 states since it began.
Carter Vanderbilt Cooper
Carter Vanderbilt Cooper is Anderson's biological brother. He was born on the 27th of January, 1965. Not much is known about him because he died at the age of 23 after jumping off the family's 14th-floor apartment.
It is unknown if he died by suicide or was the victim of a medication that led to a psychotic episode.
Leopold Stanislaus Stokowski
Leopold is the first child born to Gloria Vanderbilt. He was born on the 22nd of August, 1950. Unlike Anderson Cooper and his mother, Leopold prefers living outside of the spotlight, although he maintained a stable relationship with his mother while she was alive.
He is the owner of several landscaping businesses across New York and New England. He is married to Emily Goldstein and together, they share two daughters – Abra and Aurora.
See Also: How Anderson Cooper Achieved a Net Worth of $110 Million
Christopher Stokowski
Gloria Vanderbilt's second son, Christopher, was born on the 31st of January, 1952. Similarly, like Leopold, Christopher lives outside of the media spotlight, albeit for a different reason.

According to Town and Country Magazine, Christopher had a significant fallout with the family in 1978, which led to his estrangement.

He has continued to live outside the spotlight ever since and as a result, not much information about him has made it to the public.

Fact Check: We strive for accuracy and fairness. If you see something that needs updating,