Not many people can claim to have been born into wealth, built on that wealth, and left something substantial for their children. The New York Socialite, Gloria Vanderbilt fulfilled all three aspects of that experience. She had been born into the famous Vanderbilt family known for their class, wealth, and standing among New York elites. As a result, it was no surprise that for most of her life, Gloria Vanderbilt lived a glamorous life, fueled by the astonishing net worth she had built up as an adult.
Considering the fact she was worth a lot of money during her lifetime, it seemed destined that whoever inherited her estate after she passed, would be coming into a lot of money. But was that the case? Find out how much Gloria Vanderbilt had in net worth at the time of her death, along with details about who inherited her estate.
Gloria Vanderbilt's Net Worth When She Died
When news of Gloria Vanderbilt's passing filtered into mainstream news, the popular belief was that the New York socialite would be leaving behind a fortune estimated at $200 million. Several major media outlets widely reported the figure, and the possible recipients of her wealth seemed poised for a significant boost in their net worth. However, the number turned out to be false.
According to a report by the Los Angeles Times, Gloria Vanderbilt had a paltry net worth of $1.5 million at the time of her death. The reported figure came as a massive shock to observers and commentators not just because she had an equivalent of $35 million in net worth before she lifted a finger as a child, but also because she owned a fashion empire that was worth more than $100 million.
Gloria Vanderbilt's $1.5 million net worth at the time of her death was a significantly wide arc away from the mark of public expectations, leaving many to wonder what happened to her money.
What Happened to Her Money?
While a net worth of $1.5 million is nothing to be scuffed at, it raises questions when it belongs to a person that was supposedly worth up to $200 million at some point in their lives. Several things contributed to the depletion of Gloria Vanderbilt's net worth over the years as further investigations revealed. One of them was the demise of her fashion empire. Her $100 million denim fashion empire, which she started in the 1970s, suffered from a lack of growth and eventually faded out.
Gloria also lost some of her fortunes to a rogue lawyer and psychiatrist who reportedly stole several millions of dollars from her and sold off her business interests without her consent. In addition to losing money to fraud, she also had to sell two of her homes to pay back taxes owed to the IRS. While she battled massive financial losses for one reason or another, Gloria Vanderbilt continued to spend lavishly, both on her philanthropic and personal pursuits. All of the above ensured that she was worth only a paltry $1.5 million at the time of her death.
Her Sons Inherited Her Wealth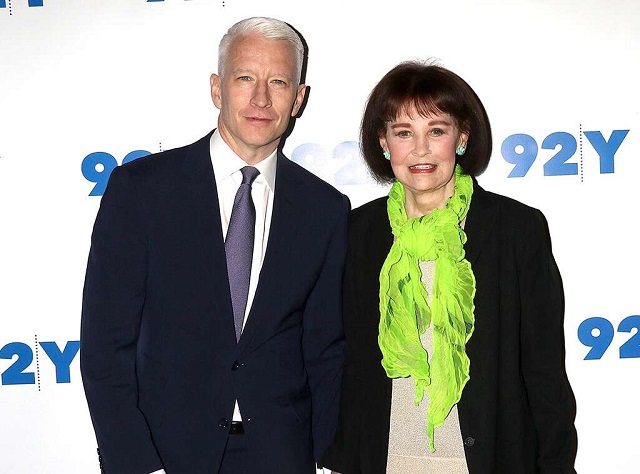 The Vanderbilt family has always been a curious family, not just because of their wealth but also because of their social position in American history, across several industries. However, with the passing of Gloria Vanderbilt and her $1.5 million net worth at the time of her death, it signaled the end of the family's tradition of leaving significant wealth and power to their children.

Her $1.5 million net worth was inherited by her two sons, Anderson Cooper and Leopold Stokowski, the eldest of the three living sons of the New York socialite.

Even more surprising than the fact that Gloria Vanderbilt had a $1.5 million net worth at the time of her death, was the fact it was her eldest, Leopold, who inherited the most valuable property she owned. A Midtown Manhattan apartment reportedly worth $1.2 million. It was expected to go to her third son, CNN's Anderson Cooper, who had the closest relationship with Gloria while she was alive.

See Also: Is Anderson Cooper Gay? Who Is His Partner What is His Net Worth?

One imagines Anderson Cooper wouldn't be bothered by it so much. The CNN news anchor is worth more than $100 million, with an estimated $12 million in yearly salary. Also, in an interview with Howard Stern, he had publicly denounced the concept of inheriting lump sums of money and property.

As for the second son and Leopold's biological brother, Chris Stokowski, he inherited nothing because he is estranged from the family. Gloria's fourth child and Anderson Cooper's direct sibling, Carter Cooper, died in 1988 from suicide.

Fact Check: We strive for accuracy and fairness. If you see something that needs updating,