Not many people can claim to have been born into wealth, and even less have built on that wealth; however, the New York Socialite, Gloria Vanderbilt fulfilled all these aspects. She was born into the famous Vanderbilt family known for their class, wealth, and social standing among New York's elites. As a result, it was no surprise that for most of her life, Gloria Vanderbilt lived a glamorous life, fueled by the astonishing net worth she had built up as an adult.
Considering the fact she was worth a lot of money during her lifetime, it seemed destined that whoever inherited her estate after she passed would be coming into a lot of money. But was that the case? Find out how much Gloria Vanderbilt had as her net worth at the time of her death, along with details about who inherited her estate in this article.
Exploring The Iconic Vanderbilt Lineage
As mentioned earlier, Gloria's family is known for its prominence in the United States during the late 19th century although they are from a Dutch lineage. Their journey to success in America started when they delved into the railroad and shipping business which was pioneered by their fore-father, Cornelius Vanderbilt. As the business ventures began to grow, the Vanderbilt family tried their hands in other industries as well as engaging in numerous philanthropic activities which went on to establish the family's name in society. It is also known that the Vanderbilts owned luxurious homes which they erected at strategic sites in the various states in the U.S.A. A few of their homes include luxury mansions on the reputable Fifth Avenue of New York City, topnotch cottages at Newport in Rhode Island as well as the notable Biltmore House located in Asheville, North Carolina.
More so, it is on record that Cornelius Vanderbilt held the title as the wealthiest American until his demise in January 1877. His industrious son, William Vanderbilt, inherited his fortune. Like his father, William also showed excellent business skills, and he was able to keep the title as the richest person in America until his passing away in 1885.
It would also interest you to know that Gloria Vanderbilt's family members were not only business inclined, but they held other high positions in society which made the family name very popular in numerous spheres of the society. Some prominent members of Gloria's family include William Henry Vanderbilt III – a past Governor of Rhode Island, and Harold Stirling Vanderbilt – a popular sportsman who won a plethora of prizes during national yacht racing competitions in America.
On her own part, Gloria Vanderbilt is the daughter of Reginald Claypoole Vanderbilt and Gloria Morgan Vanderbilt. Her father was a millionaire and a dedicated equestrian who founded many equestrian organizations.
Gloria Vanderbilt created an enviable legacy during her lifetime. She notably built an empire that sold perfumes, fashion items, and even household goods. She is also credited with being an early pioneer of designer blue jeans.
Gloria Vanderbilt is renowned for her work as an artist, heiress, fashion designer, and fashion mogul. Her son, Anderson Cooper also shares in his mother's family spotlight as he is an award-winning media personality.
Gloria Vanderbilt's Net Worth At The Time Of Her Death
When news of Gloria Vanderbilt's passing filtered into mainstream news, the popular belief was that the New York socialite would be leaving behind a fortune estimated at $200 million. Several major media outlets widely reported the figure, and the possible recipients of her wealth seemed poised for a significant boost in their net worth. However, the number turned out to be false.
According to a report by the Los Angeles Times, Gloria Vanderbilt had a modest net worth of roughly $1.5 million at the time of her death. This reported figure came as a massive shock to observers and commentators not just because she had an equivalent of $35 million in net worth before she lifted a finger as a child, but also because she owned a fashion empire that was worth more than $100 million.
While a net worth of $1.5 million is nothing to be scoffed at, it raises questions when it belongs to a person that was supposedly worth up to $200 million. For many people, Gloria Vanderbilt's net worth at the time of her death was a significantly wide arc away from the mark of public expectations, leaving many to wonder what happened to her money.
However, it is speculated that several things contributed to the depletion of Gloria Vanderbilt's net worth over the years as further investigations revealed. One of them was the demise of her fashion empire which sources report she lost due to a lot of challenges as well as lack of growth. Gloria also lost some of her fortunes to a rogue lawyer and psychiatrist who reportedly stole several millions of dollars from her and sold off her business interests without her consent.
In addition to losing money to fraud, she also had to sell two of her homes, a 5-story building in Manhattan and a posh 7-bedroom mansion located in Southampton, to pay back taxes owed to the IRS. To worsen things, while she battled massive financial losses for one reason or another, Gloria Vanderbilt continued to spend lavishly, both on her philanthropic and personal pursuits.
.See Also: Is Anderson Cooper Gay? Who Is His Partner What is His Net Worth?
What Happened To Gloria Vanderbilt's Fortune After Her Death?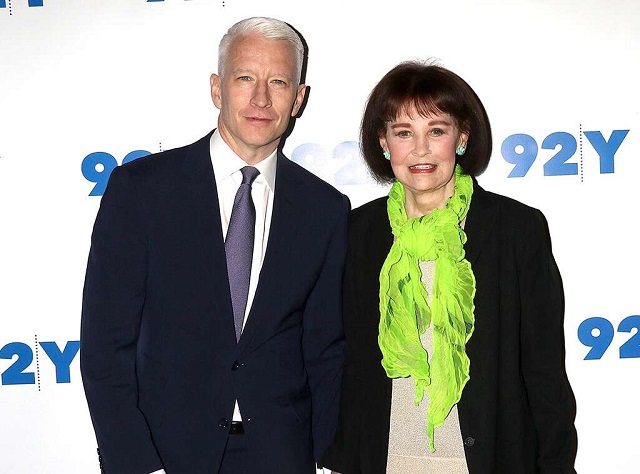 The Vanderbilt family has always been a curious family, not just because of their wealth but also because of their social position in American history, across several industries. However, with the passing of Gloria Vanderbilt and her not so rewarding inheritance which she left for sons at the time of her death, many concluded that it signaled the end of the family's tradition of leaving significant wealth and power to their children.
More so, not all her children benefited from her fortune as only her two sons, Anderson Cooper and Leopold Stokowski, the eldest of the three living sons of the New York socialite, were named in her will. Gloria Vanderbilt's eldest son, Leopold, inherited the most valuable property she owned which is a Midtown Manhattan apartment reportedly worth $1.2 million. It was expected to go to her third son, CNN's Anderson Cooper, who had the closest relationship with Gloria while she was alive; however, he got the remaining estate that belonged to Gloria Vanderbilt which was valued at a little less than $1.5 million.
However, Anderson Cooper was not bothered by what he got from his mother as the CNN news anchor is worth more than $100 million, with an estimated $12 million in yearly salary. Also, in an interview with Howard Stern, he had publicly denounced the concept of inheriting lump sums of money and property. More so, his mother had made it clear to him that he was not getting any large trust fund or inheritance when she dies.
As for the second son and Leopold's biological brother, Chris Stokowski, he inherited nothing because he is estranged from the family. Gloria's fourth child and Anderson Cooper's direct sibling, Carter Cooper, died in 1988 from suicide.