Despite being so young, Giorgia Whigham has proven herself to be one of the names to watch out for in Hollywood. She has achieved so much in such a short span of time that it is easy to imagine how much more she would accomplish with a few more years in the industry.
Giorgia has featured as a guest actress in several television programs, and she is heavily in demand for interviews. With her natural and impressive acting talents, and her ability to give voice and emotions to a complex array of characters, she has been able to rack up impressive career experiences, which suggests she is well on her way to becoming a superstar someday.
Without a doubt, Giorgia Whigham is a fast-rising American actress. She has made a name for herself on film and TV by starring in a myriad of roles, which have helped her hone her acting talent and expand her professional resume. Some of her most notable acting credits include the popular Netflix Original series 13 Reasons Why, and The Punisher, where she portrays the characters Kat and Amy Bendix respectively. Since she made her debut in 2016, Giorgia has worked hard to get to where she is now, earning respect from colleagues and producers, as well as the admiration and support of millions of fans along the way.
Giorgia Whigham Bio
Giorgia was born in New York City, on August 18, 1997. She and her siblings were raised by her parents in New York, and she continues to reside in the state till today. However, the young actress is yet to reveal details about her siblings or her early childhood. She is also yet to disclose what level of educational qualification she has attained, except to say that she attended Charter High School of the Arts.
She became interested in acting when she was a young girl, and she decided that she was going to pursue a career in Hollywood when she grew older. Giorgia began attending acting classes in order to learn more about her chosen craft, refining her innate talent and learning how to emote the right way. She also started to go for auditions, and soon enough her hard work and dedication paid off.
Career Achievements
Giorgia Whigham's rise to fame began when she landed her debut role in the 2016 short film Pinky, sharing credits with Ellery Sprayberry. This opened up more opportunities for her as she went on to appear in another movie, The Legend of Master Legend, which was followed by a guest-starring role on the series 13 Reasons Why. She also appeared in Son of Zorn, The Orville, Dirty John, and Animal Kingdom.
In 2018, Giorgia began starring as Chrissy in the teen comedy-drama series Sierra Burgess is a Loser, appearing alongside Noah Centineo, Shannon Purser, Kristine Froseth, and RJ Cyler.
You might also recognize the talented and beautiful actress from the series The Punisher, in which she plays the character, Amy Bendix. The series is adapted from the popular character of the same name created by Marvel Comics, and it follows a man named Frank Castle who lives a deadly and dangerous double life as a vigilante known as The Punisher.
Giorgia's other notable appearances include Scream, Saving Zoe, The Buried Girl, and Shameless. She is yet to win any awards from her performance, but the likelihood of that happening in the future is not far-fetched as long as she keeps taking on diverse roles and portraying complex characters.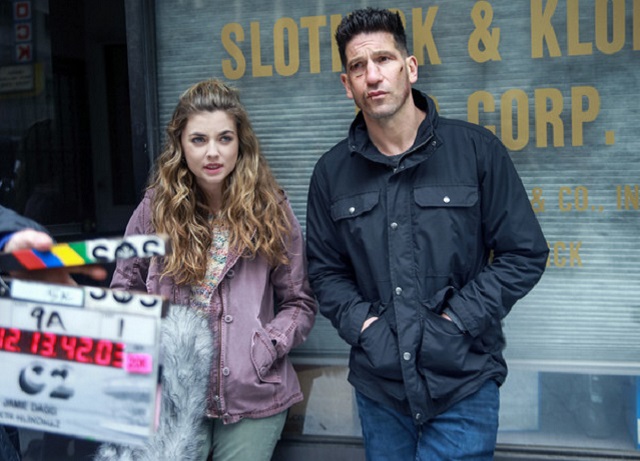 Read Also: Christina Broccolini – Bio, Wiki, Married, Facts About Mystery Hunters Actress
Giorgia Whigham's Family Life
Moving on to her family life, Giorgia Whigham hails from a well to do family. Her father is none other than the actor Shea Whigham who is best known for embodying the character Elias Thompson in the hit HBO drama series Boardwalk Empire. He is also revered for his other appearances in television series' such as Death Note, Kong: Skull Island, and True Detective. Her mother's name is Stine Whigham, and she has a younger brother, although his name is not known.

Giorgia has been rumored to be dating someone, but the identity of her boyfriend has not yet been revealed; so the news might not be true after all. Perhaps, the actress is indeed in a relationship but prefers to keep this aspect of her life to herself.

Fact Check: We strive for accuracy and fairness. If you see something that needs updating,