Gina Holden is a very popular Canadian model and actress who became well-known as a result of her many activities in the modeling industry as well as in the movie industry. She is also one of the actresses who were able to first succeed in their home countries before arriving in Hollywood. It is no surprise that because of her beauty and inborn talent, the star has attracted massive love all over the world. Here's everything to know about her.
Who is Gina Holden?
The brunette bombshell actress was born in Smithers, a small town in Canada on March 17, 1975. She grew up in different locations, moving consistently with her family due to her parents' career endeavors. Knowing quite early that she had what it takes to be a Hollywood star, Holden made the most of her family's steady relocations by joining a community group on every move just so she could act. At this time too, she decided to make the most of her assets particularly her slender physique by launching a modeling career. This caused her to leave her home for Japan at the age of 15 after signing a modeling contract. In her new location, Gina Holden fell in love with the culture and blended in like she had lived there all her life.
For some time, it seemed she was born for just modeling as she was a good fit, gracing numerous magazine covers. Nonetheless, her modeling excellence couldn't quench her desire to act. Luckily, she eventually decided to respond to that desire, arriving in North America to join both acting and Japanese classes.
The beautiful actress finally debuted her acting career in 2002 with a few minor stints. She got her major role when she was cast in the Flash Gordon series in which she played Dale Arden. The role became one of the films that have captured her unique acting skills and propelled her career in the limelight. Shortly after the role, she famously starred as Coreen Fennel in Blood Ties. She also enthusiastically performed in Shea Allen in the CBS thriller series Harper's Island.
Holden went on to turn heads as a guest-star in The CW series Life Unexpected and though her part was brief, she surely delivered an outstanding performance. Other incredible TV series in which Holden has proven herself include L Word (2005), The Dead Zone (2005), Supernatural (2005), Teen Wolf (2014), A Woman's Nightmare(2016), among numerous others.
While her TV career amounted to over a dozen memorable shows, in films, Holden also played roles to perfection and became one of the versatile stars of the time for her roles in such films as Final Destination 3, Saw 3D,  Aliens vs. Predator: Requiem, among others.
6 Facts About The Canadian Actress
1. Who are Gina Holden's Parents?
Information about the identities of Gina Holden's family, including the identity of her parents, are not yet available to the public but she seems to come from an affluent household given the way she traveled around as a child. Also, her parents seem to be quite supportive having allowed her to move to Japan as a teen. They also gave her the freedom to improve and hone her skills – something that has contributed to making her a standout actress that she is today.
2. Family – Is She Married and Does She Have Kids?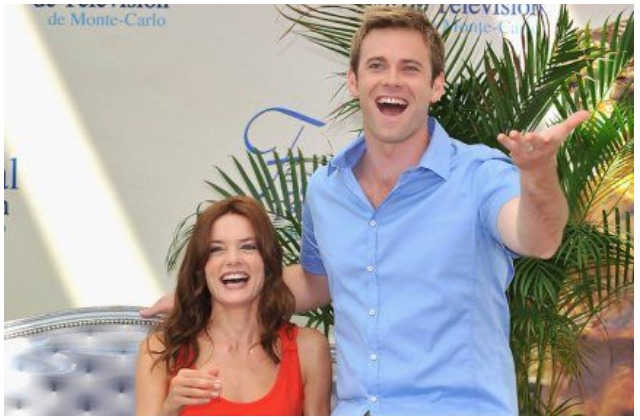 Holden is not married yet but she does have a long-term boyfriend named James Eishwerth. She and James have a child together, Max Holden Eiswerth who was born in August 2017.  While the two haven't legalized their relationship, they have both done wonderfully great in raising a family. They are also not planning to separate for now as there are no rumors of split about them.
3. Net Worth – How Much Does Gina Holden Have?
Holden's net worth is currently not known. However, she appears to be making huge amounts from her career considering that she has recorded more than twenty film credits which were mostly well-received.
Read Also: Ruth Kearney – 6 Interesting Facts About The Irish Actress
4. She is a Philanthropist
Gina Holden, like many stars, fines joy in giving back to the community. She dedicated herself to responding to the needs of mentally and physically challenged individuals. Holden is also an activist and basically encourages bullied teens to win over peer pressure by standing up for themselves and becoming confident of their personalities.
5. Height – How Tall is She?
The Canadian star stands at a height of 5 ft 6½ in (1.72 m) and even though her exact weight isn't known, it is evident that her good height is complimented by a fit body. Moreso, her eye color which is blue is another asset she isn't afraid to flaunt.
6. Gina Holden's Favorite Songs and Films
Holden seems to love the song 'Fire and Rain' by James Taylor a lot but when she is not singing along that track, then she is either listening to 'Won't Back Down' by Tom Petty or The Heartbreakers. Equally, Holden adores a number of films for the amazing memories they bring back to her including Dogfight (1991) Running on Empty(1998), Good Will Hunting(1999), among others.