Mossimo Gianulli, the founder of the American lifestyle sportswear and accessories company, Mossimo, had only average fame until recently. He made news headlines when he and his wife Lori Loughlin were arrested among many others in connection to the 2019 US nationwide college admissions bribery scandal. Mossimo has 3 children, two daughters and a son named Gianni Giannulli. Let's learn more about Gianni, shall we?
Who Is Gianni Giannulli?
Born as Gianni Gene Giannuli, he is Mossimo Giannulli's son from a relationship he had before he married his current wife Lori Loughlin. However, details about Gianni's mother is lacking in the media space, so are other details about him, including his birth date and educational background. We, however, know that his family descended from Italy. He was named 'Gene' – after his paternal grandfather – who lived, worked, and died as an architect.
In any case, Gianni Giannulli is most famous as the founder of a food company known as The Smart Co. The company itself is known with its signature toaster pastry, The Smart Tart, which is said to be its only product at the moment. Sold on The Smart Co's website and on Amazon, Smart Tart is reputed for being made with natural ingredients which makes it stand out among similar products. For instance, it's flavours and jam fillings are said to be derived from real fruits.
Apart from The Smart Co, another source from which we have some traces of Gianni Giannuli is through social media. He has a presence on Instagram. However, his Instagram account looks deserted, with just 91 followers at the time of making this post.
Gianni Giannulli's Family Members
His Father
Apart from what has already been said, here are a few more facts about Gianni's father Mossimo Giannulli. He was born into a middle-class Italian immigrant family in 1963. While his father Gene was an architect, his mother Nancy was a homemaker. He lived with his family in Encino California where he was raised. Mossimo's first name was rendered as 'Massimo' but he changed it in school to make it easy for Americans to pronounce.
Gianni's father once aspired to become an architect like his own father. So, he went to the University of South Carolina (USC) to study business and architecture. But he dropped out along the line to start his clothing line 'Mossimo' in 1986. Twenty years later, he sold the company to Iconix Brand Group.
SEE ALSO: Alana Boden – Movies and TV Shows, Awards and Nominations
Gianni Giannulli's Stepmother Lori Loughlin
Mossimo Giannulli married actress, model, and film producer Lori Anne Loughlin sometime after he severed his relationship with Gianni Giannulli's mother. By that token, therefore, Lori has become Gianni's stepmother.
Lori has movie roles in both film and TV to the tune of 62 since 1979 when her career kicked off. But she is probably best known for starring as 'Rebecca Donaldson-Katsopolis' in the ABC sitcom Full House between 1988 and 1995 (8 years). Before that, between 1980 and 1983, she featured regularly as 'Jody Travis' on the CBS mystery series, The Edge Of Night. She was also 'Debbie Wilson in The CW teen drama series 90210 between 2008 and 2012. Moreso, she starred as 'Jennifer Shannon' in Hallmark/Bravo's mystery film series Garage Sale Mystery between 2013 and 2018. Until her recent arrest, Lori starred as 'Abigail Stanton' in Hallmark Channel's drama series, When Calls The Heart.
Gianni's Half-sisters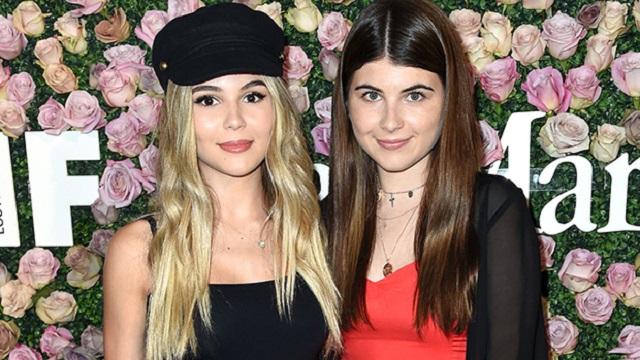 Gianni Giannulli's half-sisters are Isabella Rose and Olivia Jade Giannulli. The damsels are gradually making a name for themselves in the entertainment industry as Olivia is a rising YouTube star while Isabella is aspiring to become a great actress just like her mother. Below are more details about Gianni's half-sisters.
Isabella Rose Giannulli
Gianni Giannulli's first half-sister, Isabella, is an actress and social media sensation who is widely known as the daughter of the accomplished actress, Lori Loughlin. She is an alumna of Marymount All Girls Catholic High School, Bel Air, California and currently an undergraduate of the University of Southern California (USC).
Isabella got her acting career to a get-go when she was cast to play the character of Mia Walker in the 2016 romantic comedy movie Every Christmas Has a Story, starring alongside her mother. So far, the comely actress has appeared in many movies, TV series, and TV specials, including Alone Together, Homegrown Christmas, Home & Family, and Entertainment Tonight (ET). As a social media personality, Isabella Rose Giannulli has an Instagram fan base of over 261k followers.
Olivia Jade Giannulli
Olivia Jade Giannulli is a renowned social media phenomenon who does not totally depend on the enormous wealth of her parents as she has succeeded in making a name for herself in the social media community. As a makeup expert and social media influencer, Gianni Giannulli's half-sister has partnered with some high-value agencies and personalities such as Sephora, Hewlett – Packard, and Tresemmé in marketing their products. Unfortunately, the college admissions scandal that involved her parents caused her business partners, including Sephora and Tresemmé to sever ties with her.
Currently, she has a huge fan following of almost 2 million subscribers on her YouTube channel known as Olivia Jade and over 1.3 million followers on Instagram. Aside from being a top influencer on social media, Olivia Jade is also recognised as the second daughter of the eminent actress, Lori Loughlin.
Gianni Giannulli's Family Bribery Scandal
Gianni Giannulli's parents have managed to live under the radar for some time prior to the college admission bribery scandal, which resulted from "Operation Varsity Blues" investigation that involved his parents and thirty-three other parents. The whole nation was shocked when the news of the scandal which involved famous personalities such as Giannulli and Loughlin, Manuel Henriquez, and Felicity Huffman broke out on 12th March, 2019.

The documents released by the FBI and USA Attorney's Office indicted Gianni Giannulli's parents for bribery and honest services mail fraud based on the information obtained from the email conversation between them and an alleged college counsellor, William Rick Singer. The conversation clearly showed how Giannulli and Loughlin gave $400,000 in form of a donation to Key Worldwide Foundation and an extra $100,000 to Donna Heinel (Senior Women's Associate Athletic Director of USC Athletics).

This was done in order for the admissions committee of the University of Southern California (USC) to be convinced to give Isabella and Olivia admissions into the university on the basis of their rowing skills, as well as getting them enrolled into the college's women's rowing team if admitted. Meanwhile, both girls had never trained in the sport and had no intention of participating in the sport.

After surrendering to the federal authorities in Los Angeles, Gianni Giannulli's parents posted $1 million bails each for their release. Their proceedings are scheduled to begin on 5th October 2020. Following the scandal, Hallmark Channel, Netflix, and Hewlett Packard severed their relation with Lori Loughlin in March 2019.

Before the college admission scandal broke out and got Gianni's family in its whirlpool, both Isabella and Olivia were students at the University of South Carolina (USC). Although there is no indication that the ladies dropped out or were rusticated from USC officially, reports have it that they have very much stayed away from campus since the scandal emerged.

Then, there is this general belief that their future at USC is uncertain since their admission into the institution is the reason their parents have been arrested. If the anomaly in their admission is eventually proved, they may be hacked officially from the enrollment register at USC according to an announcement from Operation Varsity Blues.

Fact Check: We strive for accuracy and fairness. If you see something that needs updating,