| Net Worth: | $320 million |
| --- | --- |
| Age/Date of Birth: | May 18, 1952 |
| Height: | 5′ 10″ or 1.78 m |
| Ethnicity/Race: | White |
| Nationality: | American |
| Wife or Girlfriend: | Norma Strait (m. 1971) |
| Parents: | John Byron Strait (January 11, 1922 – June 4, 2013) and Doris Couser Strait (June 26, 1930 – January 30, 2010) |
George Strait is an American country singer, songwriter, producer, and actor. Famously known as The King of Country, Strait is one of the most successful recording artists in the world with over 100 million records sold worldwide. He has won multiple awards for his work, including multiple CMA and ACM Entertainer of the year awards as well as a Grammy Award. He also has over 60 number 1 hits, making him the artist with the highest number of number 1 hits across all music genres.
In addition to touring extensively, Strait earns millions annually in royalties from his numerous catalogs. As a result, The King of Country has an estimated net worth of $320 million and an average annual salary of $20 million.
George Strait's Early Life
George Harvey Strait was born on May 18, 1952, in Poteet, Texas. He was raised as a farm boy in Pearsall, Frio County where he attended Pearsall High School. Influenced by popular acts like The Beatles, Strait became part of a rock and roll band in high school but later turned his focus towards country music.
In 1971, he got enlisted in the United States Army and became part of an Army-sponsored band called "Rambling Country" at the Schofield Barracks in Hawaii. Strait was honorably discharged from the Army in 1975. He subsequently returned to Texas and enrolled at the Texas State University in San Marcos, graduating with a degree in Agriculture.
During his time in college, Strait joined a country band named Stoney Ridge as a vocalist. The band was later renamed Ace in the Hole. The group toured in and outside Texas and soon attracted a massive local following. However, none of the band's recorded songs was able to gain much national attention. As the band's early struggling years continued, Strait earned from working on his father's ranch in the outskirts of Big Wells, Texas.
Strait Began Building His $320 Million Fortune After His Music Became Commercially Successful
After years of getting turned down by numerous record labels, Strait was given a chance to record one song with MCA Records in 1981. The label would later sign him after the single titled "Unwound" became successful, peaking at #3 on the Billboard Hot Country charts. He has since then sold millions of records worldwide, making him the 12th best-selling album recording artist in the United States and one of the best-selling music artists of all time.
From the proceeds of his music career, George Strait has been able to afford himself a lavish lifestyle that has him owning a Gulfstream G450 business jet and a number of properties across the country.
A Good Number of His Albums Were Certified Platinum
George Strait's breakthrough single "Unwound" was later included in his 1981 debut album titled Strait Country. The album was hugely credited for its traditional country theme as opposed to the pop-influenced country popular at the time. The country music singer and songwriter went on to achieve more success throughout the 1980s with albums like Strait From The Heart which produced his first of many number 1 singles, "Fool Hearted Memory". With the success of the second album, Strait was far from the average farm boy, money-wise.
The success continued for the Texan as he landed his first number 1 album with his third studio album, Right or Wrong. All of his subsequent albums in the 1980s reached #1 on the charts and there were all certified platinum at least once.
The 1990s proved to be no different as his success surged. In 1992, George Strait released Pure Country which would become the most successful album of his career. The album was a soundtrack to a movie of the same name which he also starred in. While the movie was considered a box-office flop, the soundtrack was the exact opposite as it reached #6 on the Billboard 200 chart, selling over 6 million copies.
Strait enjoyed massive commercial success with the box set Strait Out of the Box released in 1995 which sold over 8 million copies, grossing $11 million. It is the highest-selling box set in the history of country music. Carrying Your Love with Me released in 1997 became his first #1 album on the Billboard 200, following the release of 4 #1 Country Chart albums. It sold over 3 million copies in the US.
George Strait continued his success into the new millennium. Between 2000 and 2016, he released 10 studio albums all of which have enjoyed commercial success. Strait has along the line scored 13 multi-platinum, 33 platinum, and 38 gold albums. With over 40 decades in the music industry, the King of Country is showing no signs of slowing down as many more projects are in the works. The latest is Honky Tonk Time Machine released in 2019 which also peaked at #1.
Strait's Innovative Approach to Touring Added to His Wealth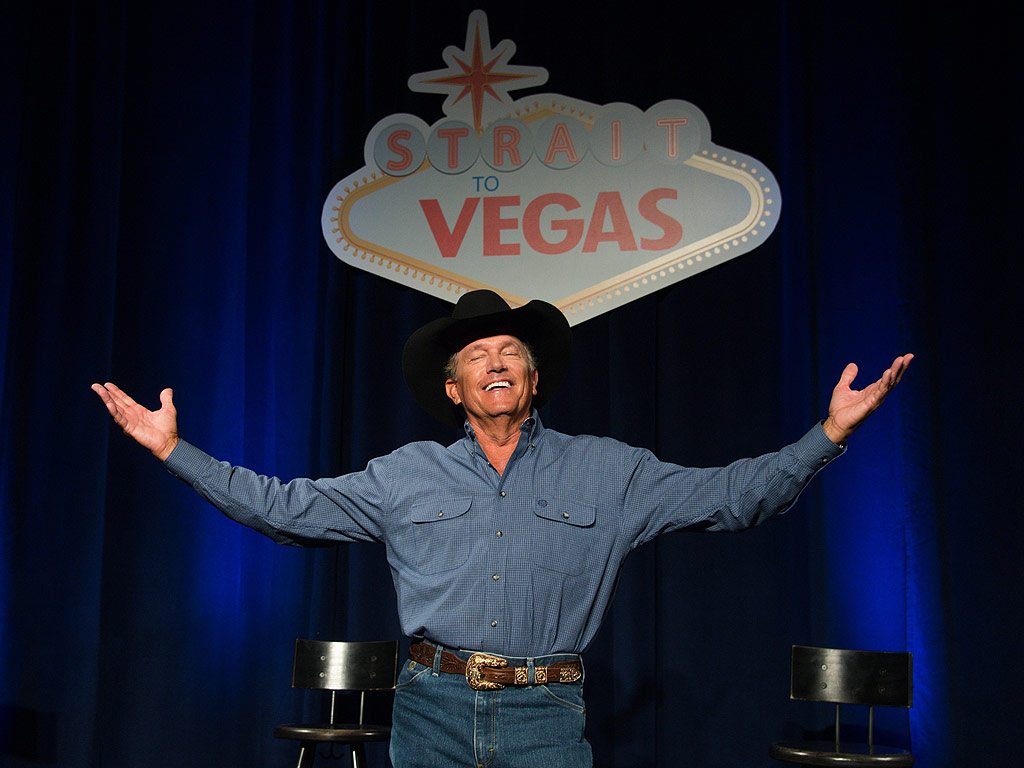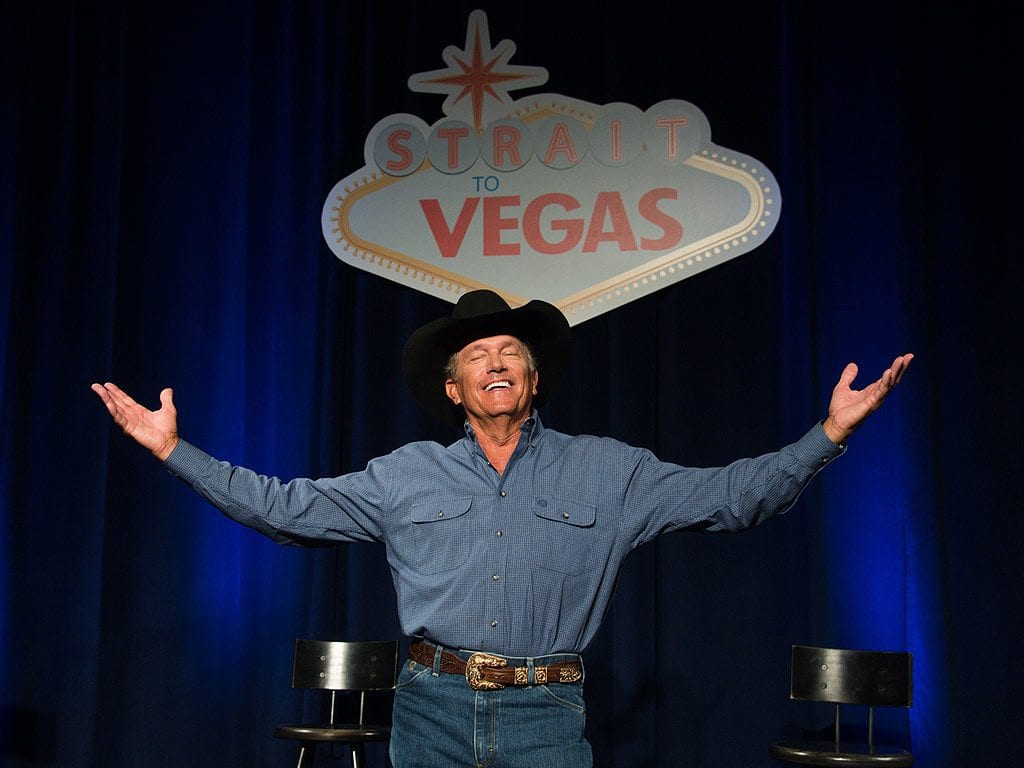 Like every other musician in the world, George Strait makes a huge chunk of his money from touring. He, however, makes a little more than many others thanks to his innovative approach to it. He designed a 360-degree configuration/theater in the round style of concerts which allowed more fans/viewers to attend his shows. This festival style approach proved to be commercially successful.
Between 1997 and 2001, Strait headlined the "George Strait Country Music Festival" that featured big Country artists like Tim McGraw, Faith Hill, Kenny Chesney, and Alan Jackson among others. The festival was the ninth-biggest grossing tour of 1998. In 2006, his tour in support of the 2005 album, Somewhere Down in Texas, grossed over $15 million.
From January 2013 to June 2014, Strait headlined "The Cowboy's Ride Tour" in support of his 2013 album, Love Is Everything. A single show on the tour grossed about $18.2 million, making it the highest-grossing single show in the history of country music. Overall, the tour grossed a total of $100 million from 1 million tickets sold. The huge turn up was mainly because the King of Country had announced it would be his last so everyone anticipated a piece of the last hurrah. Thanks to the tour, he earned $26 million pretax between June 2013 and June 2014 per Forbes estimates.
However, it appears that George Strait isn't done yet. He headlined a limited Las Vegas engagement dubbed "Strait To Vegas" in 2015. He landed a Vegas residency entitled "2 Nights of Number 1s" for the year 2017.
Acting and Other Businesses
As mentioned above, George Strait has done a little bit of acting. His most famous role is undoubtedly his appearance in the dramatic musical Western film, Pure Country (1992). Before that, he appeared as himself in the Cold War action-thriller film, The Soldier (1982). He again appeared as himself in Grand Champion (2002) before voicing a character in the animated sitcom, King of the Hill (2003). His most recent appearance on screen was as himself in 2010 in the supposed sequel to Pure Country titled Pure Country 2: The Gift.
In regards to investments, there is not much available on all of his business interests other than his investment in the Código 1530 brand of tequila. George Strait's investment in the company was made known to the public after he released a single called "Codigo" in 2018. It was later made known that he and his partners decided to buy the company after taking a liking to the tequila they enjoyed while playing golf at his vacation property near Los Cabos.
Recap of All His Sources of Income
Album and music sales
Touring with various other artists across the United States and beyond
Acting career
Investment in a number of businesses/companies
How Does His Net Worth Compare to Other Top Country Musicians
| | | | |
| --- | --- | --- | --- |
| S/N | Musician | Estimated Net Worth | Other Sources of Income Outside of Music |
| 1. | Dolly Parton | $500 Million | Acting, published works, and various businesses like her record label, Dolly Records. |
| 2. | Shania Twain | $400 Million | Endorsement deals and appearances as a TV personality on numerous music-related reality TV shows like American Idol. |
| 3. | Toby Keith | $365 Million | Operates multiple business ventures, including a nationwide restaurant franchise called "I Love This Bar & Grill", a clothing line called "TK Steelman", and a liquor called "Wild Shot Silver Mezcal". |
| 4. | Garth Brooks | $330 Million | Owns business ventures like Pearl Records and the online music store, GhostTunes, which later merged with Amazon Music. |
| 5. | Kenny Chesney | $190 Million | N/A |
| 6. | Reba McEntire | $98 Million | Acting |
| 7. | Alan Jackson | $96 Million | Endorsement and sponsorship deals with companies like Ford Trucks and NAPA Auto Parts. |
Meet George Strait's Wife and Children
George Strait's love life has been the stuff of an old Western romance movie complete with cowboys and horses. The award-winning Country music singer eloped to marry his high school sweetheart with whom he has two children. He has even since become a grandfather following the birth of his grandson, George Harvey Strait III in 2012, and granddaughter Jilliann Louise Strait in 2016.
Norma Strait
Birth Name: Norma Voss
Date of Birth: N/A
Occupation: Stay-at-Home Wife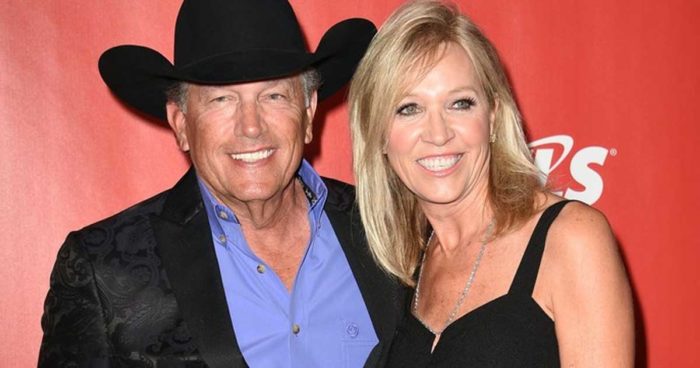 George Strait had known his wife since he was a little boy growing up in the small town of Pearsall, Frio County, Texas. The two both attended Pearsall High School where Strait eventually asked her out on a date. Their path to becoming husband and wife was, however, not as straightforward as you would imagine as the two did not see each other for a long time after that. They would however later rekindle their friendship after the singer, who has described Norma as the first girl he ever loved, reached out to her for another date.
Norma and George would go on to date for a while before they eloped in Mexico on the 4th of December, 1971. The lovebirds later had a small church wedding in their hometown before starting a family with the birth of their first child, daughter Jenifer in 1972, and son George "Bubba" Strait Jr. almost a decade later in 1981.
While George has enjoyed a stellar musical career, his wife Norma has played a more of a behind-the-scenes role. She stayed at home all through the young life of her son until he went to college before later joining her husband on the road until his retirement from touring.
Jenifer Strait
Date of Birth: October 6, 1972
Died: June 25, 1986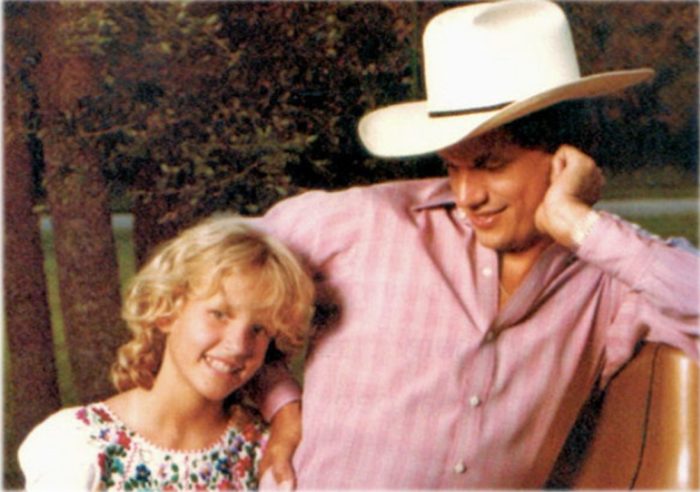 On the 6th of October 1972, George Strait and Norma began a family with the birth of their daughter Jenifer. The trio spent about nine years together before Jenifer was given a younger sibling with the birth of George Jr. Unfortunately, Jenifer only got to enjoy the company of her little brother for about five years before she lost her life in 1986. The teenager was killed in an automobile accident in San Marcos, Texas when the driver of the car she was riding in lost control and crashed.
Neither Strait nor his wife has ever publicly addressed the impact of the accident on his family. The musician also rarely gave interviews in the years that followed until 2012 when he briefly spoke about it to People magazine. He said: "We were blessed to have been able to spend 13 years with our beautiful daughter Jenifer."
In her memory, the Strait family had set up the Jenifer Lynn Strait Foundation, an organization that raises money for children's charities around San Antonio.
George "Bubba" Strait Jr
Date of Birth: May 14, 1981
Occupation: Songwriter, Competitive Rodeo Roper
George Strait Jr., who is popularly known as "Bubba", is the only surviving child of George Strait and his wife. Bubba attended Texas A&M University where he began making strides towards launching his competitive rodeo career. He subsequently became a Professional Rodeo Cowboys Association (PRCA) team roper after graduating.
In 2006, Bubba competed at the Houston Livestock Show and Rodeo where his father later performed. Three years later in 2009, he was given an opportunity to contribute to the writing of some songs on his father's 26th studio album, Twang. George Strait Jr solo wrote the song, "Arkansas Dave", and also co-wrote three other songs on the album.
Bubba Strait has since started a family of his own. In the early 2010s, he married his wife Tamara who works as a realtor. The couple resides in Texas hill country with their young children George Harvey Strait III and Jilliann Louise Strait.
Profile Summary
First Name:
George
Last Name:
Strait
Also Known As:

King George, GS
Sex/Gender:

Male
Profession:

Country music singer, songwriter, actor, and music producer
Famous For:
Hisis traditional country music
Colleges/Universities Attended:

Texas State University
Educational Qualifications:

Degree in agriculture
Religion:

Unknown
Birthday & Zodiac

Age/Date of Birth:

May 18, 1952
Zodiac Sign:
Taurus
Birth Place:

Poteet, Texas, USA
Nationality:
American
Ethnicity/Race:

White
Country of Residence:

USA
Physical Attributes

Height:

5′ 10″ or 1.78 m
Weight:

170 lbs or 77 kg

Eye Colour:

Green
Hair Color:

Dark Brown
Other Body Measurements:

N/A
Relationships

Marital Status:

Married
Spouse/Partner:

Norma Strait (m. 1971)
Family and Relatives

Father:

John Byron Strait (January 11, 1922 – June 4, 2013)
Mother:
Doris Couser Strait (June 26, 1930 – January 30, 2010)
Children:

Jenifer Strait (Daughter) (died June 25, 1986), George Strait Jr. (Son)
Siblings:
Buddy Strait (Brother), Pency Edel (Sister)
Other Relatives:

N/A
Net Worth
Estimated Net Worth:

$320 million
Salary:
N/A
Source of Wealth:

His music career, acting