| Net Worth: | $300 million |
| --- | --- |
| Age/Date of Birth: | January 10, 1949 |
| Height: | 6 feet 2 inches or 1.92 m |
| Ethnicity/Race: | African American |
| Nationality: | American |
| Wife or Girlfriend: | Mary Joan Martelly (married since 1985). He was prevuiously married to Adrienne Calhoun (1971 to 1974), Cynthia Lewis (1977 to 1979), Sharon Goodson (1981 to 1982), and Andrea Skeete (1982 to 1985) |
| Parents: | Leroy Moorehead and Nancy foreman |
George Foreman is an American retired professional boxer, entrepreneur, actor/media personality, writer and ordained minister. The former two-time world heavyweight champion, Foreman is regarded as one of the world's greatest boxers of all time. As of 2021, George Foreman has a net worth of $300 million
Early Life And Family Background
George Edward Foreman was born on January 10, 1949, in Marshall, Texas and raised in Fifth Ward, Houston alongside 6 siblings.
His parents are identified as J.D and Nancy Ree Foreman. In time George found out J.D, a railway worker who was not really much of a good example to him was not his biological father. At the age of 25, he learnt his real father was Leroy Moorehead from Arkansas, a World War II Veteran.
As a teen, Foreman was known as the bully. He lived the thug life and dropped out of high school in the 9th grade, aged 15. He sure was a troubled young man.
Subsequently, he joined the Job Corps in 195, a program set up by the US government with the aim of helping teens and young adults better their lives via academic and vocational training. It was there that Foreman encountered a boxing trainer Doc Broaddus who encouraged him to pursue a career in boxing.
George indeed had a splendid career. With a total of 86 fights, he had 76 wins, 68 of which were wins by Knock Outs and 5 losses including his legendary "The Rumble in the Jungle" tournament against Mohammed Ali.
After many resounding successes in the boxing world, the tough champ delved into a deep journey of faith and today is a pastor and the founder of The Church of the Lord Jesus Christ. He is now dedicated to the formation of straying youths in the United States.
In his personal life, the former boxer who did not do much of smiling back in the day had a good number of failed marriages.
The serial divorcee was married five times; four of which were short-lived. He was married to Adrienne Calhoun (1971-74), Cynthia Lewis (1977-79), Sharon Goodson (1981-1982), Andrea Skeete (1982-85), and currently still married to Mar Joan Martelly (1985).
George Foreman is a father of 12 children, 7 of which he had with Mar Joan, his longest-married wife. His children include 7 daughters and 5 sons- Freeda Foreman, George Foreman III, Georgetta Foreman, Leola Foreman, Isabella Brandie Lilja Foreman, George Foreman Jr, George Foreman IV, Natalia, Michi, George Foreman VI, Courtney Foreman, Isaac Foreman and George Foreman V.
See Also: Manny Pacquiao Boxing Record, Wife and Children
Just as Laila Ali took after Mohammed Ali, so also did Freeda take after his father George. Georgetta is a known TV producer.
Looking back in his youth and thanks to the Christian faith, George wrote a book titled Fatherhood. He is now at the forefront of platforms campaigning for good parenting.
George Foreman's Professional Records and Career Accolades  
Turning Pro and First Retirement 
By the year 1968, Foreman had honed his boxing skills, enough to land him a berth on the US team ahead of the 1968 Mexico City Olympic Games. He then went ahead to win the gold medal in the heavyweight division and subsequently turned pro, having achieved an amateur career record of 22–4.
Foreman's pro career took the world by storm. He remained undefeated for 37 straight bouts, winning 34 by KO. This record qualified him for a bout for the world heavyweight title against undefeated champion, Joe Fraizer, who had defended the title 4 times. Foreman entered the bout as an underdog but beat Fraizer to claim the title. He then defended his title twice, taking his record to 40 wins out of 40 bouts, including one bout which lasted just 2 minutes to become the fastest KO in boxing history.
Foreman, with a record of 40-0, was matched up against Muhammad Ali in a fight promoted by Don King and dubbed "The Rumble in the Jungle". It was held in Kinshasa, Zaire (the present day the Democratic Republic of Congo) in 1974 and Ali broke a record with this defeat. He was the first to have ever defeated Foreman and the only one to do so with a KO.
After a near-death experience following his 1977 bout versus Jimmy Young, which he lost to make his record 45 – 2, Foreman gave his life to Christ and became a born-again Christian. He retired unofficially in 1977 and dedicated his life to God, becoming an ordained minister. He also founded the George Foreman Youth and Community Center in Houston. He began appearing in Christian shows like 700 Club. By 1977, it was estimated that Foreman had amassed $5 million ($20 million in 2016 dollars) from his professional career.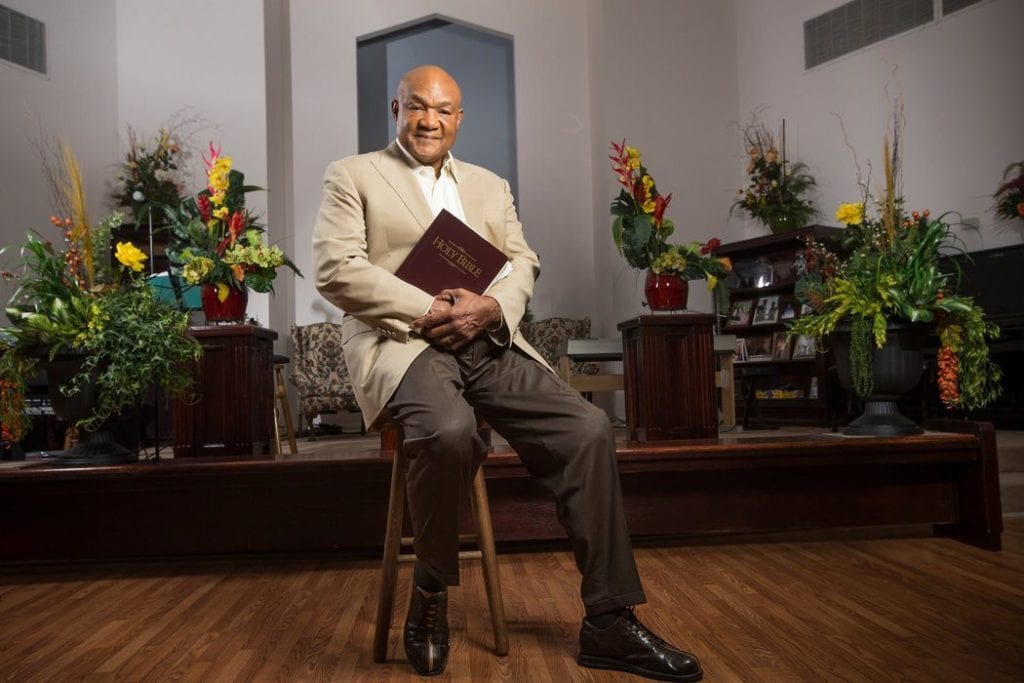 Comeback and Second Retirement
Ten years later in 1987, Foreman was on the verge of bankruptcy and immediately returned to professional boxing. Many questioned his abilities given that he was now relatively old, about 39, but he went on to prove them wrong. He tallied 24 straight victories to take his record to 69 wins and 2 losses by 1990. He then lost to the-then world heavyweight champion, Evander Holyfield, in 1991.
Foreman would subsequently accumulate three wins and one loss in the next two years. By November 1994, he defeated 27-year old Michael Moorer to win a world the heavyweight championship for the second time in his career. He was 45 years old at the time and made history as the oldest to win the title. Three more wins and one loss, which happened to be his last match, would follow and Foreman finally retired in 1997. His pro record stands at 76 wins and 5 losses out of a total of 81 fights
George Foreman Career Records and Achievements
Oldest world heavyweight champion (46 years and 169 days on the 28th of June 1985).
Second oldest world boxing champion
Induction into the World Boxing Hall of Fame
Induction into the International Boxing Hall of Fame
Gold medal in the heavyweight boxing category (1968 Summer Olympics).
Analysis of George Foreman's Net Worth and Career Earnings
George Foreman draws his $300 million net worth from several sources including his prize winnings in the ring as well as earnings from his business enterprise. The biggest money spinner for the retired boxer though is his prolific career as a product endorser.
He Pocketed $5 million from his Famous Rumble in the Jungle Bout against Muhammad Ali
One of the key sources of George Foreman's net worth is his prize winnings as a boxer which totals tens of millions of dollars cumulatively. For instance, the Texas native earned $12.5 million from his 1991 bout with Evander Holyfield even though he lost the match. Back in 1974, Foreman embarked on the famous Rumble in the Jungle bout against Muhammad Ali. The event, which is now regarded as the greatest sporting event of the 20th century, attracted 50 million TV viewers and grossed $60 million. Foreman and his adversary then received $5 million each for their efforts.
George Foreman Grills and Other Endorsement Deals
Bloomberg once described George Foreman as the marketing champ of the world and the reason is not farfetched. The former world heavyweight champ utilized his reinvented persona as a cuddly family man to become the face of many products upon coming out of retirement in the late 80s. Foreman pitched for top brands like Meineke, Nike KFC, Doritos and McDonald's. The most-famous and financially rewarding of his pitchman services was his work with Salton, Inc (now under Spectrum Brands) which literally made him a super multi-millionaire.
Back in 1989, Foreman legally signed his name to the Salton brand and they later launched the George Foreman Grills in 1995. Within a 15-year period, George Foreman Grills had sold over 100 million units and the boxer earned a 40% cut from the entire profit made from the sales. This translated into a stunning monthly income of $4.5 million. By 1999, Salton paid Foreman about $127.5 million in cash and $10 million in stock to buy the rights to use his name in perpetuity. It is now estimated that the boxer has made not less than $240 million (out of which $200 million is from Salton alone) from product endorsements.
Foreman is also an Entrepreneur and Has Floated Several Ventures Including Milkshakes and Cleaning Agents
Foreman is not just content to promote other people's products but has also floated several of his own. Under the auspices of his George Foreman Enterprises, the retired boxer has launched an eponymous milkshake (George Foreman's Life-Shake) and a cleaning solution (George Foreman Knock-Out). He also has a boxing promoting business, called Foreman Boys Promotions, as well as George Foreman's Butcher Shop, an online meat company that sells all-natural Black Angus beef from small family farms. It is estimated that Foreman earns about $120,000 in annual stipends from his company asides his share of profits.
another year; Never will I forget the Reign of HBO Boxing. There were more crowning and uncrowning of World Champions, on the network. Sure did a Lot for boxing. Boxing had a gift for sure HBO Boxing, 1973-2018 pic.twitter.com/cDVQsPBTY5

— George Foreman (@GeorgeForeman) December 25, 2020
He Spent 12 Years as a Boxing Analyst for HBO
One sure way for athletes to make money is to supply their knowledge to the broadcast industry and Foreman did not overlook this. In 1994, the still-active boxer signed a deal with HBO to join their boxing coverage team that featured the likes of Larry Merchant and Jim Lampley. Under the terms of the deal, he not only covered big bouts but also hosted a comedy special and made personal and commercial appearances. This relationship with HBO would last until 2004 during which Foreman received at least $1 million per annum. It has been several years since Foreman's stint on HBO ended and he has made other TV appearances. In 2008, he and his family appeared on a TV 1 reality series titled Family Foreman. Eight years down the line, Big George featured in NBC's reality show, Better Late than Never.
Foreman has Authored Several Books including Some Cookbooks
Book royalties have also contributed to George Foreman's net worth. The renowned pugilist has authored/co-authored several books over the years which span the autobiographies, spiritual memoirs, children's books and even cookbooks genres. These books number not less than 10 and have fetched him a healthy sum in sales and royalties. Some of them are George Foreman's Big Book of Grilling Barbecue and Rotisserie: More Than 75 Recipes for Family and Friends (2000) and God in My Corner: A Spiritual Memoir (2007).
Sources of George Foreman's Net Worth
Prize winnings from fights – $80 million
Endorsement deals – $240 million
Business enterprises – $14.4 million
Books – N/A
Boxing analyst salary – $13 million
The Former Boxing Champ Owns Luxury Homes As Well As An Insane Car Collection Featuring 40 Vehicles.
Foreman owns several multi-million dollar homes in places such as Huffman, Texas, and the Caribbean island of St. Lucia. He lives in a gated 45-acre property around Houston, Texas. The animal lover has a ranch where he spends most leisure time with his favorites, the horses. In fact, he owns a stable of 50 horses.
Another item that George has amassed in significant numbers is cars. The retired boxer boasts of an amazing car collection of about 40 cars. It includes several Ferraris and Chevys namely Ferrari 458, Ferrari 360, 1963 Chevrolet Corvette Stingray, 1996 Corvette Grand Sport, and 2008 Corvette ZHZ. There is also a Porsche, a Maybach, a Tesla, a Lamborghini, a 1995 Mustang Cobra and his favourite, a 1977 VW Bug. Most of these vehicles are housed in the garage at Foreman's Huffman mansion and in April 2019, a fire broke out in that very garage. Thankfully, the authorities quickly dealt with it and Foreman was able to preserve his precious car collection.

Profile Summary
First Name:
George
Last Name:
Foreman
Also Known As:

Big George
Sex/Gender:

Male
Profession:

Former professional boxer
Famous For:
Being a two-time world heavyweight champion and an Olympic gold medalist.
Colleges/Universities Attended:

Job Corps
Educational Qualifications:

GED
Religion:

Christian
Birthday & Zodiac

Age/Date of Birth:

January 10, 1949
Zodiac Sign:
Capricorn
Birth Place:

Marshall, Texas
Nationality:
American
Ethnicity/Race:

African American
Country of Residence:

USA
Physical Attributes

Height:

6 feet 2 inches or 1.92 m
Weight:

260 pounds or 118 kg
Eye Colour:

Dark brown
Hair Color:

Black in his hay days but currently bald
Other Body Measurements:

N/A
Relationships

Marital Status:

Married
Spouse/Partner:

Mary Joan Martelly (married since 1985). He was prevuiously married to Adrienne Calhoun (1971 to 1974), Cynthia Lewis (1977 to 1979), Sharon Goodson (1981 to 1982), and Andrea Skeete (1982 to 1985)
Family and Relatives

Father:

Leroy Moorehead
Mother:
Nancy foreman
Children:

12 children, including five sons George Jr., George III ("Monk"), George IV ("Big Wheel"), George V ("Red"), and George VI ("Little Joey"), and seven daughters named Natalia, Leola, Freeda, Michi, Georgetta, Isabella Brandie Lilja (Foreman), and Courtney Isaac (Foreman)
Siblings:
six siblings, including Roy Foreman
Other Relatives:

J. D. Foreman (stepfather)
Net Worth
Estimated Net Worth:

$300 million
Salary:
N/A
Source of Wealth:

Boxing