At the height of his comic powers, George Carlin was the epitome of counter-cultural comedy, always willing to test the limits, eager to push the boundary between censorship and theatrical expression, George was an exhilarating performer. An edgy comic with an amazing mind and brave humor, He did more than making people laugh. The incredibly entertaining standup comedian who championed free speech became famous for uttering the "most colorful" obscenities.
Hailed for his disparaging social opinions, Carlin's meditation on the morality of rude words made him a counter-culture hero. Despite an arrest, prosecution, and even a Supreme Court ruling, Carlin soldiered on and continued to deliver quality content. An amateur philosopher, author, and actor, George was definitely more than a comedian, he stood out among his contemporaries and left a lasting impact on the comedy space.
George Carlin's Early Life 
A New York native, George Dennis Carlin was born in May 1937. The comedian and his older brother Patrick were raised in their hometown by their single mother, Mary Beary, who worked as a secretary at a media house. On the other hand, George Carlin's father Patrick Carlin worked as an advertising manager with a popular print media house.
Carlin's parents divorced thus leaving the boys with their mom. George discovered the power of comedy during his childhood and began exhibiting early comedic inclinations while studying at Cardinal Hayes High School, in the Bronx. He was a problematic child and often had run-ins with the nuns at his school, thus he was eventually expelled. Carlin also briefly attended Bishop Dubois High School.
Highlights Of His Glittering Career
George Carlin had a brief troubled stint in the U.S. Air Force. He joined the military as a teenager in 1954 and worked as a radar technician in Louisiana. But after getting into trouble about three times, Carlin was discharged from the US Navy in 1957.
Thereafter, he landed a job with a Texan radio station and began honing his comic act. George began his comedic performances in 1959 as a duo alongside Jack Burns. The pair worked together for two years and released an album titled Burns and Carlin at the Playboy Club Tonight before pursuing their individual solo careers.
As a solo act, Carlin launched his debut album in 1967. But his sophomore album Class Clown which was released in 1972 became one of his major works as it featured his signature routine called Seven Words You Can Never Say On Television.
In 1977, Carlin made an appearance in the HBO comedy specials, On Location: George Carlin at USC. During this period which stretched over five years, he took a break from stand up comedy. In 1981, He made a stage comeback, releasing A Place for My Stuff and returning to HBO. In 1984 he hosted Saturday Night Live for the second time.
In his long and storied career, George Carlin released 22 comedy albums, made about 130 "Tonight Show" appearances, recorded more than a dozen HBO comedy specials, hosted hundreds of variety shows, wrote three best-selling books, and won five Grammy Awards
The legendary comedian who challenged both conventional American thinking and the governmental procedure was particularly famed for his black and political humor as well as his observations on several social issues ranging from religion to psychology to language, among others.
George Carlin Also Had Success with Movie And Television Roles
The stand-up comedian also featured in movies and television series. Some of his acting credits include a role as Frank Madras in Outrageous Fortune (1987), and two years later he landed a role as Rufus in the sci-fi Bill & Ted's Excellent Adventure and its 1991 sequel Bill & Ted's Bogus Journey. George was also the voiceover for the hippie Volkswagen bus Fillmore in the Pixar animation Cars. On the small screen, from 1991 to 1995, Carlin also featured as a narrator for the children's TV series Thomas & Friends and appeared as Mr. Conductor on the Shining Time Station show (1991 – 1993). He is the co-creator of the 1990s sitcom The George Carlin Show.
Awards And Recognition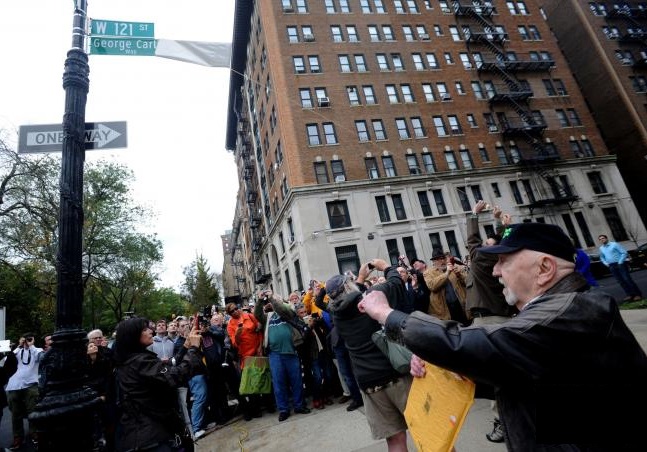 Throughout his glittering career, Carlin won four Grammy Awards. He's a recipient of the Mark Twain Prize for American Humor which he won posthumously. A part of West 121st Street, in the Morningside Heights neighborhood of Manhattan was renamed  "George Carlin Way" in honor of one of its most famous residents.
Carlin was listed second in Rolling Stone magazine 2017 list of the 50 best stand-up comics of all time. He ranked second also in Comedy Central 2004 list of "Top 10 Comedians of US Audiences". He is a recipient of a Lifetime Achievement Award which was conferred on him at the 15th Annual American Comedy Awards.
His Row With The American Legal System
For years the American government had been finding new ways to censor what it deemed as inappropriate speech in broadcast media. Lenny Bruce's who sort of mentored George was among the first to get arrested for uttering obscenities on air. In October 1973, East Coast station WBAI-FM aired an offshoot of Carlin's routine piece titled "Filthy Words." On the show, George made jokes in which he used some of those "forbidden words". A complaint was filed to the Federal Communications Commission by a father who listened with his young teenage son.
Two years later the FCC issued an order that declared the wordings of WBAI-FM's George Carlins show "indecent" and threatened to impose sanctions. The owners of WBAI-FM – the Pacifica Foundation, challenged this in court.
In 1977 the US Court of Appeals for the District of Columbia ruled in favor of the broadcast, the case was sent to the Supreme Court where on July 3, 1978, the Supreme Court ruled in favor of the FCC's power to regulate and determine language guidelines.
How Much Did He Make Throughout His Career?
The Grammy Award-winning stand-up comedian had a prolific career that spanned over five decades. With stand-up gigs full of drug references and profanities, Carlin became an anti-Establishment icon in the 1970s.
His numerous efforts in the entertainment industry included stints as host of Saturday Night Life. He appeared in over 25 TV Shows, has five audiobooks to his credit. He is also a character in the 2006 video game Cars where he plays the character, Filmore. At death, George Carlin had a net worth that was estimated at $10 million.
George Carlin's Final Days And Eventual Death
The famous bald, bearded George Carlin had a history of heart and drug-dependency problems. In his lifetime, the stand-up comedian suffered no less than three heart attacks. Sadly, at age 71, Carlin passed away on the 22nd of June 2008 at Saint John's Health Center in Santa Monica, California. Although his voice is missed so much, the comedian's legacy lives on.
Other Facts To Know About The Comedian
1. George Carlin was married twice in his lifetime. His first marriage was with Brenda Hosbrook. The couple tied the knot in 1961 and their union produced Carlin's only child, Kelly. George and Brenda stayed married until Brenda's death in 1997. The following year, the comedian married Sally Wade and their marriage lasted until George's demise in 2008.
2. Not many are aware that George Carlin was the first person to host Saturday Night Live, but he was too high on cocaine to remember the experience.
3. George Carlin was more than a skeptic. His comedic school of thought absolved him from any allegiances or beliefs. With a central theme that opined that humanity is cursed and doomed species, Carlin did not believe in norms such as religion, a god, his country, and almost all man-made institutional ideas.