Although Daytime television may not share the same prestige as Primetime TV, there have been several actors and actresses who have taken advantage of the medium to become national stars. One of them is Galen Gering, an actor who is known for his work on the soap opera, Days of Our Lives.
Galen Gering has been on the show since 2008, playing the role of FBI agent, Rafe Hernandez. Aside from his work on the show, he has made a couple of other appearances on other soaps like Venice the Series and Passions. Despite the fact he only became a professional actor at the turn of the century, he has seized the opportunity and become one of the most popular Daytime actors today.
Who is Galen Gering?
He was born Galen Laius Gering on the 13th of February, 1971 in Los Angeles, California to Alan Gering and Michele de Onate. Both his parents were creative artists, his father is a sculptor and a dancer while his mother was an artist. He was named after the Greek physician, Galen of Pergamum. He was raised along with his older sister, Charissa and when he was 18 years old, he relocated to New York City where he began a modeling career, just before he completed his high school education, ultimately doing so in New York.
As a model, Galen Gering traveled through Europe, walking runways for brands like Armani and Valentino before he returned to the United States and began his higher education, first at New York University before transferring to the University of Miami where he earned a degree in creative writing and film.
Having already experienced life as a model, Galen Gering looked to give acting a try and he was cast in his first project as Luis Lopez-Fitzgerald on Passions. He learned of the role through his modeling agency, Irene Marie Models. He was on Passions between 1999 and 2008, playing the character Luis, and he appeared in a total of 1,051 episodes. During his time on the show, he made a couple of appearances in other projects like Miss Match and the short film, Mein Liebchen.
After his time on Passions came to an end, he secured another long-term role on Days of Our Lives as the FBI officer, Rafe Hernandez. He has been playing the role for over a decade and has appeared in over 1,500 episodes. Since he began playing Days of Our Lives, Galen Gering has appeared in other works like his recurring role on Venice the Series as Owen Brogno. He appeared in 51 episodes of the show between 2009 and 2006. He was also a guest actor on episodes of 10 Items or Less and The Joel McHale Show with Joel McHale.
Aside from his roles as an actor, he has appeared in a reality show, Dirty Soap and has starred in over 50 national commercials. He has also co-hosted The Miss Teen USA Pageant and appeared in the documentary, From the Mouths of Babes.
Galen Gering's work has earned him multiple award nominations, including Daytime Emmy Award and Soap Digest Award nominations. He was also once named one of 50 Most Beautiful People in the world by People Magazine in 2000.
Who is His Family?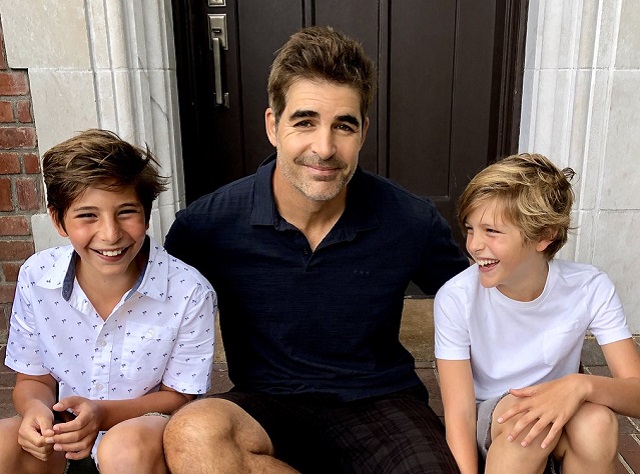 Galen Gering's family is a rather large one. His extended family includes his parents, Alan Gering and Michele De Onate, who are Russian Jewish and Spanish-Basque, respectively. He has a grandmother, Evelyn Gering, with whom he was close and shared his interest in the arts. He also has an older sister, Charissa Gering and a stepmother, Susan Gering.
As for his nuclear family, Galen Gering has been married to his wife, Jenna Hudlett Gering since 2000. Both of them had been in a long term relationship before the marriage. The couple first got married in a secret wedding in January 2000 before hosting a wedding ceremony in April 2000.
Together, they have two children, Dillon Phoenix and Jensen. Both children, who are boys, were born on the 3rd of August, 2006 and July 17, 2008, respectively.
See Also: Peter Reckell: 6 Things To Know About Bo Brady Actor On Days Of Our Lives
Is He Leaving Days of Our Lives?
In 2019, Galen Gering took a break from appearing on Days of Our Lives, causing viewers to wonder if he was leaving the show. So far, that appears to be untrue. Galen is still very much a part of Days of Our Lives but had to take a break after his son, Jansen had surgery to remove an appendix. He had to take a break to be with his son and family and he is expected to be back on the show after his recovery.