Gage Golightly is an American actress who is highly revered by many for her beauty and the outstanding ability to perfectly portray any role she is billed to play. Born into a well-to-do family, Gage was diagnosed with dyspraxia at the tender age of 2 and as a result, had to undergo a series of surgeries to correct the condition. She even went through speech therapy sessions as well. Despite all the setbacks in her childhood, she was able to clinch tight to her dreams of becoming a professional actress. It was only a matter of a few years before she became famous.
As an actress who has been active since 2002, Gage has become someone a lot of people are interested in knowing more about. So much so that they keep up with the exploits of her career and the accomplishments thereof. The movies and TV shows she has been a part of through her career, the wealth she has acquired over the years, and how she rose to fame all add up to a tale that is worth being told.
How Gage Golightly's Mother Helped Her Kickstart Her Career
Gage Golightly was born on the 5th of September, 1993. She is the youngest of four children born to her parents; Gage has an older sister and two older brothers. It is also common knowledge that the Caucasian actress is an American national. However, there is little information available regarding the identity of her parents except for the fact that her mother was a nurse while her father, on the other hand, was a renowned medical doctor. For her education, she attended the all-girls Catholic Flintridge Sacred Heart Academy.
At the age of four, Gage Golightly began nursing dreams of becoming an actress but was unable to make any reasonable move to help actualize her dreams until the age of eight when her mother took it upon herself to make her daughter's talent known to the world. According to the actress, it began on a certain day when she was home alone with her mother; they packed a little bag and headed to Los Angeles without informing other members of their family. For three solid weeks, they lived in a cheap motel close to the airport in search of auditions but none seemed to be going on at that time of the year.
Their story changed when they heard a child talking about acting and then trailed him to a manager's house; that singular act would lead to the start of her acting career.
Despite being discovered, it took her a year to make her acting debut, which she did in the 2002 film, Speakeasy, playing the minor role of Eva – a role that paved the way for better and bigger roles in her career.
'The Troop' Made Her A Big Earner In The Industry
Her big break eventually came in 2009 when she got cast to play the role of Hayley Steele in the Nickelodeon series, The Troop. Records have it that the Nickelodeon comedy television series premiered to 3.5 million viewers.
Given that, and the fact that Gage's character was the most popular girl in school, it earned her a lot of attention and undoubtedly, brought about an increase in her value as an actress. Unfortunately, the show only aired for two seasons that spanned from 2009 to 2011 across 40 episodes before Nickelodeon pulled the plug on it sometime in August 2011. Nonetheless, in the few years it aired, Gage Golightly was able to establish herself as someone who shouldn't be overlooked in the competitive industry. This was evident in the roles she landed after The Troop went on hiatus.
The following year after The Troop, she took her career a little further by playing the role of Erica Reyes on the MTV series, Teen Wolf. She played a recurring role that lasted between 2012 and 2013, appearing in 11 episodes of the popular supernatural teen drama series.
Acting Roles That Contributed to Her $3 Million Net Worth
Truth be told, she can't be categorized as a top actress yet but at her current pace, it can only be a matter of time before she breaks such boundaries. Thus far, in the course of her career, Gage Golightly has grown to be an actress held in high esteem due to her penchant for bagging major roles in highly regarded TV shows.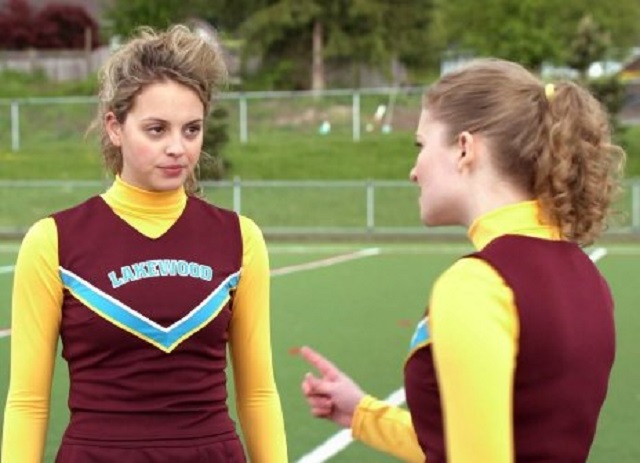 If you make an inquiry into her résumé, you will find that she has over 25 notable acting credits to her name. Since she made her movie debut in 2002, Gage has gone on to take part in a good number of feature films such as The Vest, Gone Missing, Exeter, Cabin Fever, The Last Summer, and Step Sisters in which she played the role of Libby.
The fast-rising actress has an even better outing when it comes to TV shows, having made a series of appearances in a couple of them such as Sudbury, The Long Shot, The Suite Life of Zack &Cody, Heartland, True Jackson, Big Time Rush, Teen Wolf, Red Oaks, and Law and Order SUV in which she took on the character of Katy Miller.
In 2019, she made appearances in iZombie as Alice 'Al' Bronson, and since the beginning of 2020, she has been playing the main role of Corporal Grace Durkin in 68 Whiskey, a military comedy-drama series.
https://www.instagram.com/p/B7WmIQTJMjn/
Even as it is difficult to tell exactly what she earned from all of these acting roles, it is apparent that the actress has been a force to reckon with in Hollywood since 2002, scoring major roles in hit movies and TV shows. As such, there is no doubt that Gage Golightly is worth a good deal of fortune. Several sources have pegged her net worth at an estimate of $3 million. While the figure is believable, it has not yet been authenticated in any meaningful way.
See Also: Tracie Thoms – Bio, Net Worth, Movies and TV Shows, Is She Gay or Lesbian?
Gage Golightly's Love Life Has Been a Mystery
Apart from the fact that she is popular and successful, Gage Golightly is also good looking and it is one of the things that make her the toast of many who would be very willing to have her as a romantic partner.
While it would be outrageous to suggest that nothing is worth telling about this aspect of her life, it is sensible to conclude that Gage is one of the famous people that prefer keeping their love life private. While she must have been in some relationships in the past, nothing can be authenticated in that regard as the actress has made it a duty to avoid revealing anything about her relationships.
Nonetheless, it once circulated that she might be dating Zayn Malik; this was in 2015 after the famous musician's split from Perrie Edwards. The rumors began when Zayn shared a picture of himself cuddling a mystery blonde who looked like Gage. It generated a lot of buzz which eventually led to the actress revealing online that she wasn't the person in the pictures.