At the peak of his powers, Fred Couples was a joy to watch on the golf course. His poise, carriage, and demeanor exuded a kind of charm that was difficult to overlook. Admired by his peers for the ease at which he seemed to play the game, Fred, who was one of the few elite golfers who never wore a hand glove, was not just a jolly good fellow as he exhibited an inner drive to win major honors on the golf course.
A two-time PGA Tour Player of the Year in 1991 and 1992, Fred was a world number 1 for 16 weeks in 1992. In addition to being a 15-time PGA Tour winner, he has also won the European Tour 3 times and the PGA Tour Champions 13 times. His career was besieged by persistent back problems which took a toll on him. How much more he could have accomplished if not for those reoccurring back injuries remains a question that cannot be answered. After an illustrious professional career that spanned 33 years and 64 professional tour wins, Fred was inducted into the World Golf Hall of Fame in 2013.
Fred Couples Sports Career Took Off After A Golf Scholarship to the University of Houston
Fred Couples was born on October 3, 1959, in Seattle, Washington DC, to parents who are both of European descent. The family lived on Beacon Hill near Seattle's Jefferson Park golf course. Growing up around the golf course was one of the biggest influences on Fred's life as he became one of those golfers who went pro without having ever received any formal golf lessons. Instead, the environment in which he lived and his unique astute intellect and locomotor endowments had predisposed him for excellence.
From his earliest days, Fred's interest in golfing was fired as he watched the pros swing it out. This was how he developed his signature loose swing that has always given him an edge over most of his opponents in the game. The young boy later attended O'Dea High School in Seattle where he distinguished himself in the sport.
After graduating from O'Dea in 1977, he received a golf scholarship to study at the University of Houston. While in college, Fred continued to perfect his game as he was a member of the college men's golf team – the Houston Cougars. He famously shared a dorm room with Blaine McCallister who also went ahead to become a great golfer.
Looking forward to reliving the 1986 Masters today #MastersRewind pic.twitter.com/MmgAyTBAEV

— fredcouplesgolf (@fredcouplesgolf) April 8, 2020
He Was The First American Player To Be Ranked World Number One
Between 1983 and 1992, Fred Couples went from a relatively unknown player to one of the most competitive golfers in the United States. His first PGA Tour victory was in 1983 at the Kemper Open in suburban Washington, D.C. where he played in the same group as Scott Simpson and Chen Tze-Chung. After the Kemper Open, he went on to win fourteen more PGA Tour titles. During that period, he won the Players Championships twice; in 1984 and 1996. He also won the Masters in 1992. In 1991 and 1992, he was the PGA Tour Player of the Year.
By March 1992, on the back of an impressive run that included beating Davis Love III to win the Nissan Los Angeles Open, Fred became the first American player to reach the number one position in the Official World Golf Rankings since the ranking points system came into use in 1986. He stayed as number one for four months.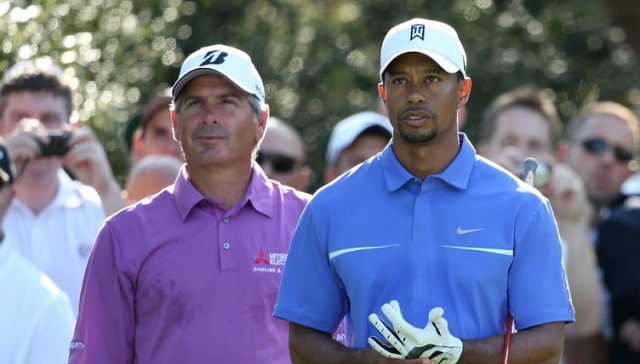 Fred Couples Battle with Back Injuries Towards His Later Years 
The first time he suffered a back injury that subsequently went on to plague his career was at the 1994 Doral Open in Miami. The injury came about as a result of his swinging technique which features an extreme shoulder turn at the top as he keeps his left foot flat on the ground throughout the backswing. This puts a lot of pressure on his lower back and therefore created problems.
Since that time, Fred has maintained an abbreviated schedule which has helped him continue to compete at the highest level. He has won the Skins Game (the unofficial money event of the PGA Tour) five times; in 1995, 1996, 1999, 2003, and 2004. He also won the Senior Championship twice, the first time in 2011 and in 2012.
Fred Has Been Married Twice
Fred Couples has been married two times. His first marriage to Deborah Couples lasted from 1981 to 1993. His second marriage to Thais Baker lasted from 1998 to 2009 when she died of breast cancer. They were, however, estranged at the time.
His first love Deborah was a fellow student at the University of Houston where they met. They fell for each other in 1979 and after about two years of dating, they tied the knot. The couple ended up staying together for twelve years before parting ways. Sadly, after eight years of her divorce from Fred, Deborah jumped to her death. The incident has since been deemed to be a suicide by the Los Angeles city coroner's office.
Fred Couples' second marriage did not end in divorce but in death. As mentioned above, his second wife Thais Baker died of breast cancer in 2009. The two marriages did not produce any children but the golfer remains a stepfather to two girls; Gigi and Oliver, who are the children of his second wife from a previous relationship. Gigi and Oliver were respectively 18 and 16 in 2009 when their mother passed on. Since then, Frederick has remained a father figure to them.
Has He Dated Anyone Ever Since?
Fred Couples has dated at least two women since the death of his second wife. Around 2012, he began dating Midge Trammell, a hairstylist who owns hair styling shops in central Texas. About two years later, he was seen with Nadine Moze, another hair-stylist based in California. Moze is the last woman Fred is known to have dated.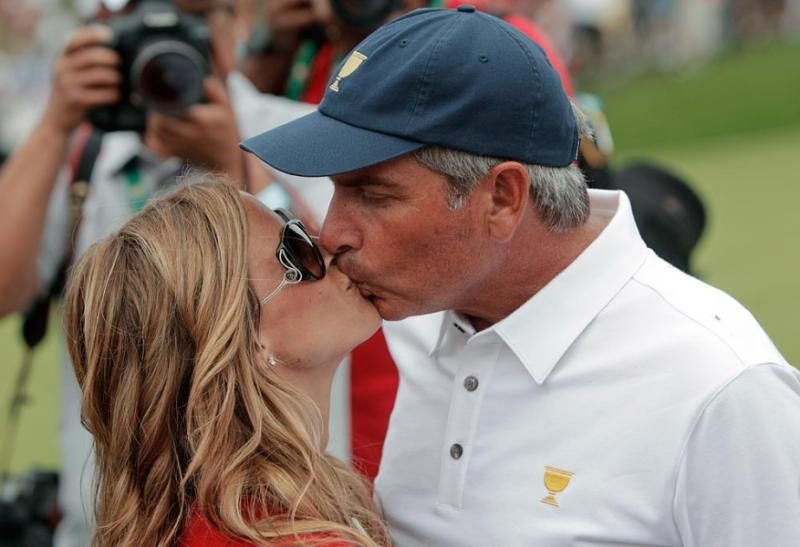 SEE ALSO: Ssundee – Bio, Wife, Son, Family, Age, Net Worth, Wiki, Other Facts
How Much Has Fred Couples Amassed From His Golfing Career?
In 2017, MoneyInc Magazine ranked Fred Couples 7th on its list of the 20 richest golfers of all time. He was reported to have a net worth of $105 million. However, as of 2019, the golfer's net worth is estimated to be at $150 million.
Couples gathered his wealth over the years from his career wins and endorsements. He has also floated a golf course design company called Couples Bates Golf Design Firm (now known as Bates Golf Design Group) with his partner, Gene D. Bates. The company is credited with having designed over 20 award-winning golf courses across the world. Of course, this has meant more dollars rolling in.