When the phrase 'Four Seasons' is mentioned, one is most likely to think of the Hotel Chain with over 100 hotels in the world. However, fans of music are more likely to think of Frankie Valli, an American singer who achieved his fame as the leader of the band, The Four Seasons.
Frankie Valli, in addition to being a renowned America singer, can also boast of bringing into the world, timeless music such as Walk Like a Man, Big Girls Don't Cry and Can't Take My Eyes Off You. As a further stamp of his excellence and legacy as a musician, he was inducted into two major Hall of Fames – the Rock and Roll Hall of Fame in 1990 and Vocal Group Hall of Fame in 1999.
There is quite a lot to learn about Frankie Valli, we cover a few of them below. Read on.
Who Was Frankie Valli? 
For those who might not be familiar with the singer, Frankie Valli is an iconic singer who joined the music industry as a professional singer in 1953, 19 years after he was born on the 3rd of May, 1934 in Newark, New Jersey. His birth name is Francesco Stephen Castelluccio. He was born as the first of three sons to Anthony Castelluccio and Mary Rinaldi.
Frankie Valli was driven to pursue a career in music at the age of seven after he saw the iconic singer, Frank Sinatra perform. His mother had taken him to the Paramount Theater in New York City to watch the singer at the early stages of his career, and it was there that the music fire in Frankie was kindled.
After his music career began in 1953, starting with the Variety Trio, Frankie Valli grew to become the lead singer of The Four Seasons. With The Four Seasons, Valli has achieved 29 Top 40 songs and nine as a solo artist. The group consisted of four members, which were Tommy DeVito, Nick Massi, and Bob Gaudio. They have all been inducted into the Rock and Roll Hall of Fame.
As part of a celebration and the recognition of their success, Frankie Valli and the other members of The Four Seasons had a musical, Jersey Boys made about them. The musical, which is biographical in nature was opened in 2005 and has so far won six Tony Awards and a string of financial successes to go along with it.
Frankie Valli has also made appearances on television as an actor, appearing in shows like Miami Vice, The Sopranos, Full House and a couple more others. Till date, Frankie is a performing musician, delighting fans with his alluring voice. He performs on Broadway and in booked shows across the country.
Details of His Net Worth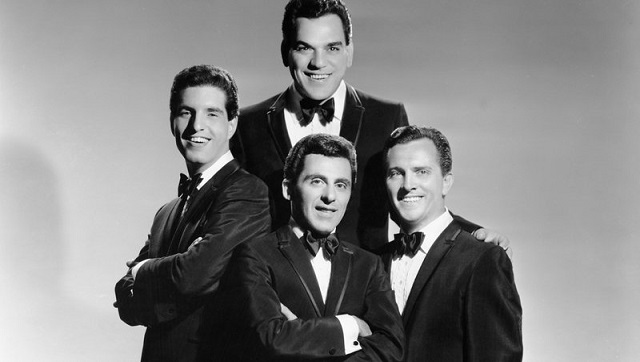 With over 20 albums both as a solo artist and as a member of the very successful band, The Four Seasons, Frankie Valli is worth an estimated $80 million. His extensive discography which is the primary source of his enormous wealth is further complemented by his appearances on television and the production of a very successful Broadway musical in his name.
Family Details
Frankie Valli has so far been married thrice; he got married to his first wife, Mary while he was in his early twenties and early stage of his music career. His marriage to Mary produced a solitary biological daughter, Francine and a step-daughter, Celia. The marriage lasted 13 years, ending in 1971. He married his second wife three years after. His second marriage, which was to Mary Ann Hannagan, produced no children during their eight years together.
Frankie married his third wife, Randy Clohessy, in 1984. The marriage ended in 2004 but not before they had and raised three sons. Frankie Valli seems to be done with marriage as he hasn't remarried since he separated from his third wife in 2004.
See Also: Cher Wiki, Daughter, Son, Plastic Surgery, Bio, Death Rumor
Who was Francine Valli?
For a lot of musicians, the desire for a legacy is always more than just selling a lot of albums and accruing a lot of awards. It resides in leaving behind something that goes on to live in your name. For Frankie Valli, that legacy was supposed to be Francine Valli.

Francine Valli was born sometime in 1960 to Frankie Valli and the first of his three wives, Mary. Francine Valli, who was her father's youngest daughter showed the promise of following in the footsteps of her father.

Unfortunately, despite her promising life, Francine Valli was plagued by a propensity for drugs and it eventually led to her death. After discovering their daughter's addiction to drugs, Frankie Valli and his wife put her up in a rehabilitation center but it failed to stop her from engaging in alcohol and other hard drugs at her young age. Eventually, she died of drug misuse on the 16th of August 1980 when an autopsy report revealed that she had mixed alcohol and the drug, Quaaludes.

Francine Valli was 20 years old at the time of her death and she was buried at Glendale Cemetery in New Jersey.

For Frankie Valli, it was the second loss of a daughter in the space of six months having lost his step-daughter, Celia through a freak accident that saw her die after falling from a fire escape.

Fact Check: We strive for accuracy and fairness. If you see something that needs updating,