Floyd Mayweather may not have topped this year's list of highest-paid athletes but his lavish lifestyle did not flinch in any way. In fact, the former professional boxer couldn't have had it any better. Although he has given fans a peek into his collection of timepieces, shoes, and jewelry, those are hardly the only things that make it into his list of favorite purchases. A drive through any of his social media handle will prove that Floyd Mayweather is also big on real estate. Luxury houses!
More recently, the boxing legend added another of those into his collection. This time, a Los Angeles mansion worth $25 million. This impressive piece of architecture consists of a 12-seat cinema, a candy shop, and a wine rack with no less than 220 bottles. Other pieces of real estate feature in his property list and we would love to show you all of those. Let's see!
What Does His $25 Million Mansion Look Like?
Back In 2017, Floyd Mayweather shed a whopping $25 million to acquire a mansion in Beverly Hills, Los Angeles. But guess what, that is only a minute fraction of his fortune. The 6-bedroom, 10-bathroom piece of real estate also gains its value by its location. Beverly Hills; home to the greatest names in Hollywood and showbiz. For years, Beverly Hills has had a reputation for its breathtaking beauty and allure. Especially when you factor in its palm-lined Rodeo Drive, fresh air, high-end shops, and of course, movie stars for neighbors. But all that is on the exterior; let's take you on a virtual tour into what the home looks like.
What better place is there to start than the powerhouse of every building. And that's not the room where all the wires converge but the kitchen. Yes. As you walk into this kitchen, visitors are greeted to a lavish display of wine rack that holds as many as 225 bottles.
But wine is not the only thing he goes there for. At least not at first. This is where Mayweather's chef prepares his favorite meals such as Oxtail, turkey sausages which he relishes for breakfast, or better still spaghetti bolognese, which he reportedly dieted on in the days leading up to his big fight with Irish boxer, Conor McGregor.
Inside Floyd Mayweather's Miami Home and How They Compare
As grandiose as it is, the Los Angeles mansion is not the only piece of real estate that features in Mayweather's collection. There is another, the ultra-modern Miami mansion which cost the boxer a whopping $7.7 million to acquire. According to sources, he paid in cash! Why walk around with a checkbook when you can simply load up any of your supercars? Especially when you're the leader of The Money Team. It turns out that going cashless is not for some people after all. 
Floyd Mayweather's $7.7 million Miami mansion measures 5,200-square foot and consists of 5 bedrooms and 5 bathrooms. Constructed in 2015, it was originally listed for $8.49 million according to Realtor. Here's what it looks like.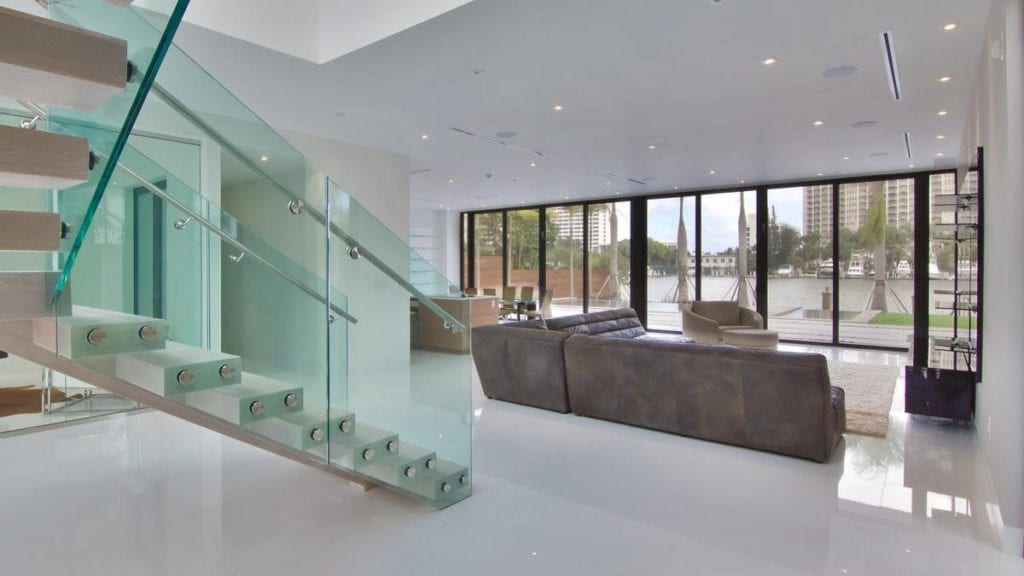 Floor-to-ceiling glass walls, clean lines, and a floating staircase made of glass and steel all collaborate to give the interiors that ultra-modern ambiance. There is also a formal living room and dining room, and a chef's kitchen featuring white lacquer cabinets and countertops.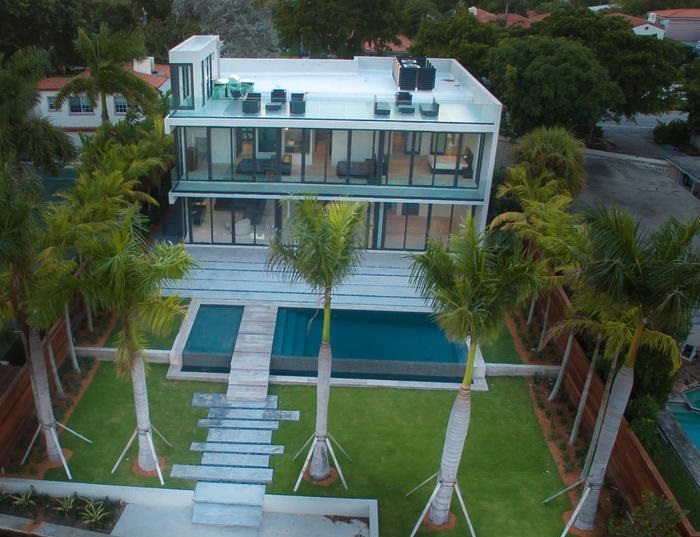 The exterior of the beachfront house features a 600-square-foot infinity-edge swimming pool complete with a spa, a rooftop patio, a private dock and a deck including an outdoor kitchen. The deal was finalized between the listing agent, Sotheby's Raymond Bolduc, and Castelli Real Estate Services, Floyd's rep.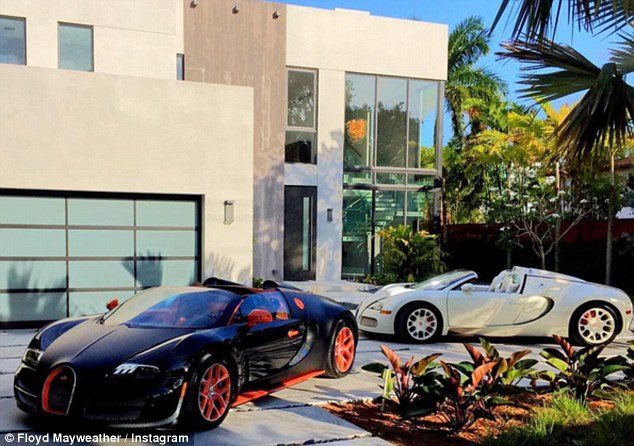 After sealing the deal, Mayweather took to his Instagram handle to break the news about his latest purchase treating followers to a photo of two of his Bugatti's parked in his new driveway. Mayweather bought the Black and Orange Bugatti for $3.5 million. It's a 2015 Bugatti Veyron Grand Sport Vitesse which at the time of purchase was the last available unit. The car holds the Guinness world record for the fastest convertible car with a top speed of 415 km/h.
Although splendid in design and functionality, the Miami mansion is nowhere close to the Los Angeles counterpart. But let's no be too quick to compare. There's another gorilla in the park.
You'll be grossly mistaken to think Mayweather's personal real estate portfolio consists of only two properties. The Los Angeles and Miami properties might be the most famous in the collection, but we bet you there's more. One of those extras is the Las Vegas mansion. Before telling you more about that, feast on these photos from the Miami mansion…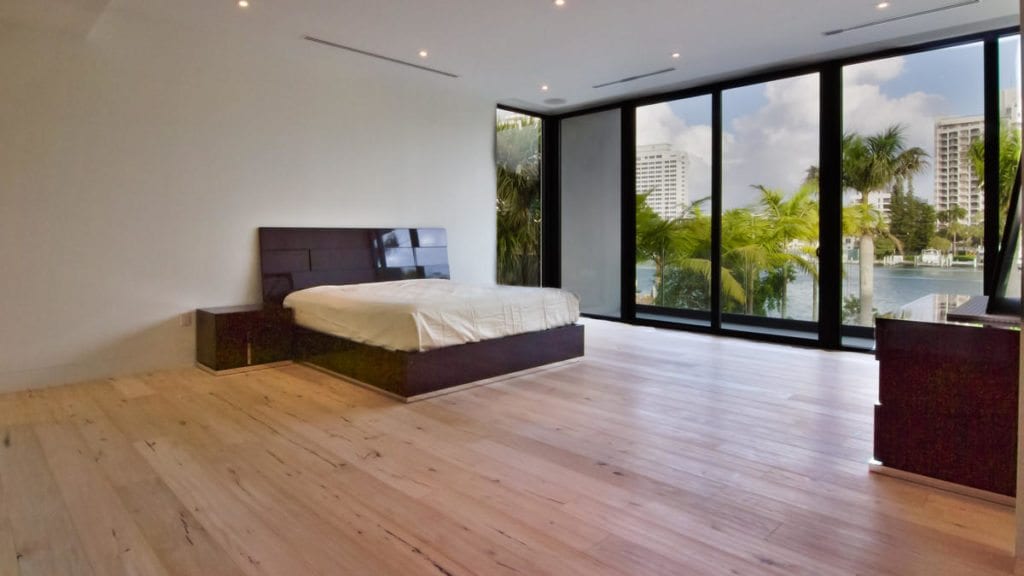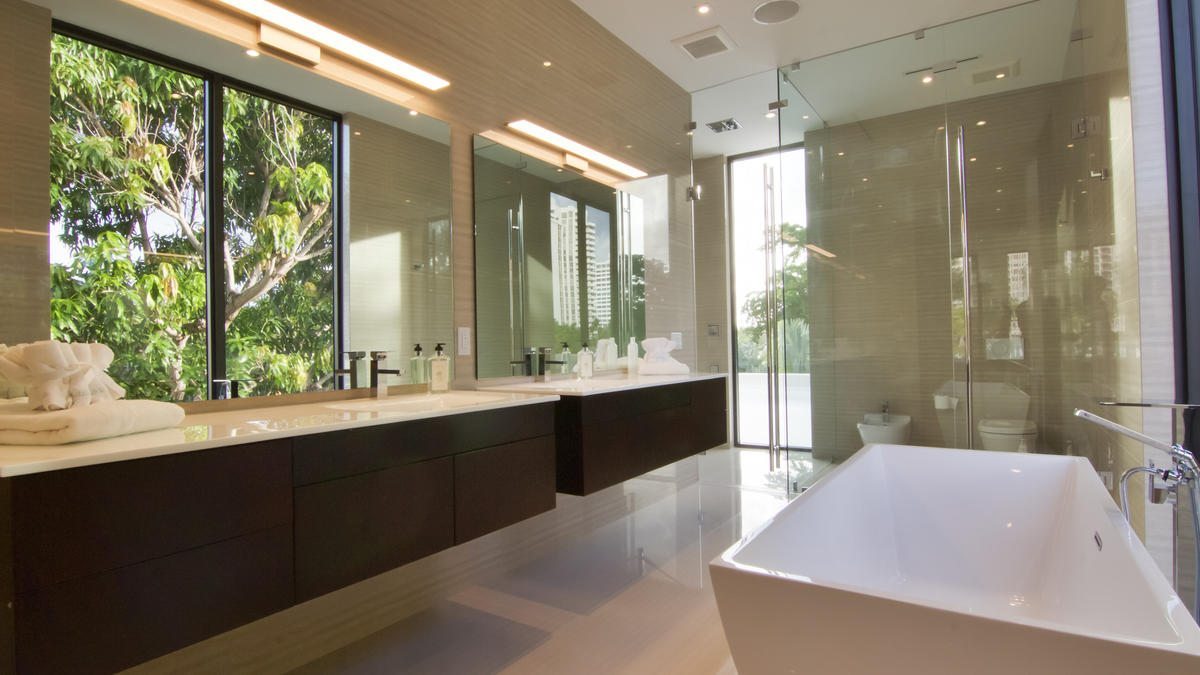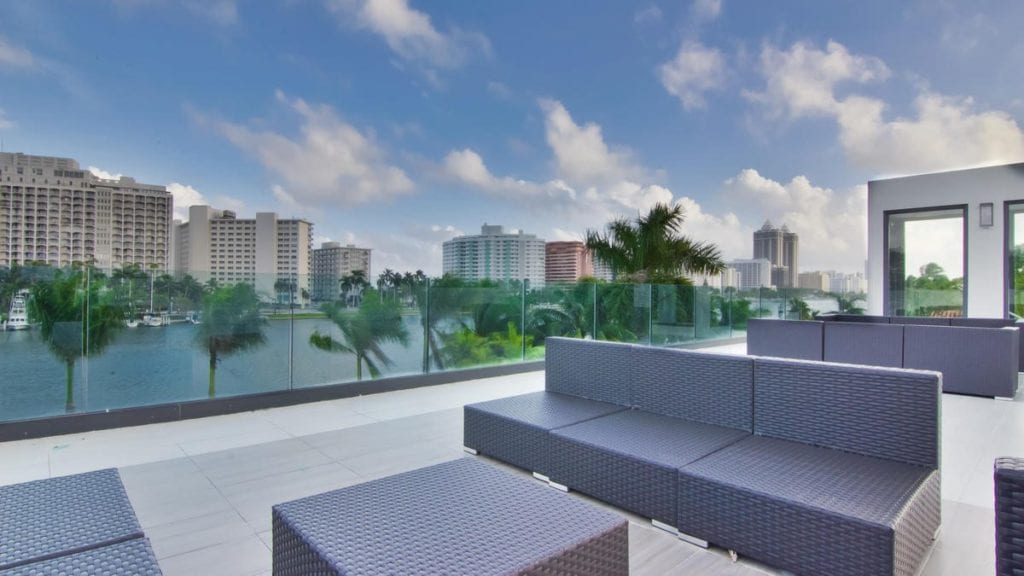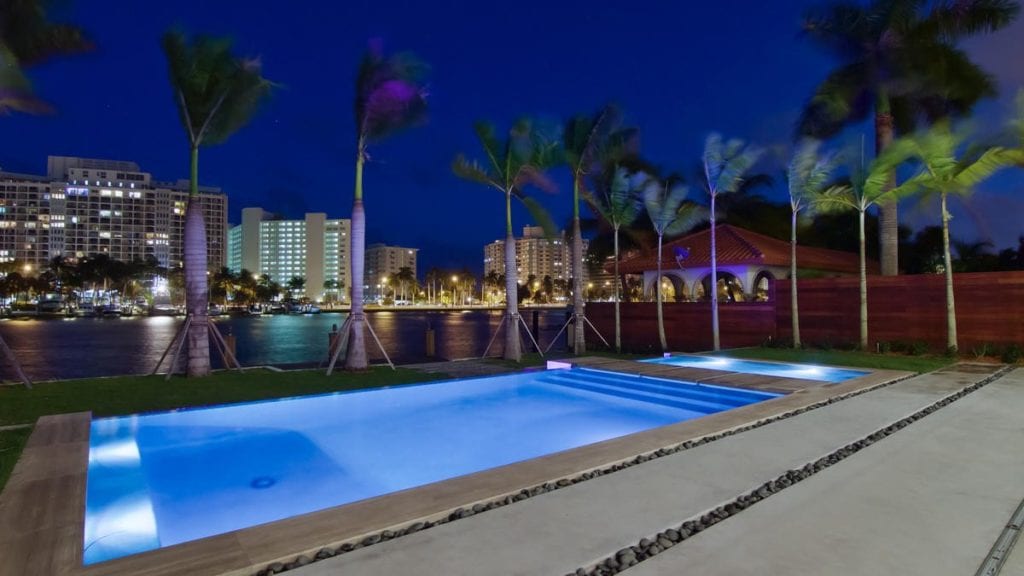 What You Probably Never Knew About His Las Vegas Home
Floyd Mayweather purchased this house for a whopping $10 million by an LLC. The single-story structure consists of 11 bedrooms and 14 bathrooms. But that's hardly everything. It also has 2 guest houses with heated floors all through.
The 22,000-square-foot structure is hosted on 1.41 acres of land. Embellished with outdoor and indoor swimming pools, the house also boasts of a 4-car garage. What's more? The vertical transport system wasn't left to good old stairs only. A lift system connects the one-story structure to the basement.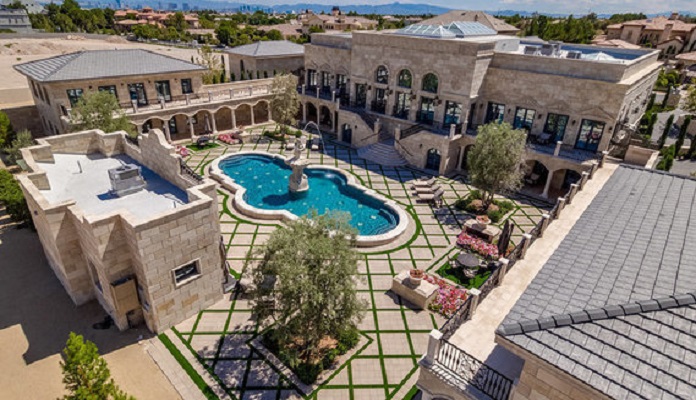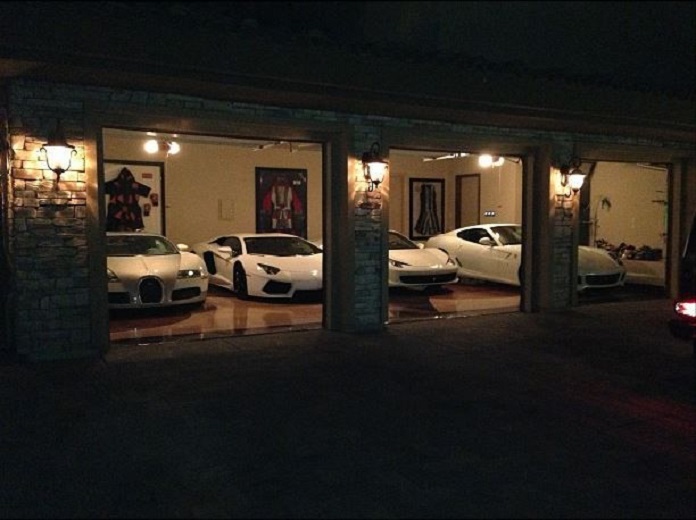 If we were to compare, most folks would pick Mayweather's Los Angeles home as the best in his collection. But there is no guaranty the boxer would pick that. Though it ranks way more in worth than the rest two, even beating the Miami home more than three times in value, the true value lies in the comfort they offer the boxer while he's out of town.
For a keen user, there are features the Los Angeles home has that Floyd may not enjoy in any other home. It doesn't mean it's more in value. It only means that it is serving its unique purpose and so are the rest.