In early 2019, ace American Boxer Floyd Mayweather left tongues wagging when he gave the world yet another inside view of his life. This time, fans, followers and those he called "haters" got a sneak peek into how much time Mayweather's got on his hands. Not the literal time anyway. Wristwatches! In a series of Instagram videos, the Boxer gave the world an inside view of the luxury time-telling pieces he rocks to parties, and shows. Among those was a diamond watch by Jacob & Co which reportedly costs a whopping $18 million and there is a lot more to add to that…
The Billionaire Watch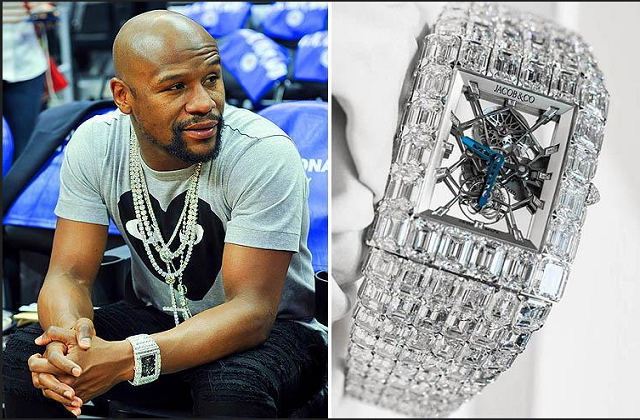 We begin with the doyen. This piece of luxury reportedly cost the boxer a whopping $18 million. It was introduced in 2015 at the Baselworld by Jacob Arabo in affiliation with luxury designer, Flavio Briatore. This time-teller is in a class of its own. Why not? The watch is laced with 260 carats of emerald-cut diamonds. More so, it has an 18-karat white gold casing and bracelet which is also clad with diamond stones each weighing no less than three carats. That's on the outside.
Unlike most conventional designs, The Billionaire Watch isn't powered by tablet batteries. It is designed to remain in motion when worn on the owner's wrist. When dropped, it stops. But how does it maintain accuracy in later use? Well, it turns out that the timepiece can compensate for time-lapses by leveraging gravity. The science behind that remains the exclusive right of the design team. What's no secret, however, is that the JCAM09 caliber is equipped with 167 components that enables it offer 72 hours of power reserve. Mayweather may be big on fashion but he cherishes sports too. The next watch proves that.
The Richard Mille 59-01 Tourbillon Yohan Blake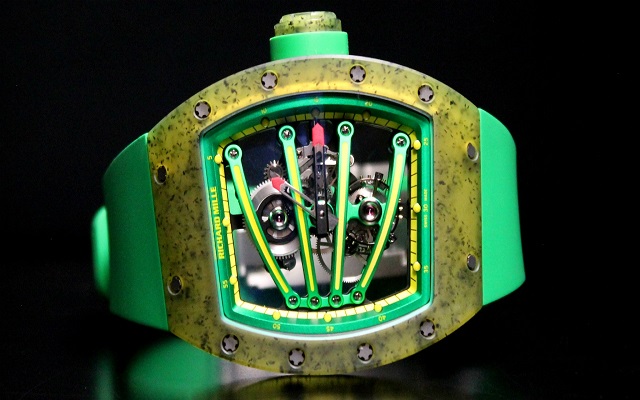 This athlete-suited timepiece is designed with an asymmetrical casing; well suited for left handed sprinters. The Richard Mille RM 59-01 Tourbillon Yohan Blake has the capacity to absorb high shocks from G-forces exerted during athletic movement. Its stylish design features a Jamaican yellow and green colouration with four "Beast bridges" splaying out from left to right. As of this writing, it goes for US$620,000. Sprinters are not the only sports people that Mayweather fancies. It turns out that watches worn by the best tennis stars also catches his eyes. Let's see…
The RM 35-02 Rafael Nadal QTPT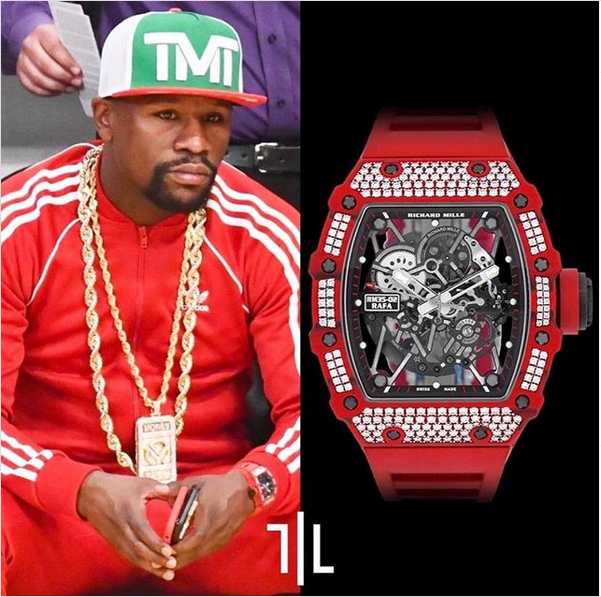 It seems the Tourbillon Yohan Blake isn't the only Richard Mille watch in Mayweather's collection. The RM 35-02 Rafael Nadal QTPT is another wonderful piece of engineering that features a skeletonized base plate and bridges. Built for rigorous activity, it can stomach accelerations of about 5000g. The unidirectional, anti-clockwise winding rotor gives it that special touch of genius. The likes of Mayweather couldn't have resisted the urge to buy. Today the RM 35-02 Rafael Nadal QTPT retails for US$135,000.
The Patek Philippe Nautilus 5723/1R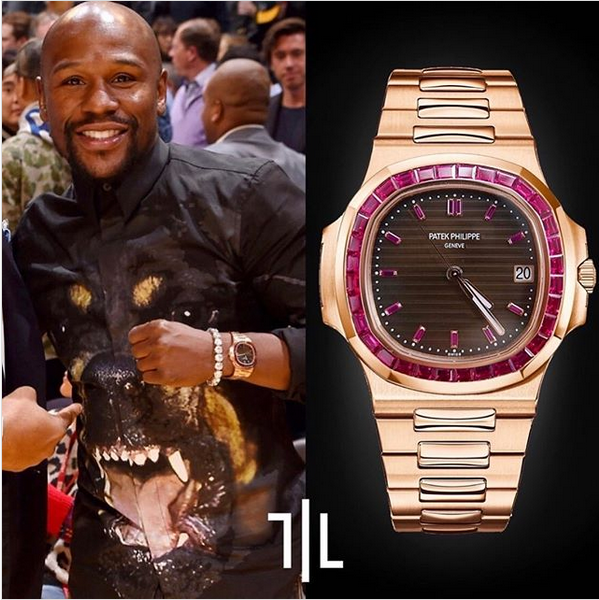 Among the collection that Mayweather revealed was his Patek Philippe Nautilus 5723/1R. This luxury timepiece is bordered in pink gold; with Ruby inserts for time dots. The watch also maintains its water-resistant properties when submerged down to a depth of 120 meters. Today, the Patek Philippe Nautilus 5723/1R retails for US$350,000. Rubies may be dope. How about pure diamonds?
All Factory, Jacob & Co. Royal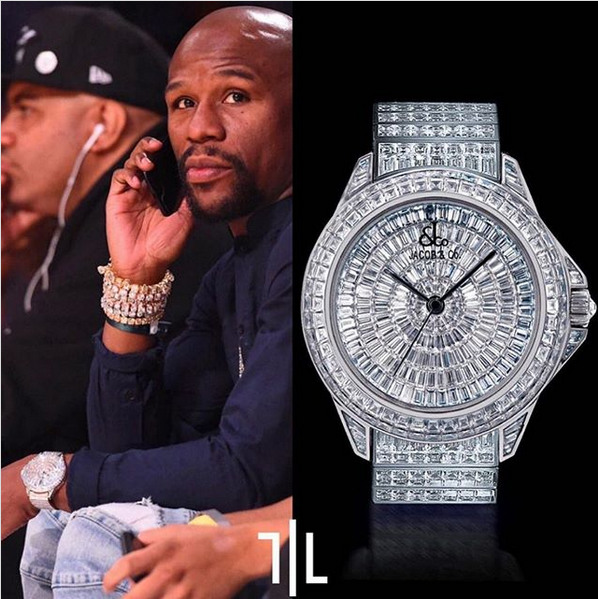 Floyd Mayweather is surely in love with wristwatches and pieces of jewelry with a diamond signature. This time, we spotted an All Factory, Jacob & Co. Royal in his collection. From face to handle, this timepiece is laced with pure diamond. At retail point, it is sold for US$384,000; excluding the diamond bracelet. This makes it easy for customers to determine their choice of bracelet and of course, the price.
The Rainbow Tourbillon
This is another Jacob & Co. piece in the Floyd Mayweather's collection. The Rainbow Tourbillon, 1 of 1, is 47.5 in diameter and has a 120-hour power reserve. It maintains its water-resistance properties for up to 30 meters. What's more? It also has up to five time zone indicators just so customers don't go wracking their brain over time conversion factors.
The Audemars Piguet Royal Oak Offshore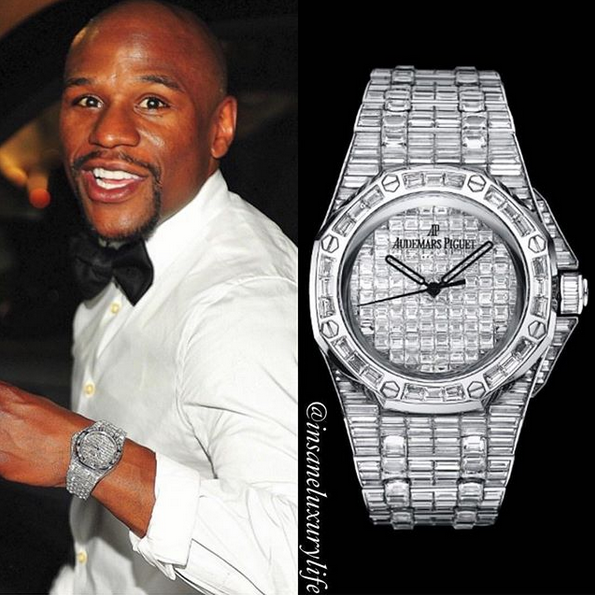 The Audemars Piguet Royal Oak Offshore takes it cue from the designs of the early 1990s. Built for men, its functionality and style makes it one of the most expensive pieces in Mayweather's closet. This timepiece goes for a whopping US$1,345,000. But it is hardly alone in that class.
The Hublot Watch Collection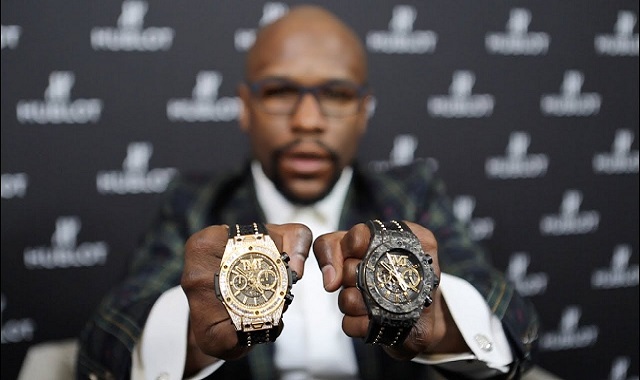 As of late 2017, Floyd Mayweather has Hublot luxury timepieces worth over US$2 million in his collection. By February of 2018, the ace boxer announced a partnership with the luxury Swiss watch company, Hublot, to make new limited edition watches; The Big Bang Unico TMT.
The timepiece came in a 45mm, yellow gold-encrusted carbon fiber chronograph; with sapphire casing. When its 12 o'clock, noon or midnight, the dial displays the The Money Team emblem "TMT" in the form of an appliqué. The case back also carries Mayweather's mantra, TBE, meaning "The Best Ever." The piece is reportedly worth $1.1 million. In all, Floyd Mayweather's timepiece collection would evolve with his taste and net worth evolves. That could include purchases from other brands as well as different styles. If Parkinson's law is anything to go by, Floyd Mayweather's budget on luxury timepieces may only increase as his digits soar. But one question remains, how does he afford all of these? There's no better way to answer that than to zoom the lenses on his earnings.
How Much Floyd Mayweather Makes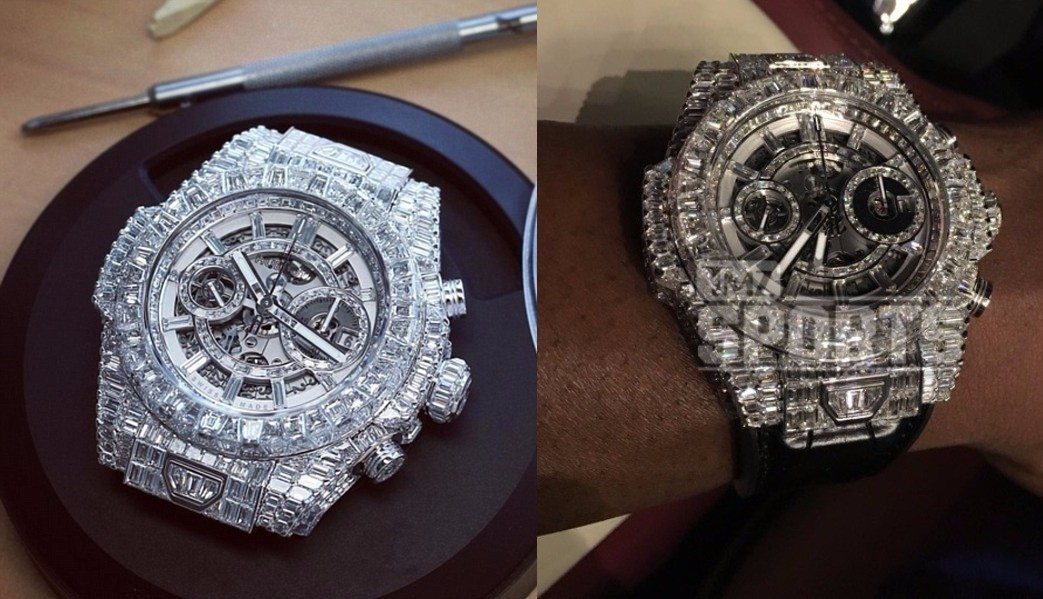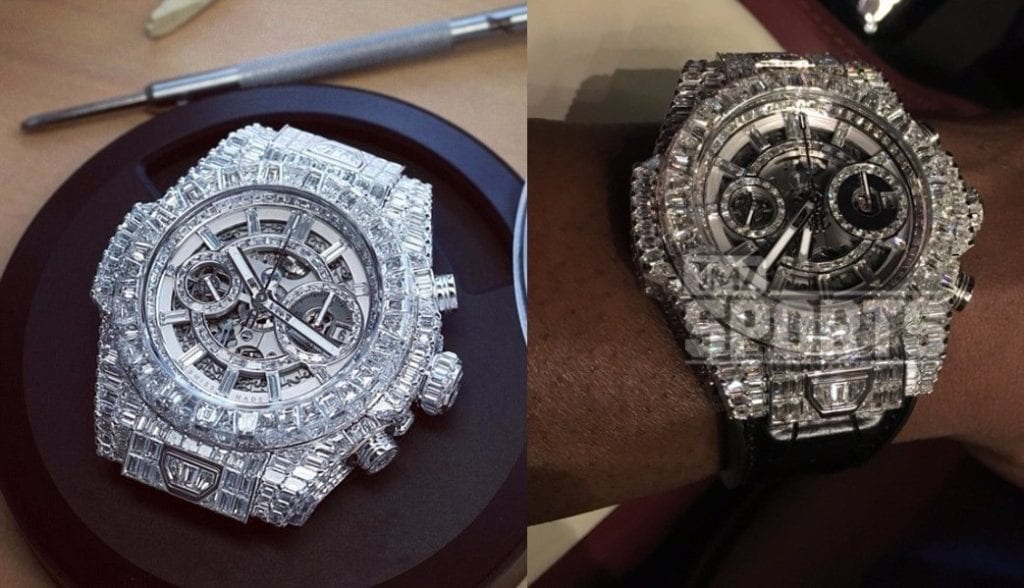 Knowing how much Floyd Mayweather earns and how much is he worth today would douse the surprise of most fans out there. According to sources, Floyd Mayweather remains one of the highest-paid boxers of all time. In 2018 he topped Forbes' list of highest-paid athletes in the world. Sources today place his net worth between $700 million and $1 billion. Who wouldn't have such an impressive net worth with 50 wins and 0 losses. As of this writing, Mayweather earns as much as $300 million in a year. Back in 2015, the boxer earned a whopping $250 million in one night from his May 2015 match against Manny Pacquiao.
More than that, the boxer remains one of only three athletes to earn more than $1 billion in his career. The other two are renowned basketball legend, Michael Jordan, and Golf legend, Tiger Woods. Both have each carted home about $1.5 billion over the course of their athletic careers. Mayweather entered into this exclusive group in August 2017 after earning a $275 million paycheck in one night. The fight was with none other than MMA star Conor McGregor. Mayweather may be an established boxer but to assume boxing is the only goose that lays him eggs would be a gross misconception.
How Mayweather Makes Money Asides Boxing 
Though Mayweather cannot boast of having as many endorsements deals like the other two athletes in the billion-dollar range, the few he does have are enough to power his lifestyle. Beyond the ring, Floyd Mayweather earns $10 million from endorsements deals yearly. Although that figure varies across years. However, he is now retired from boxing and earns as a boxing promoter.