A thespian who shone more in the 80s and 90s, Finn Carter is best recognized for her outstanding performance in the commercially successful flick, Tremors. Although she has since stepped away from our screens and the spotlight, Carter accumulated impressive credits during her professional stint as an actress. The daughter of Margaret Ainsworth Wolfe and Hodding Carter III, a former top public officer, Elizabeth Fearn Carter was born with a silver spoon on March 9, 1960.
Finn's birth was a newspaper headliner because her father who was then serving as the US State Department Assistant Secretary of State for Public Affairs and her pregnant mother were on a date at a popular theatre when labor kicked in. She was born in Mississipi and had a decent upbringing. Wondering why Finn switched to other interests and what she has been up to in recent years? Here are answers to frequently asked questions about the talented actress.
Things You Should Know About Finn Carter
1. She Is A Professionally Trained Thespian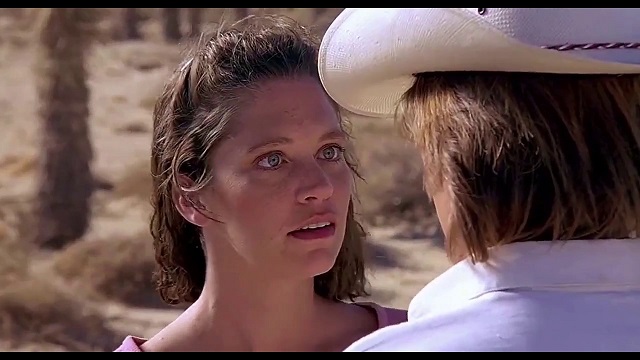 The Mississipi native who grew up in different cities including New York and Massachusetts discovered her flair for the theatre from an early age. She began honing her acting skills right from high school at Walnut Hill School for the Performing Arts, Massachusetts. Carter then proceeded to top up her profile with a degree from Skidmore College, New York and later studied at Tulane University, Louisiana.
2. She Has Acting Credits On Stage, TV, and Film
Finn Carter kicked off her career as a stage actor. Earlier in her career, the thespian performed with the New York-based theatrical group, Circle Repertory Company. Some of her stage credits include the role of Effie Herrington in Up In Saratoga and another major role in a revival of Biloxi Blues.
Carter made her TV debut in 1985, after landing the recurring role of Sierra Estaban Reyes Montgomery in As the World Turns and remained with the hit CBS series until 1988. In both guest and recurring roles, some of her other notable small-screen credits include China Beach and Secret Service Guy. Fans can also recognize Carter for her guest roles in hit series like CSI: Crime Scene Investigation, Murder She Wrote, ER, Law & Order, and Chicago Hope, among others.
On the silver screen, Carter made her debut in the 1989 rom-com How I Got Into College, portraying the character Nina Sachie. She soon followed up with a subsequent role the next year, playing the character Rhonda Lebeck in Tremors.
Finn's outstanding performance in the horror flick earned her a Saturn Award nomination. Her other notable film credits include 1992's Sweet Justice as well as 1996's Ghosts of Mississippi. Carter made her last screen appearance in the 2005 flick Halfway Decent, where she portrayed the character, Bonnie. Thereafter, she took a long hiatus which has apparently turned out to be her retirement from acting.
3. Finn Carter Has Been Married Twice
Finn Carter has two failed marriages behind her. She was first married to her As the World Turns co-star, Steven Weber. The former lovebirds tied the knot in 1985 but after about nine years together, they officially called it quits in 1994.
Carter soon moved on and found love again in the arms of James Woodruff. The erstwhile couple exchanged marital vows in May 1997 and had two kids together, Carter and Josephine. But like her first union, Finn and James parted ways in July 2007 after living together as man and wife for a decade.
Without ruling out the possibilities of trysts, it remains uncertain if Carter ever found love again. But given that she has not been romantically linked to anyone else since her second divorce, it is safe to say the actress is still single and did not remarry.
4. She Is Inactive On Social Media
Finn Carter is one of those baby boomers who are unaccustomed to some of the digital era trends. The former actress does not have an active social media life and is absent on popular social networking platforms including Instagram, Facebook, and Twitter.
5. Carter Has Impressive Physical Features
Although the former actress' weight and other body measurements have not been disclosed, it is no secret that she stands at an average height of 5 feet 8 inches. Finn now mostly leads a reclusive lifestyle but she's presumed to have maintained a good physique and is aging well.
See Also: Who is Season Hubley – Kurt Russell's Ex-Wife, Where is She Now?
Where Is She Now?
Finn Carter's last documented professional stint as an actress was in the year 2005 when she starred in the film Halfway Decent. It has been over a decade since Carter graced our screens and judging by her long absence in the industry, it is safe to say the actress has truly retired from acting.
Finn now mostly lives under the radar and it is uncertain how she currently earns a living. Regardless, she is presumed to have moved on to other interests and living her best life.