| Age/Date of Birth: | 13 August 1926 – 25 November 2016 |
| --- | --- |
| Height: | 6 feet 3 inches or 1.91 m |
| Ethnicity/Race: | White |
| Nationality: | Cuban |
| Wife or Girlfriend: | Mirta Diaz-Balart (m. 1948; div. 1955) Dalia Soto del Valle (m.1980) |
| Parents: | Ángel Castro y Argiz and Lina Ruz González |
| Net Worth: | $900 million |
Revolutionary Cuban dictator and polarized world figure Fidel Castro lived quite the luxurious life until his death on November 25th, 2016 at the age of 90. At the time of his death, Fidel Castro's total net worth was estimated at a whopping $900 million. However, Castro strongly opposed that figure throughout his lifetime. Here are more facts you should know about the Cuban dictator
His Early Life and Rise to Power
Fidel Alejandro Castro Ruz was born with a silver spoon on August 13, 1926, in Birán, Oriente. Literally, Castro never experienced poverty throughout his lifetime. His father was a wealthy sugar cane farmer who migrated to Cuba from Spain. Castro attended several boarding schools which offered topnotch education. However, he had more passion for non-classroom activities like baseball and managed to score mediocre grades.
Ironically, Castro also enjoyed reading as a child and soon developed an affinity towards politics. At the age of 12, he penned a letter to the then US President Franklin D. Roosevelt congratulating him on his victory. In the letter, Castro requested from the president a $10 bill which he had never seen before.
Castro's interest in politics grew further while he studied law at the University of Havana. As a law student, he identified as an anti-imperialist. He began his political career by leading rebellious protests over the opposing right-wing governments in Colombia and the Dominican Republic. Later, Castro led a failed coup against the Moncada Barracks in 1953 in an attempt to dethrone Cuban President Fulgencio Batista. Consequently, he was imprisoned for a year.
After Castro's release from prison, he teamed with his brother Raul Castro and formed a stronger revolutionary group in Mexico. At the second try, Castro unseated Batista and assumed as the country's Prime Minister. Castro served as Prime Minister from 1959 to 1976 and then as President from 1976 to 2008. He also became the first Secretary of Communist Party of Cuba from 1961 to 2011. Castro's brother Raul Castro took over the Presidential throne in 2008 and has since ruled the country.
In total, Fidel ruled over Cuba for 49 years, making him the third longest-ruling head of state behind Queen Elizabeth and the King of Thailand. The latter also recently passed away making Queen Elizabeth the longest-ruling one alive.
The Late Cuban Leader Fathered About 11 Children Including Five Sons from his Second Marriage to Dalia Soto Del Valle
Fidel Castro was a man who cultivated a larger-than-life image in several aspects and his love life is not left out. It is estimated that the revolutionary leader slept with around 35,000 women and fathered numerous children so much so that any Cuban woman who doesn't know the father of her child will simply call him Fidelito (little Fidel). Castor denied these allegations during his lifetime and maintained that he had fewer than a dozen children. Investigations carried out by journalists have however put the figure at eleven, out of which details exist about eight.
The first of them is the eldest child, Fidel Angel "Fidelito" Castro Diaz-Balart, who is the product of his first marriage. Castro first got married in October 1948 to Mirta Diaz-Balart. In September 1949, the couple had a son. However, their marriage didn't last long before it hit the rocks in a 1955 divorce after which Mirta Diaz-Balart moved to Spain. Fidelito, on the other hand, remained in Cuba with his father and grew up to become the leader of the Atomic-Energy Commission under his regime.
His father subsequently removed him after describing him as incompetent in the early 90s. Such description meant that both men were not on good terms for years. They later reconciled though and Fidelito became an adviser to his dad. Both men would remain on good terms till Castro's death in 2016. Fidelito sadly followed suit two years later after taking his own life. Investigations revealed that he had battled depression for years and was seeing treatment for it. He was aged 68 at the time of his death.
Another prominent child of Castro's is daughter, Alina Fernandez Revuelta. She is the product of an affair that he had with a lady named Natalia "Naty" Revuelta Clews during the pendency of his marriage to Mirta. Sometime in 1993, Alina disguised herself as a Spanish tourist and fled Cuba. She was then granted asylum in the U.S. and settled down in Miami. There, she became an outspoken critic of her father's regime, using her Radio Show (Simply Alina) to denounce his methods and policies.
Fidel Castro got married to a second woman, Dalia Soto Del Valle, in 1980. They remained together till his death and the long union produced five sons namely Antonio, Alejandro, Alexis, Alexander (Alex) and Angel. The eldest, Antonio, grew up to become an orthopedic surgeon and joined the Cuban national baseball team as their doctor. He later became the Vice-President of the Cuban Baseball Federation and helped to facilitate arrangements with the MLB (U.S.) to enable Cuban players sign for American teams. On their own parts, Alejandro is said to be a computer programmer while Alexis is a photographer for a newspaper. Youngest, Angel is not known to have chosen any profession.
Castro's second son by Dalia, Alexander, trained to be an engineer. He later became a cinematographer/director and upon his father's retirement in 2008, became his father's personal photographer. Alexander would remain in this role for several years during which he documented his father's meetings with famous world personalities such as Vladimir Putin, Diego Maradona, Pope Benedict XVI, Xi Jinping, and Shinzo Abe. He later published a book on his father, titled Fidel Castro: An Intimate Portrait.
Outside of the above children, Fidel Castro also had a son, Jorge Angel Castro, by an unnamed woman, and in 1953, he welcomed a daughter, Francisca Pupo, by another woman. Francisca Pupo lives in Miami today with her husband. Jorge, on the other hand, remains in Cuba and is said to have at least four children of his own. Fidel Castro came from a family of seven children, and one of his sisters, Juanita Castro, has been in the US since the '60s. She is also an outspoken critic and opponent of Castro's regime.
See Also: Top 15 Richest Royals In The World
Fidel Castro Preached Socialism but Reportedly had a Net Worth of almost a Billion Dollars.
Fidel Castro spent his entire life preaching socialism and the attendant sharing of wealth for the good of everybody. However, it seems that the late leader may have been a bit of a hypocrite as he clearly amassed a large amount of wealth which goes against the dictates of communism. Right from his birth, Castro was born with the proverbial silver spoon. On his father's extensive sugar plantation, where he was bred, was also a pub, hotel, primary school, post office, a cock fighting ring and a market store. It was more than an estate. The property measured over 25,000 acres and employed about 400 staff.
In addition to the sugar plantation, Castro's father also owned several other landed properties in the city. His late father is buried on the property which is now called Castro Museum.The original residential building on the plantation which dates 1915 was burnt down in 1954; however, it was replaced by an exact replica in 1974 (pictured).
Accustomed to luxe living, Castro equally built an empire of his own. However, in an attempt to identify with his people, the ruler of impoverished Cuba spoke more about his grandparents who according to him were exploited Galician peasants from Spain.
In 1995, Forbes estimated Castro's net worth at $150 million and in 2013 at $1 billion. Following the release of Forbes' 2005 issue which put his numbers at $900 million, Castro was extremely fumed and threatened to sue the American publication. He took to TV to debunk what he claimed were outrageous speculations. In the interview, Castro said;
"It is so ridiculous to say I have a fortune of $900 million, a fortune with no heirs……If they can prove that I have a bank account abroad, with $900 million, with $1 million, $500,000, $100,000 or $1 in it, I will resign…..If they prove that I have a single dollar, I'll resign my post… there will be no need for plans or transitions…"
See Also: Top 21 Richest Politicians of All Time
Despite all these denials, the truth remains that Castro had a vast wealth including several residential properties in his country. Among them include a residence in Cayo Piedra; La Caleta del Rosario (a home with a private marina); and La Deseada (a chalet in Pinar del Río which he loved using for hunting ducks).
Castro's best-known property was his Punto Cero, which stands for Point Zero. The 75-acre gated estate used to be a golf course prior to the revolution. Castro then took charge of it and turned it into a sprawling estate that included a cow farm, a golf course, an extensive orchard (with mandarin, orange, grapefruit, banana and lemon trees) as well as six greenhouses.
It is hard to say which of these homes served as Castro's final residence. That fact was concealed even from Cubans as a result of the endless assassination attempts he faced mostly from the United States of America. Castro survived a whopping 600 assassination attempts which included poisoned milkshakes and exploding cigars. Apparently, the man was far from just a dictator. He was superhuman and his legacy, we dare say, would surely live on.
Fidel Castro's Earnings and Financial Data Over the Years
March 1980 – $10,000,000 (Money received from a government official)
May 1980 – $50,000,000 (Earnings from oil and food imports)
May 1985 – $139,620 (Financial receipts from politics)
September 1986 – $4,200,000 (Financial receipts from politics)
June 1990 – $8,000,000 (Inflows into Castro's reserves)
August 2005 – $5,000,000 (Revenue from historic museums and monuments)
September 2014 – $30,000,000  (Revenue from Cubanacán, a conglomerate of hotels, restaurants and travel agencies). Total value of Cubanacán is meanwhile put at $600 billion.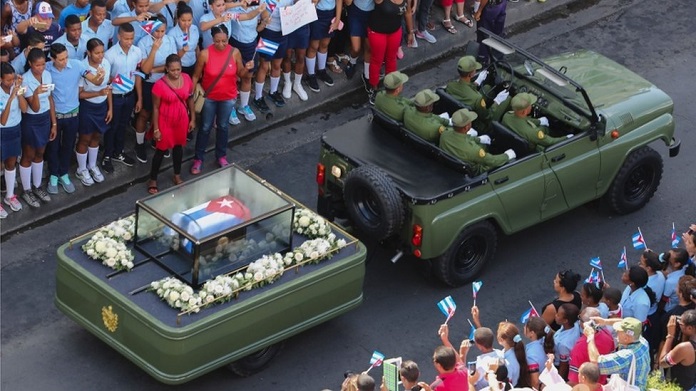 Castro's Demise in 2016 Led to Nine Days of National Mourning
Having survived numerous assassination attempts and coups during his three-decade reign as the revolutionary leader of Cuba, It seemed that Fidel Castro was no longer an ordinary human but rather some sort of superhuman. The fact however remained that he was a mere mortal just like the rest of the human race and this mortality started to show as he advanced in age. By 2001, a 75-year-old Castro fainted from heat exhaustion during a lengthy public address. Three years later, he broke his left kneecap and his right arm after stumbling and falling during a speech.
From thereon, things deteriorated to the extent that Castro experienced bouts of forgetfulness and incoherence. There was also report of hand trembling and the CIA reported that he had Parkinson disease. He however denied that it was not true and maintained that he would carry on in office.  Carry on Castro did but he was forced to face reality and step down as Cuban leader in 2008. He continued taking part in public engagements and meeting other world leaders but these appearances declined as his health deteriorated and he passed away in 2016.
He reportedly died on the night of November 25, 2016, from an undisclosed cause and his brother, President Raul Castro, confirmed the news. There were a total of nine days of mourning throughout the entirety of Cuba and Fidel Castro was cremated on November 26, 2016. His funeral procession spanned over 900 kilometres through the central highway of the island, tracing in reverse, the "Freedom caravan" of January 1959. His ashes were entombed in the Santa Ifigenia Cemetry in Santiago de Cuba following a simple and brief ceremony. His brother and successor, Raul, later announced that people will be banned from naming any monuments after him. This was in line with his personal wishes to not be made into a cult personality after death.
Profile Summary
First Name:
Fidel
Last Name:
Ruz
Also Known As:

Fidel Castro
Sex/Gender:

Male
Profession:

Revolutionary and politician
Famous For:
Serving as Prime Minister of Cuba from 1959 to 1976 and President from 1976 to 2008.
Colleges/Universities Attended:

University of Havana
Educational Qualifications:

Doctor of Law
Religion:

Roman Catholic
Birthday & Zodiac

Age/Date of Birth:

13 August 1926 – 25 November 2016
Zodiac Sign:
Leo
Birth Place:

Birán, Oriente Province
Nationality:
Cuban
Ethnicity/Race:

White
Country of Residence:

Cuban
Physical Attributes

Height:

6 feet 3 inches or 1.91 m
Weight:

80 kg or 176 lbs
Eye Colour:

brown
Hair Color:

Went from black to grey
Other Body Measurements:

N/A
Relationships

Marital Status:

Divorced
Spouse/Partner:

Mirta Diaz-Balart (m. 1948; div. 1955) Dalia Soto del Valle (m.1980)
Family and Relatives

Father:

Ángel Castro y Argiz
Mother:
Lina Ruz González
Children:

11, including Alina Fernández, Fidel Castro Díaz-Balart, Francisca Pupo, Alex Castro-Soto, Antonio Castro-Soto, Jorge Angel Castro
Siblings:
Seven siblings, including Raúl Castro (President of Cuba)
Other Relatives:

N/A
Net Worth
Estimated Net Worth:

$900 million
Salary:
N/A
Source of Wealth:

Politics