Nigerian professional basketball player, Festus Ezeli is best known for his time with the Golden State Warriors. He played college basketball for Vanderbilt before being selected with the 30th overall pick in the 2012 NBA draft by the Golden State Warriors. Ezeli won an NBA Championship with the Warriors in 2015. He has an asset worth $5 million.
The Begining Of His Career
Born on October 21, 1989, in Benin City, Nigeria as Ifeanyi Festus Ezeli-Ndulue, he wanted to concentrate on his studies and become a physician. After graduating at the age of 14 from high school, he moved to Yuba City, California to live with his uncle. Despite playing soccer only as a child, he joined Jesuit High School and started training with AAU team to pursue a career in basketball.
Ezeli's height – 6 ft 11 – is one of his greatest assets in the game. He was invited to the Reebok All-American Camp in 2007. Despite being the rawest of players in his college, he was a backup to Ogilvy in Nashville who joined the NBA draft in the 2009-10 season. He excessively utilized his height as the center man in the game. It wasn't surprising he became a record-breaking player for blocked shots in All-SEC.
Festus Ezeli's instrumental performance in his college career earned him a position in the 2012 NBA draft as he was the 30th pick by Golden State Warriors.  He missed the 2013-14 season entirely because of a knee injury and got back to the game in the 2015-16 season. Records have it that he appeared in 46 games with only 13 starts in the season. Despite that, he attained career-highs of 7.0 points, 5.6 rebounds and 16.7 minutes. While he scored in double figures 13 times, he recorded six double-doubles during the 2015-16 regular season.
He was considered to be one of the most crucial players against Cleveland Cavaliers in the NBA 2015 finals.
His Injuries, Salary And Net Worth
Festus Ezeli is currently a free agent. He signed with the Portland Trail Blazers on the 7th day of July 2016. It was a 2-year deal worth $15 million and a significant pay raise for Festus. As the 30th pick in the 2012 NBA Draft, it's known that the Nigerian didn't earn that much. All he made was a bit higher than $2 million.
Festus got the remarkable pay raise because it was believed that he would be of huge value on and off the court for the Trail Blazers. Everyone anticipated him to effect an immediate favorable impact on the fortunes of Portland. Unfortunately, Ezeli never got the chance to make this happen. Soon after he was signed by the Blazers, he suffered a left knee injury and has been battling it since then.
Sometime in March 2017, he underwent surgery on his left knee. Because of this, he was ruled out for the entire 2016–17 season. Essentially, he hasn't been active since he signed the two-year $15.2 million contract with Portland.
Trail Blazers formally parted ways with Festus Ezeli in June 2017 after it announced that it wouldn't be picking up the one-year option of the two-year deal. Although this isn't fortunate for Ezeli, he will get $1 million for next season. This is so irrespective of the fact that he made $7.4 million the previous season without playing any game for Portland.
See Also – Stephen Curry's Salary, Wife, And Family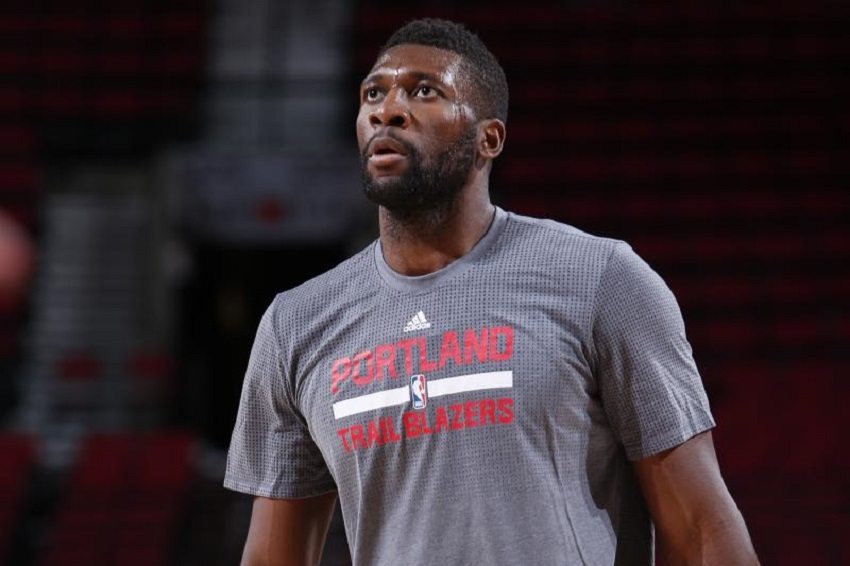 Ezeli has often been listed among players who have not been able to make the best out of their careers due to injuries. It has been put on record that he lost two full seasons to injury since he was drafted in 2012. Just as he was ruled out of the entire 2016-17 season after he underwent left knee surgery, Ezeli missed the entire 2013-14 season. This happened after he underwent surgery on his right knee which initially kept him off the court for over eight months.
Apart from that, the Nigerian as a professional basketball player has spent a major bulk of his time receiving treatment. Many have expressed that it is remarkable Ezeli has been able to attain the status he has in NBA in the midst of all the injuries he's suffered. Among other things, he won the NBA Championship with the Golden State Warriors in 2015, averaging 9.2 minutes per game over 20 matches in the Playoffs.
In all, Festus Ezeli earned $2 million in salary when he was with the Golden State Warriors. His market value skyrocketed to $18 million after he helped the team lift the 2015 NBA Championship trophy. His net worth is estimated to be $5 million as of today.
Quick Facts about the Nigerian basketball player
Full Name: Ifeanyi Festus Ezeli-Ndulue
Profession: Basketball Player
Height: 6 ft 11 in (2.11 m)
Weight: 255 lb (116 kg)
Ethnicity: Igbo
Nationality: Nigeria
Date of Birth: October 29, 1989
Place of Birth: Benin City, Nigeria
Festus Ezeli wealth: $5 million