A Ferrari symbolizes affluence, speed and extravagance. It is an Italian sports car popular among racing enthusiasts for its speed. This sports car was initially designed for racing and it has been a prominent participant in Formula One. Road cars were introduced into the market later on and you can now see a Ferrari on the road every once in a while. The sports cars are designed for speed and most owners want to test their limits on the super highways. This has led to several road accident crashes and some of them have been fatal. You do not come across a Ferrari crash everyday but when they happen, they can be ghastly. Here is a list of 7 real accident cases involving this popular and luxurious Italian sports car – Ferrari.
7 Real And Ghastly Accidents Involving Ferrari
Ferrari 360 Modena
A drunk driver in Mexico crashed his Ferrari 360 Modena after he lost control of the car. This was a young driver in the company of a friend who was driving behind him in a Lamborghini. Both drivers were reported to have been drunk. However, only the Ferrari was crashed when they got to a curve on the road. The car was not badly damaged and the driver probably walked away with a few scratches.
Source: Wrecked Exotics
 A Ferrari Crash in Leeds
In Leeds United Kingdom, a Ferrari driver collided with a crash barrier. There was extensive damage on the sports car especially on its rear. The car's rear came into contact with a metal barrier. According to West Yorkshire police, there was another car in the accident and the one of the people involves sustained some minor injuries. The Ferrari crash interrupted traffic for a while before the car was moved.
http://www.bbc.co.uk/news/uk-england-leeds-24412089
Manhattan Driver Crashes
A shirtless man driving a black F50 Ferrari in Manhattan traffic crashed his car and caused serious damage. The driver was not injured but the $528,000 car was written off in the accident. There are reports that the car crashed into a tree at about 50 miles an hour. http://jalopnik.com/surprise-528-000-ferrari-f50-driven-by-shirtless-assh-1445127869xxxxxxxx
[youtube_video video_id="BRUUC0am6zQ#t"]
Drunk Southampton Driver Crashed Ferrari
According to the Southampton Town police, Irfan Verjee, a 38-year-old Water Mill resident crashed his 2006 Ferrari into a tree while drunk. He had driven past a stop sign before he hit the tree. The driver said that he had 600 horsepower and his tires do not have traction in cold weather. His account did not make sense to the police and they arrested him for disorderly conduct after he was engaged in a confrontation with another man.
http://southampton.patch.com/groups/police-and-fire/p/cops-after-drunken-driver-crashes-ferrari-into-tree-driver-gets-punched
Ferrari Crushes into Mercedes SLS AMG
In Belgium, a Ferrari 430 Scuderia crashed and rammed into a Mercedes SLS AMG. This Ferrari model is renowned for its immense power and finesses. It is a masterpiece with 508 horsepower. The Ferrari driver was driving in damp weather and he lost control of the car on the highway. He smashed into the Mercedes SLS and came to a stop after hitting a guard rail. The two cars were part of a convoy taking part in a GT tour, which is part of the Belgium Grand Prix. There were no injuries in this Ferrari crash but the Scuderia was extensively damaged.
http://www.gtspirit.com/2013/10/14/ferrari-430-scuderia-crashes-and-rams-into-mercedes-sls-amg-in-belgium/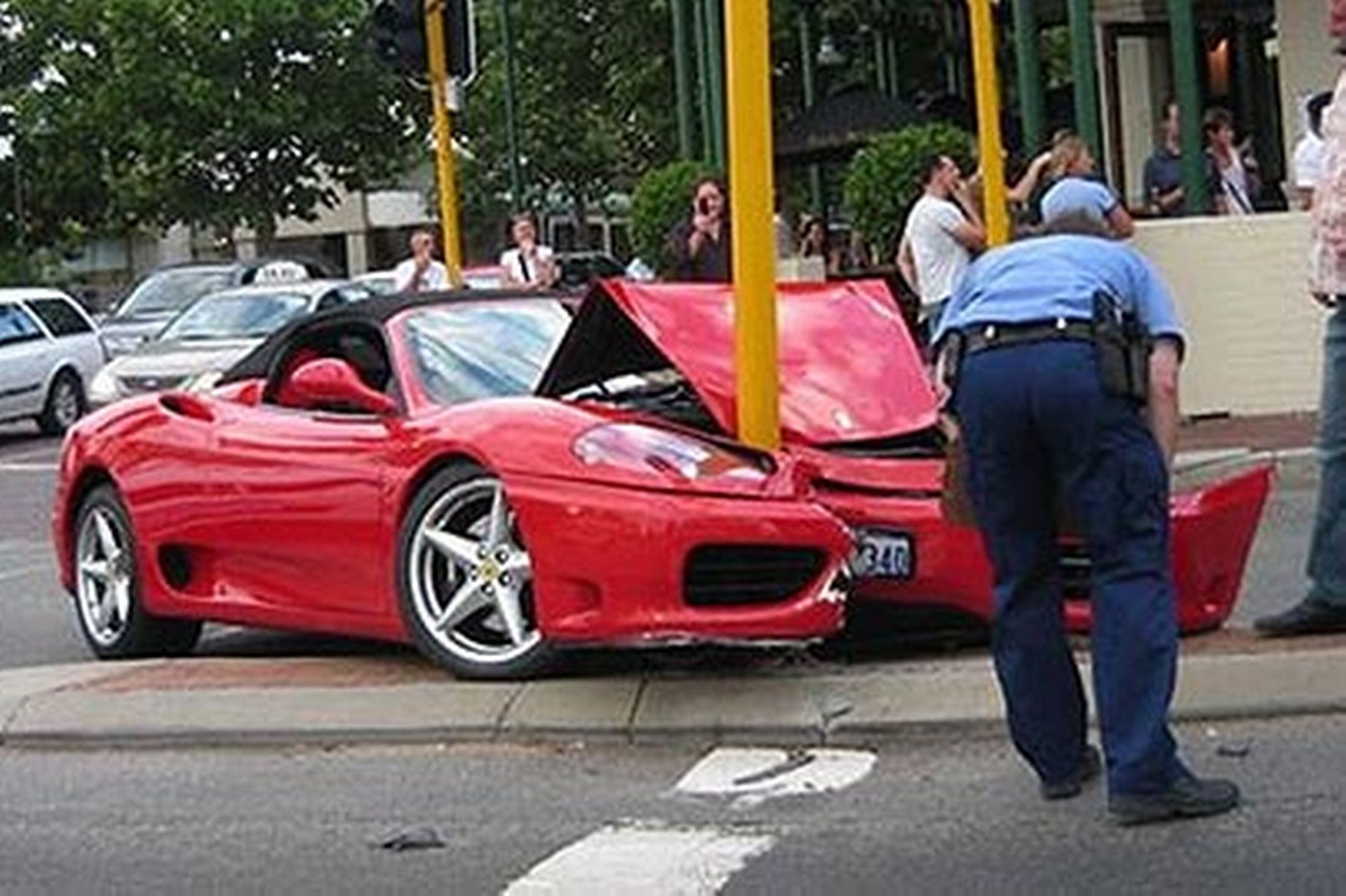 Ferrari Crashes during Street Race
A Ferrari 458 Italia was involved in a crash while street racing with a BMW. The crash occurred in Taiwan and there was a famous personality behind the wheel. IPE Exhaust owner was the Ferrari driver and he decided to street race with a BMW on the highway. The roads were wet when the cars crashed but no injuries were reported. The BMW involved in the crash is reported to be an M3 sedan.
http://www.autoevolution.com/news/ipe-exhaust-owner-crashes-ferrari-458-while-street-racing-67246.html
Ferrari 458 Italia Crashes in Canada
In Canada, a Ferrari 458 Italia driver crashed into a pole causing a lot of damage on the sports car. This powerful model has 562 hp and it has been involved in several accidents across the world.
http://www.inautonews.com/ferrari-458-italia-gets-crashed-in-canada#.UmFlVlNVJkg
Ferraris are powerful cars and most of the accidents seem to be caused by loss of control especially in slippery conditions. The drivers cannot seem to resist the urge to race these machines on the highway and this may have led to most of the accidents. The high speeds make a Ferrari crash inevitable on the super highways. Ferrari drivers are suppose to be extra careful to avoid being excited by high speeds this cars are designed to run.